This post may include affiliate links.
If you make a purchase, I'll earn a small fee at no extra cost to you.
This is a fantastic, easy way to make soap without using lye–and it's safe to do with kids around. Customize your homemade soap with any scents or colors you like!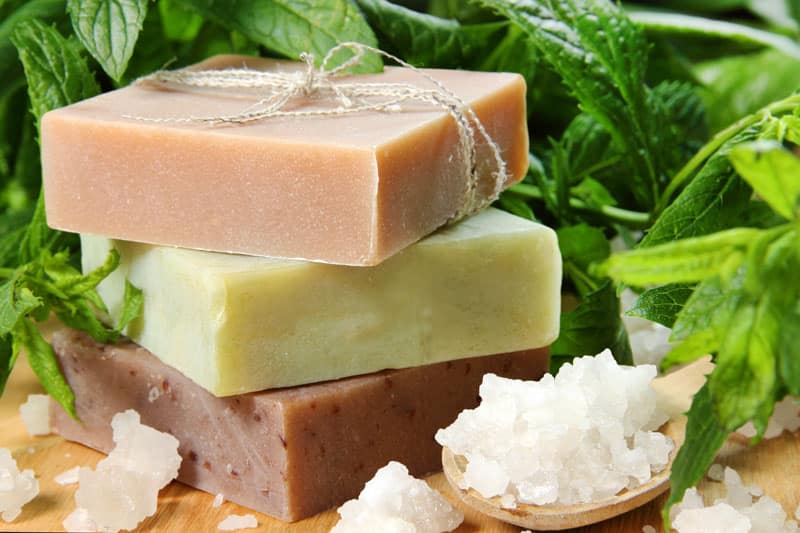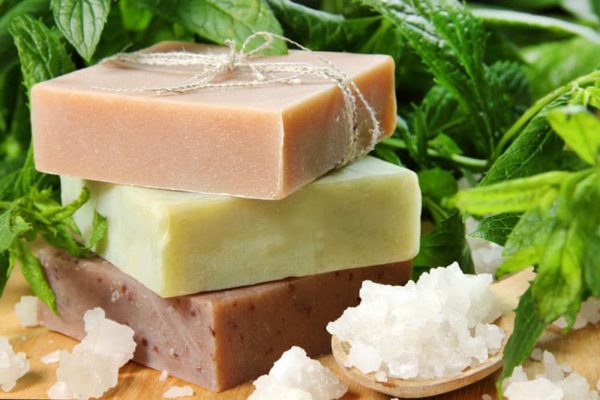 Did you know that your skin is the largest organ of your body? Makes sense when you think about it. That's why it's so important for me to stay away from chemical cleaners, and choose my personal care products wisely.
I've read quite a bit about making my own soap. There's hot-process, cold-process, crockpot soap…lots of different techniques and recipes.
The simplest recipes contain only a few ingredients and are all natural (like the soaps from my friends at Chagrin Valley Soap & Salve). Unfortunately, lye is one of those ingredients–and because it is so caustic, I don't want to use it or even have it around with kids in the house.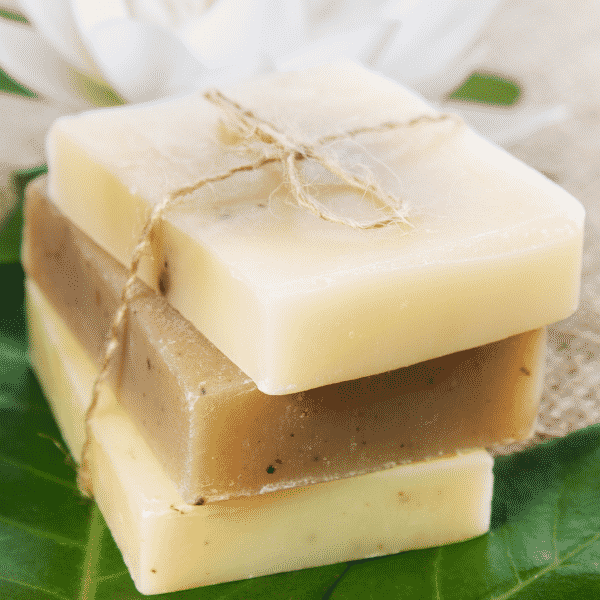 Am I being overly paranoid? Probably. But if I don't have any lye in the house, there won't be any spills, nobody will get chemical burns…you get the picture. I'll sleep better at night.
The secret to making soap without lye is called melt-and-pour soapmaking. With this technique, the lye work is already done and all that's left is the fun part–crafting your own unique varieties of soap!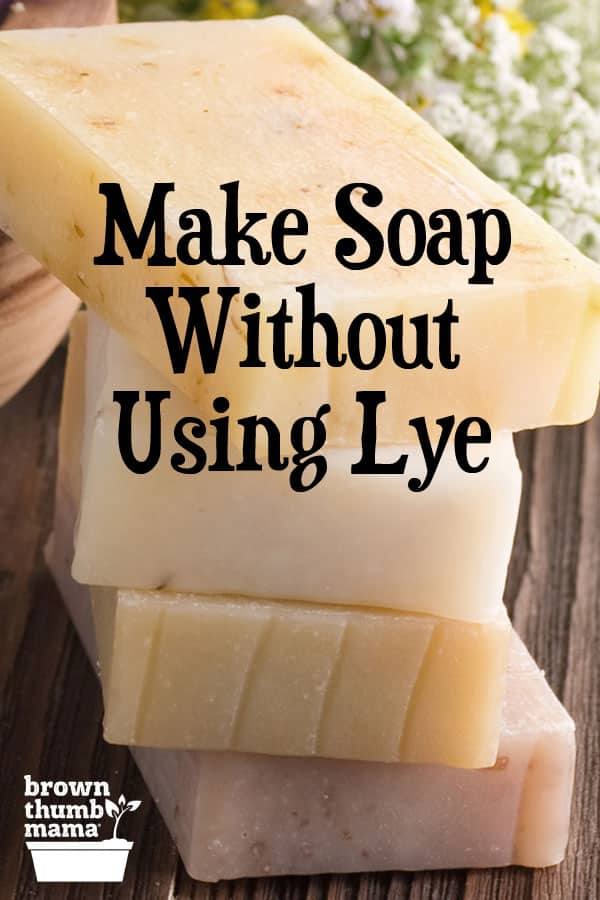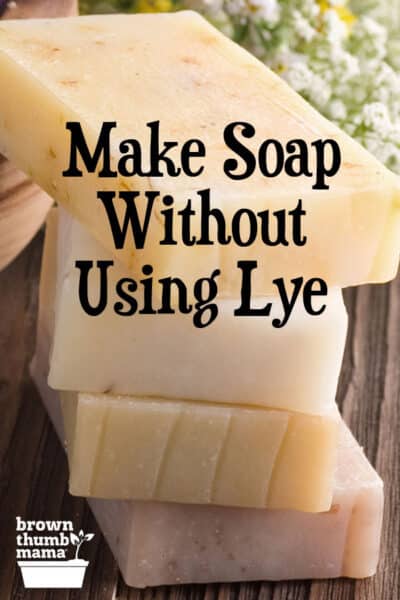 Ingredients
Soap base. Soap base is your raw material, and it comes in a block. There are all different kinds–some contain olive oil, some use goats' milk, some contain aloe vera. Here are my reviews of the top six soap bases and what types of skin they are best for.
A heatproof bowl (I used a large Pyrex measuring cup) for melting the soap base.
A silicone mold or a loaf pan lined with parchment paper. There are a zillion different silicone molds out there. I used a simple mold designed for baking, but this floral soap mold is simply adorable.
If you want colorful soap, there are a variety of natural additives you can use to add color. Here are my recommendations for the best natural soap colorants.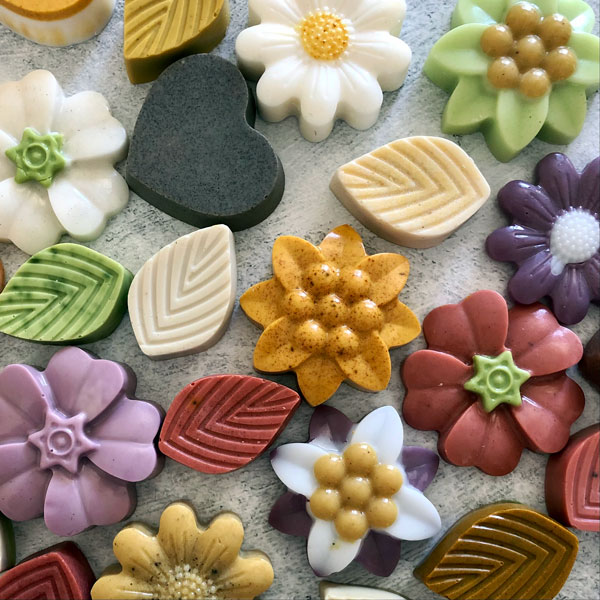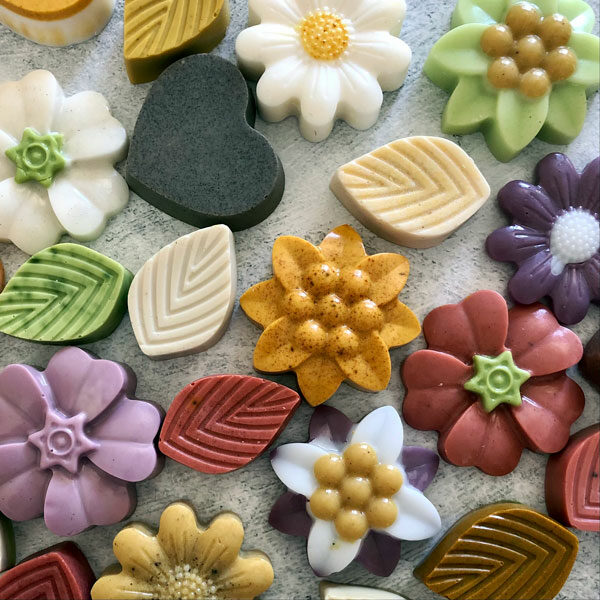 Herbs and/or essential oils, which will give your soap different qualities and fragrances. Here are some combinations I like:
Instructions
Measure out one pound of soap base. (Yep, that's my postal scale. Why buy a cooking scale when you already have something that will do the job just fine?!?)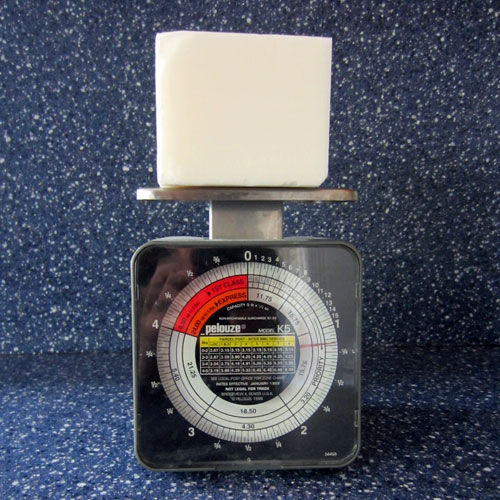 Chop the soap base into large pieces. Put it in your Pyrex and melt it in the microwave or in a double boiler over low heat.
Once melted, add your colorant, herbs or oils (about 30 drops essential oil and 1/2 teaspoon herbs per pound of soap base).
Mix thoroughly and pour into your mold. There may be some small bubbles or drips on the top, but that's OK.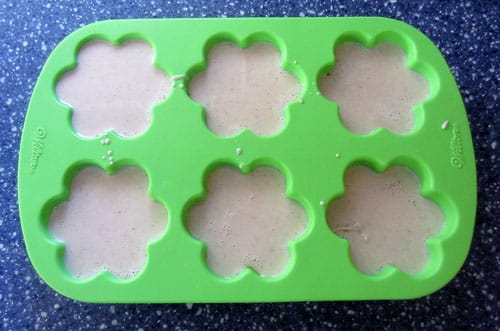 Allow to cool for several hours before unmolding. The silicone pan makes it easy, and the bars are already formed. If you're using a loaf pan with parchment, you can cut the soap into bars with a sharp knife.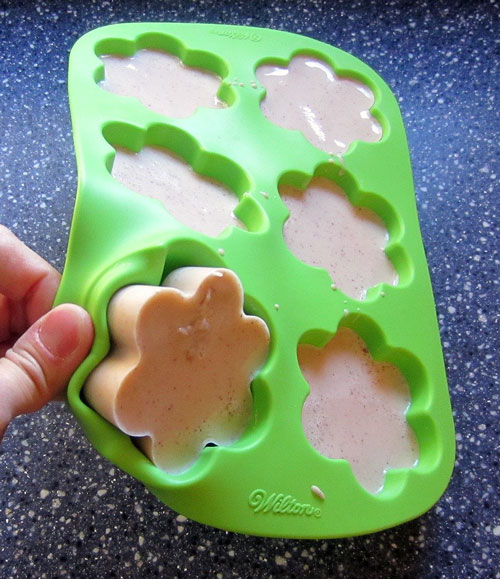 Your soap is ready to use now. It will last longer if you let it cure in a cool, dry place with plenty of air. I cure mine on a shelf in the linen closet, and it smells great when I open the door.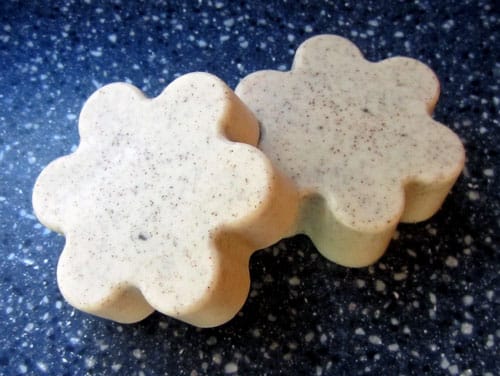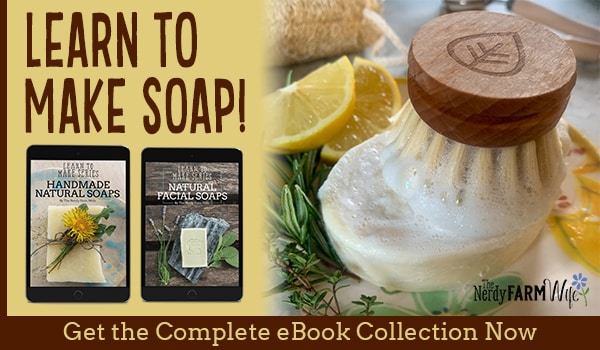 Are you ready to take the next step in soapmaking?
I highly recommend the Handmade Natural Soaps eBook Collection by The Nerdy Farm Wife. It contains everything you need to know about making your own natural soaps, milk soaps, and shampoo bars.
There are lots of photos and step-by-step instructions. You'll love it! Click the photo to learn more.
If you'd rather just buy outstanding natural soaps, visit my friends at Chagrin Valley Soap & Salve. Tell them I sent ya! 🙂
Read more about Homemade Soap