This post may include affiliate links.
If you make a purchase, I'll earn a small fee at no extra cost to you.
Choosing fun soap molds is one of the best parts of making your own soap. Here are the best molds for homemade soap, and which types of soap molds to avoid.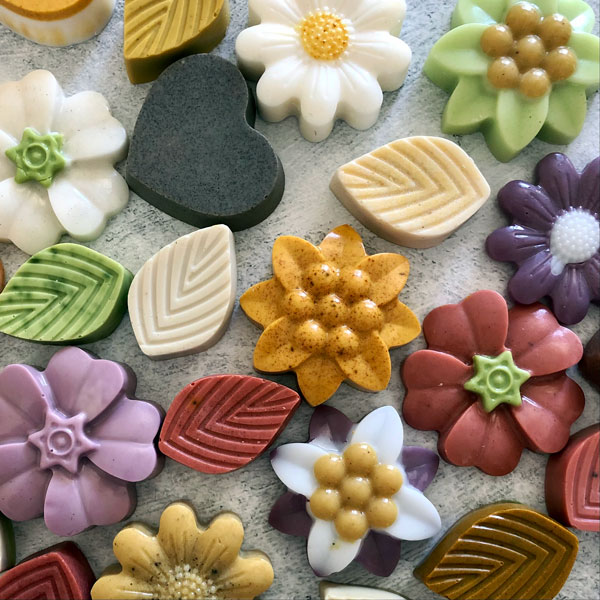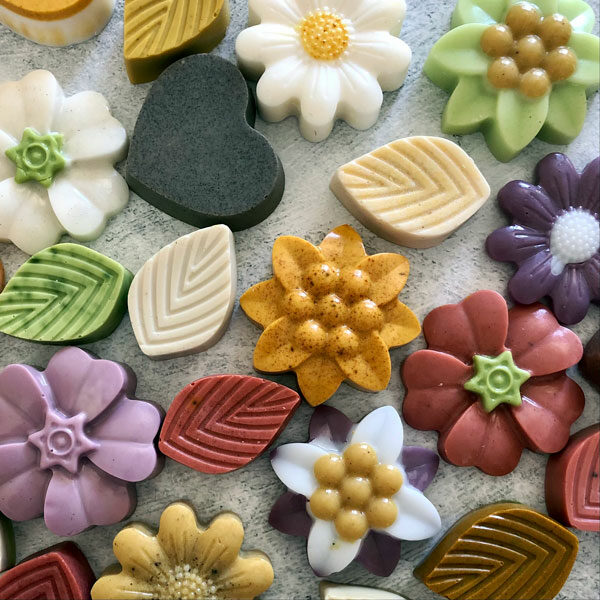 The kids and I love making homemade soap without using lye. Melt-and-pour soap is a great way to customize soap with different scents and colors without the dangers of using caustic lye.
When making homemade soap, you need to have a mold or other container to put the hot liquid soap into while it cools and solidifies.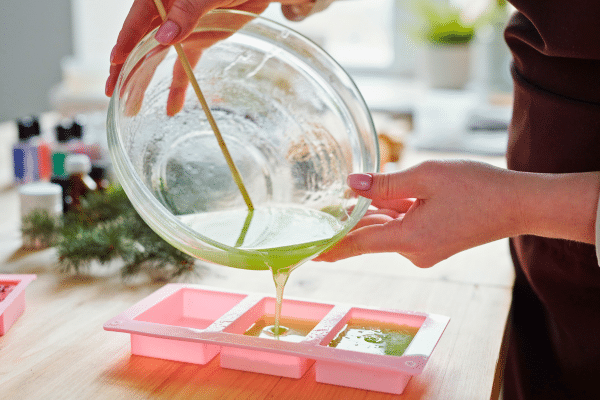 Not sure which melt-and-pour soap base to use? Here's my review of the top soap bases.
While some folks pour their soap into a muffin tin or cardboard box to cure, unique soap molds and beautiful colorants are a fun way to customize your creation.
Here are the best soap molds for melt and pour soap, and the soap molds you should avoid.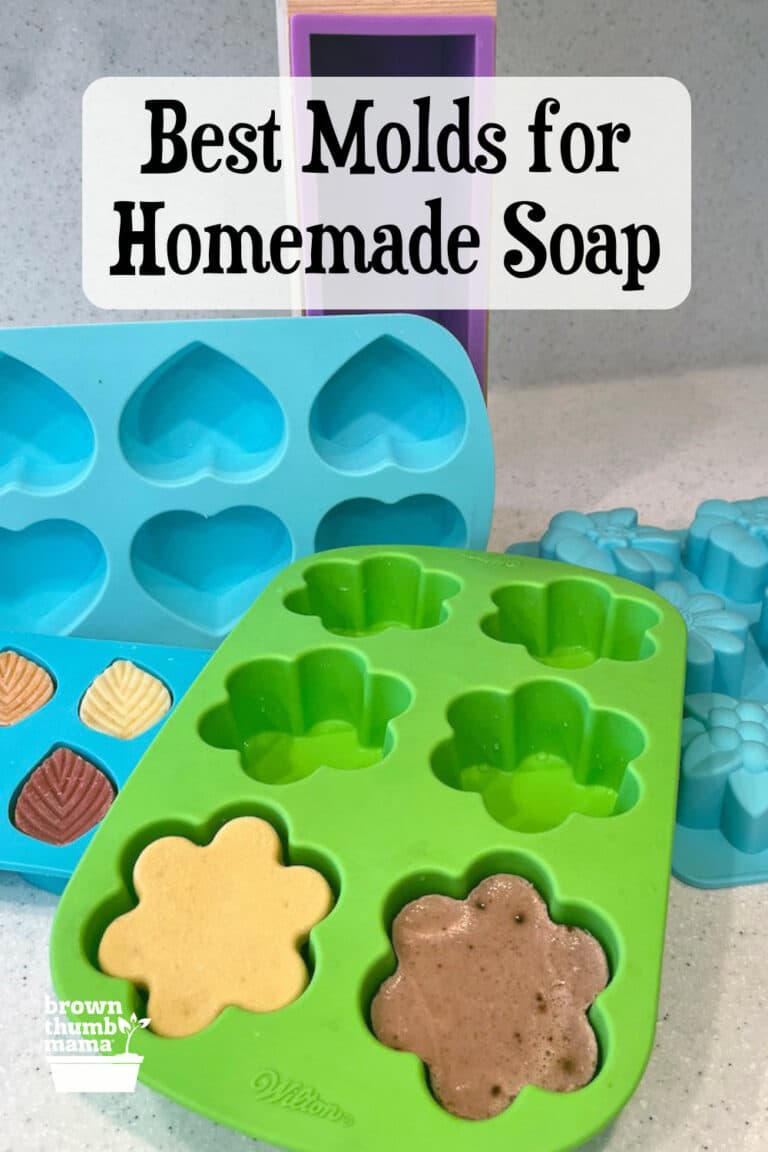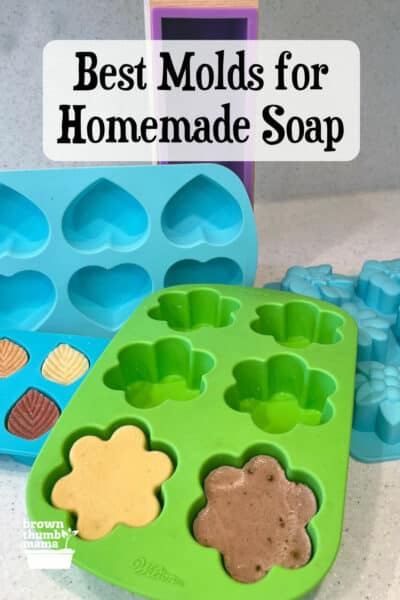 Soap Mold Materials to Use
Silicone
Silicone is my #1 favorite choice for a soap mold. While you can buy specific silicone molds for soap-making, I prefer to use silicone molds designed for baking or candy making.
There are tons of different styles, from flowers to Star Wars characters, and everywhere in between–see my recommendations below.
Silicone molds are durable, flexible, and heat-proof. Because they are so flexible, you should place the mold on a cookie sheet or cutting board before filling it. When it's time to get the soap out of the silicone mold, it will pop out easily.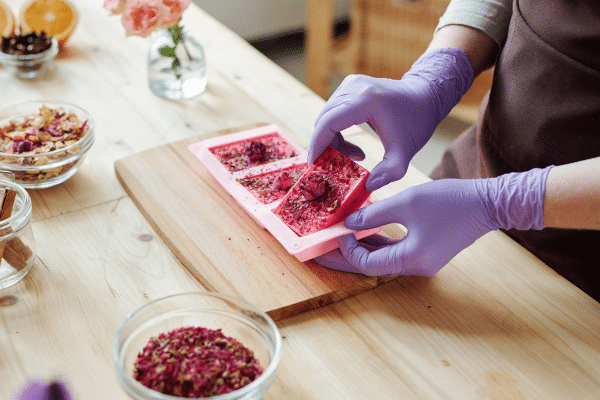 Wood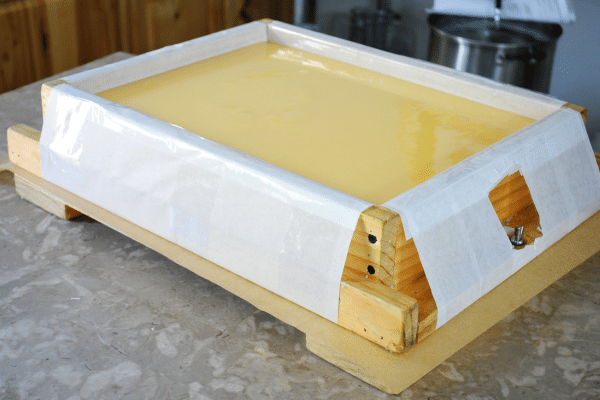 Wooden soap molds are traditional, and you can either buy them or make them. The advantage of using a wooden mold is that once the soap is cooled, you can cut the bars to any thickness you'd like.
It can be a little tricky to cut the bars unless you have a special tool, and it's difficult to get the soap out of the mold unless you use a liner (freezer paper or silicone).
Wooden soap mold kit with silicone liner and cutting tool
Plastic
Hard plastic molds are multi-purpose because they can be used for soap, bath bombs, shower melts, etc. They don't lay flat like the silicone molds, so there's quite a bit of spill potential. I found it difficult to get the soap out without cracking the plastic.
Soap Mold Materials to Avoid
Milk Carton or Cardboard Box
An old milk carton might seem like a great budget choice for a soap mold, but it's one you should definitely skip. You'll have to destroy the carton to get the soap out, which is a pain. If you use a cardboard box, it's likely that the soap will soak into the cardboard and you won't be able to get it out.
Metal
Metal pans, like loaf pans or muffin tins, are unsafe materials to use for a soap mold. The lye in the soap reacts with many metals, ruining the pan and your soap. The only safe metal pan to use for a soap mold is stainless steel (like the muffin tins below), but it's very difficult to get the soap out.
Glass
It's pretty unusual to find a glass soap mold, but you might see folks using an old glass or Pyrex pan for their soap. I don't recommend this because the soap won't release (are you seeing a theme here?).
PVC pipe
Finally, to round out the "Don't Choose" section, is PVC pipe. This might sound like an odd material for soap making, but it's touted as an easy way to make perfectly round soap bars.
You're supposed to get a large piece of pipe, cap one end, and pour the liquid soap inside to cool and harden. The PVC pipe is inexpensive, but–once again–it's impossible to get the soap out. You might be able to line the pipe with a custom-made plastic bag, but a reusable silicone mold is a better choice.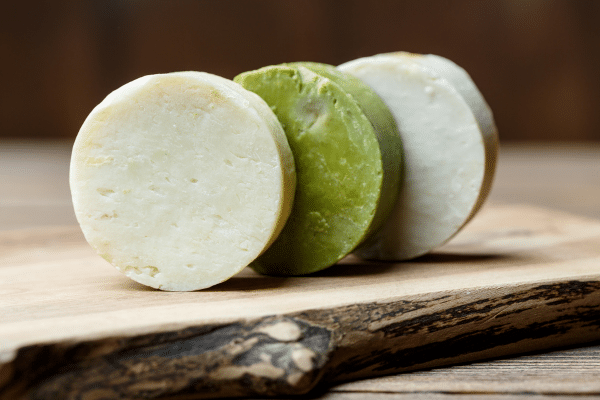 Are you ready to take the next step in soapmaking?
I highly recommend the Handmade Natural Soaps eBook Collection by The Nerdy Farm Wife. It contains everything you need to know about making your own natural soaps, milk soaps, and shampoo bars.
There are lots of photos and step-by-step instructions. You'll love it! Click the photo to learn more.