It's easy to turn leftover bread into croutons. Add a few spices and bake in the oven for a custom crunchy treat that's great for salad, soups, and snacks.
Ahhh…I have a new love. In preparation for making Thanksgiving stuffing, I stopped at the bakery outlet for the first time in years. What deals! There's nothing like getting two loaves of french bread for $1.29 and four loaves of whole wheat, no HCFS bread for $3.50. And they hadn't even reached their pull date!
I might have gone a little crazy. What does a girl do with six loaves of french bread? Well, after you cube and toast all the bread you need for stuffing, you make salad croutons. I made several batches (the trials I endure for you, dear reader!) and these turned out the best.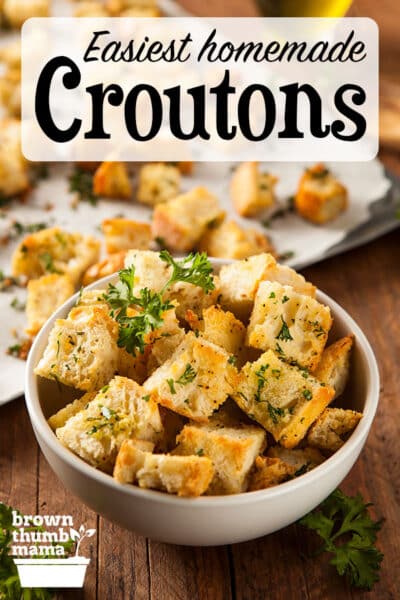 A nice, dense bread is best for croutons, like sourdough or a baguette. Sandwich bread just isn't up to the job. Cut the bread into cubes smaller than an inch. Since your bread isn't square (at least I hope it isn't), the pieces won't be identical–but similar sized pieces will cook uniformly. I used about two cups of cubed bread.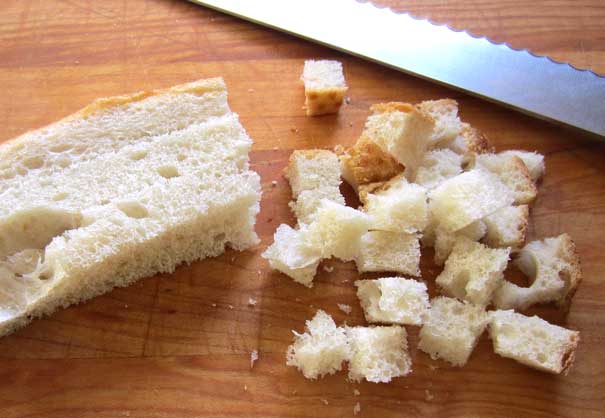 Preheat the oven to 375. Place the cubes into your mixing bowl and drizzle with 2 tablespoons of olive oil. Gently toss to coat.
Now it's time to have fun. Add as many seasonings as you'd like! Dried herbs work best here–I used home-dried parsley, thyme, and oregano from the garden. Again, toss gently to coat.
Spread them out in a single layer on a cookie sheet. I used my Silpat for easy cleanup.
Bake for 10-15 minutes, stirring once or twice. I like them super-crunchy, so these went the full 15 minutes. Allow to cool completely before eating them all storing them in a recycled container in the fridge.
Delicious!