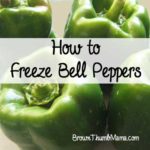 This week at the Farmers' Market, bell peppers were five for a dollar. It's too hot to make stuffed peppers, but I couldn't pass up the deal! So we bought a bunch and brought them home to freeze.
Unlike corn and green beans, peppers don't have to be blanched before freezing, so prepping them was a quick and easy task. Here's how to freeze bell peppers and save them for your favorite recipes.
Wash your peppers and place them upside down on the cutting board. Cut almost all the way through and then crack the sides apart.
This makes it easy to get the core and seeds out, with very little waste.
Use a spoon to scrape the ribs off the inside. Repeat until all your peppers are prepped.
Cut them up in whatever fashion you'd like. I chose strips since I can use them just like this for fajitas, or chop them up smaller if needed later.
Don't just dump them in a zip bag! If you do that now, they'll freeze in a giant lump. We're going to flash freeze them, so lay them all out on a cookie sheet or baking rack (which makes the freezing go faster). They can touch a bit, but again–you don't want a big pile.
Tuck them into the freezer (you did measure the rack to be sure it would fit before you loaded it up, right?) and remind yourself to move the multiple containers of ice cream before taking another picture.
After about an hour, they should be frozen solid. There are a couple of ways to test this: look for ice crystals on the cut edges, or accidentally drop one and watch it shatter all over your clean floor. I suggest option #1.
Now you can dump them in your labeled zip bag. Before you stash them in the freezer, make sure you've pulled all the air out of the bag to prevent freezer burn. Slip a straw in one edge of the bag, and zip it shut right up to the straw.
Then suck the air out while your husband takes pictures and makes "I didn't inhale!" jokes. Try not to laugh and fill the bag back up full of air.
Voila! Now you have a tasty bag of peppers in your freezer stash. Won't it be great to bust those out when the price is $3.69/lb later this year?