"Can you freeze onions?"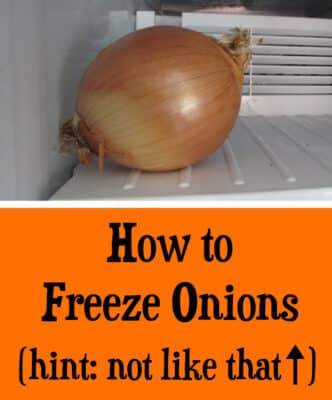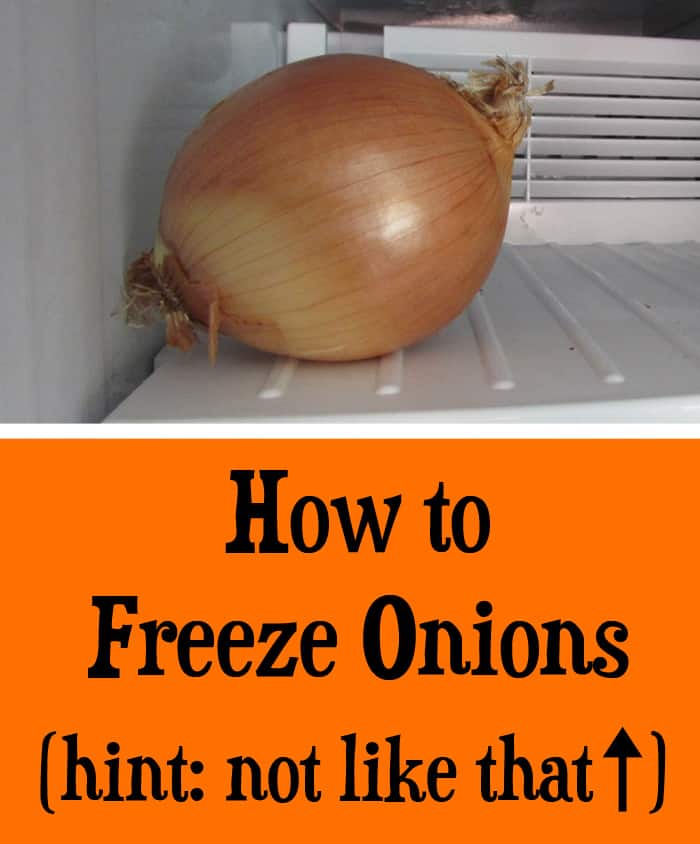 I confess that this question doesn't normally cross my mind. Little Peanut (age 3) usually has more pressing questions for me to answer, like:
"Where do helicopters sleep?"
"Can I drive a motorcycle?"
"Will Kitty take a bath with me?"
…you get the picture.
When I went to Costco recently and found a 10 pound bag of onions for $4, it was a deal I couldn't pass up. But holy moly, that's a lot of onions!
I made Crockpot Caramelized Onions, Crockpot Spaghetti Sauce, and still had tons of onions to use or preserve.
Could I freeze them? Hey, if Ore-Ida can do it–I can too, right? Plus it would be easier to chop and freeze them than to set up the dehydrator and leave it running for a day or two.
After a little bit of trial and error, I figured out the best way to freeze onions. They store well, and are easy to use in any cooked recipe. Here's how easy it is!
How to Freeze Onions
Peel and cut onions to whatever size you like. I prefer a large dice, since I can always chop them up smaller later.
Tip: if your hands smell like onions after chopping, rinse with water and then rub a drop of lemon essential oil on your hands. It's good for your nails too!
Here's the secret to successful onion freezing: put your chopped onions in a thin layer on a baking pan or freezer-safe dish, but don't pile them up too deep. (You'll see why in a minute.)
Cover the pan tightly with aluminum foil and freeze for several hours to overnight.
This is why you don't want to pile the onions too deep in your pan. See the bowl on the right? That's an onion popsicle. I banged it, thumped it, ran water on the bowl, and tried to chisel the onions out with a knife, all to no avail.
But when the onions are in a nice shallow layer, you can easily free them from the pan and break up any chunks with a fork.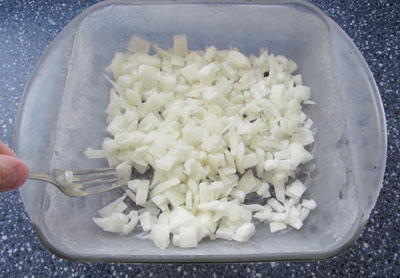 Store your onions in a zip-top bag and stash them in the freezer. Because they're already frozen when you store them, they won't stick together and you can measure out whatever you need for your recipe.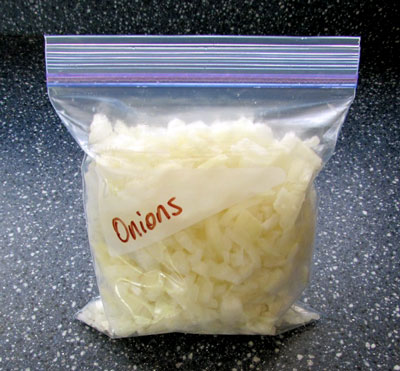 Frozen onions are perfect for use in soups, stews, sauteeing with vegetables–just about any cooked application. You don't even have to thaw them! Freezing changes their texture, so I don't recommend using frozen onions in fresh dishes like salsa or potato salad.
What's your favorite onion dish?