This post may include affiliate links.
If you make a purchase, I'll earn a small fee at no extra cost to you.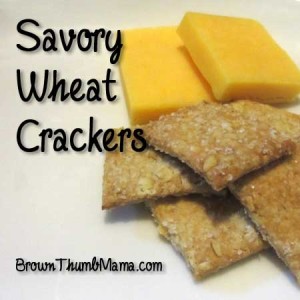 Hubby found me tinkering in the kitchen yesterday. "What mad science project are you up to now?"
"I'm making Wheat Thins," I replied.
He shook his head and reminded me that the store had a perfectly adequate supply of crackers. Why was I making them?
My answer: Just Because I Could. (P.S. I have a habit of doing this.)
You'll be surprised at how easy this is!
Ingredients:
2 cups oats
1.5 cups flour
1.5 Tablespoons sugar
1 teaspoon salt
6 Tablespoons melted butter
1/2 cup warm water
Put the oats in your food processor and pulse until you have a chunky powder.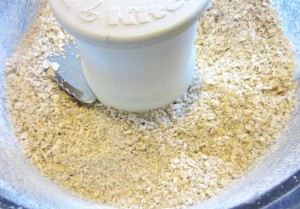 Add the rest of the ingredients and pulse until blended. Dump the dough onto the counter and form into a loaf shape.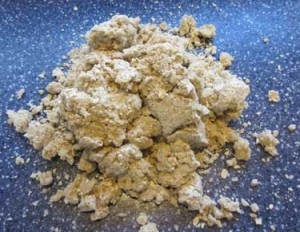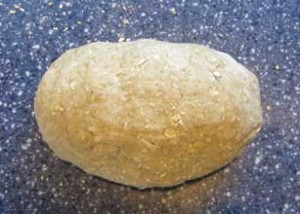 Divide the loaf into two parts with a knife or bench scraper. Let the dough rest for 30 minutes.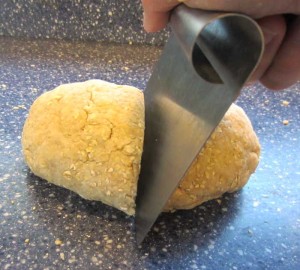 After 30 minutes, preheat the oven to 350F and get ready to roll. Place one of the dough pieces on an upside-down cookie sheet covered with baking parchment. Flatten it a bit with your fingers and then roll it out until it's very thin.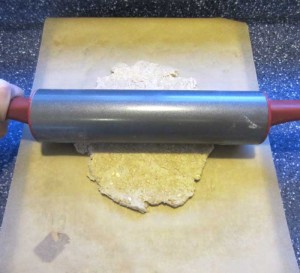 Trust me on this one. Roll it out obnoxiously thin, or you'll end up with Wheat Thicks (as Hubby affectionately called the first batch I made).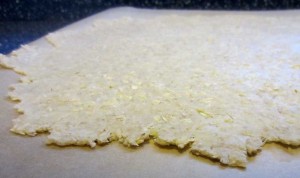 Once you've rolled and rolled, cut the dough into squares using a pizza cutter or knife.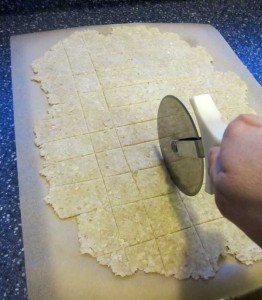 Sprinkle with about 1/4 teaspoon additional salt and bake at 350F for 13-15 minutes. If your oven runs hot, peek at them before 13 minutes. If the crackers on the edge start to look brown (like the ones below), take them off the cookie sheet and continue cooking the middles.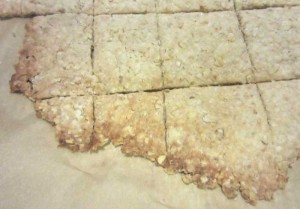 After 15 minutes, watch them very carefully. They can go from "almost done" to "overdone" in a minute or two! Ahem: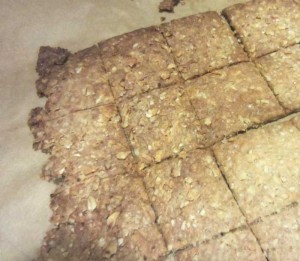 When they've reached the perfect level of done-ness for you, slide the parchment off the cookie sheet and allow the crackers to cool. Once completely cooled, store in a sealed container in the fridge (remember, no preservatives here!).
Be warned! These homemade crackers have a savory wheat flavor that you'll find lacking in the boxed kind from now on. These are delicious on their own, with salami and cheese, or with cream cheese and fresh blackberries.
If making your own crackers sounds like fun, you'll love the more than 45 healthy snack recipes and ideas in Healthy Snacks To Go!