Never buy wrapping paper again! Sew this easy drawstring gift bag and save time, money, and the environment. Great use for fabric scraps or fat quarters.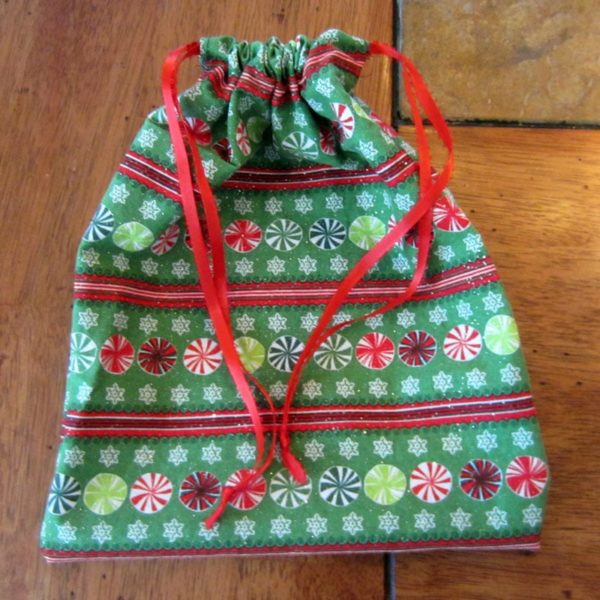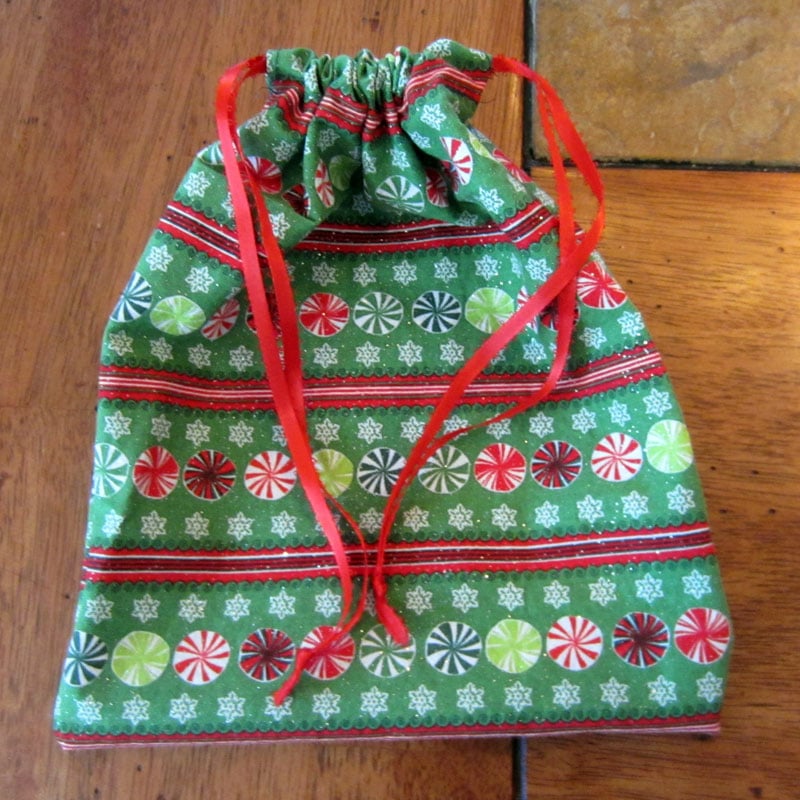 True Confession: I hate wrapping presents.
I hate spending money on wrapping paper, finding boxes, trying to wrap awkward-sized packages…and don't get me started on the ribbons, bows, and foofy decorations. Gack.
And then there's the giant mess in your living room after all the presents are opened. Some of the wrapping paper can be recycled, some can't, and you end up with a ton of paper in your trash can.
A couple of years ago, I decided to sew drawstring gift bags of all sizes to use for Christmas presents. A little bit of work up front and I'd never have to buy wrapping paper again.
It was too good to be true!
Yes, yes it was. I realized at the end of the day that nobody had returned the bags their gifts were in. So here I am, sewing up another set of reusable gift bags. This time I took some pictures so you can make them too. 🙂
You do NOT need any kind of fancy sewing skills to make these bags. You can even sew them by hand if you don't have a sewing machine.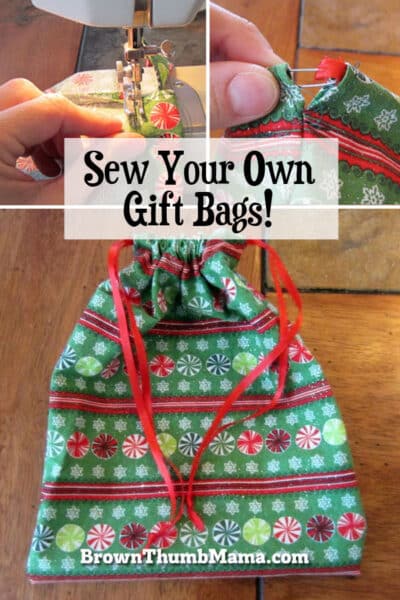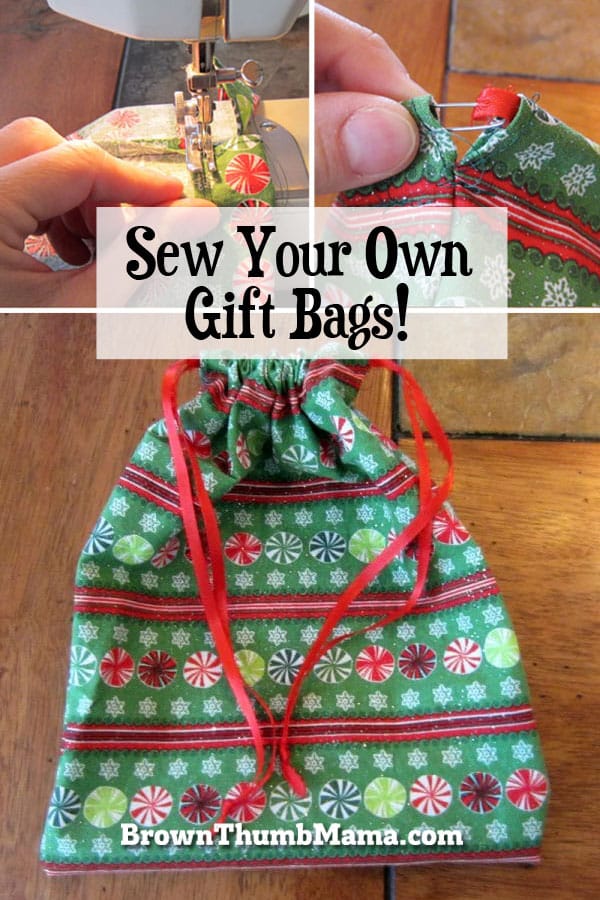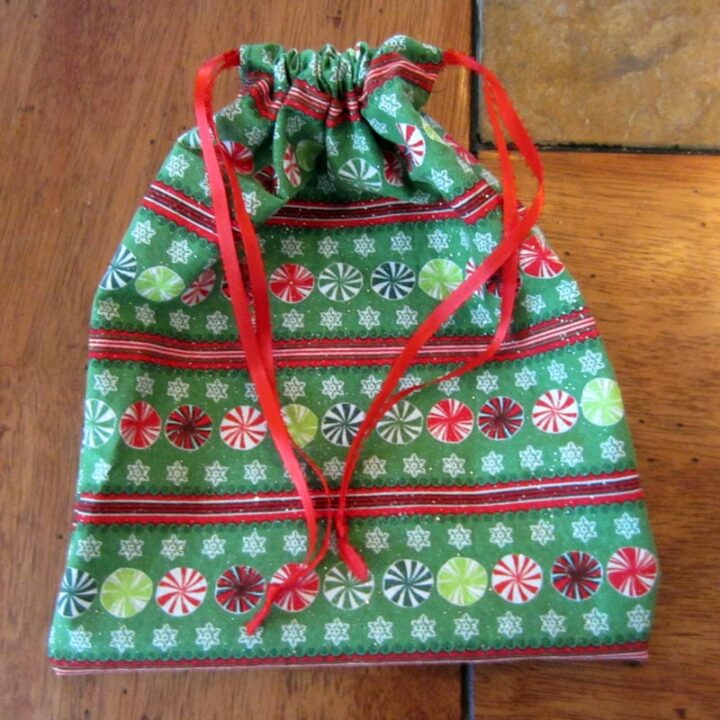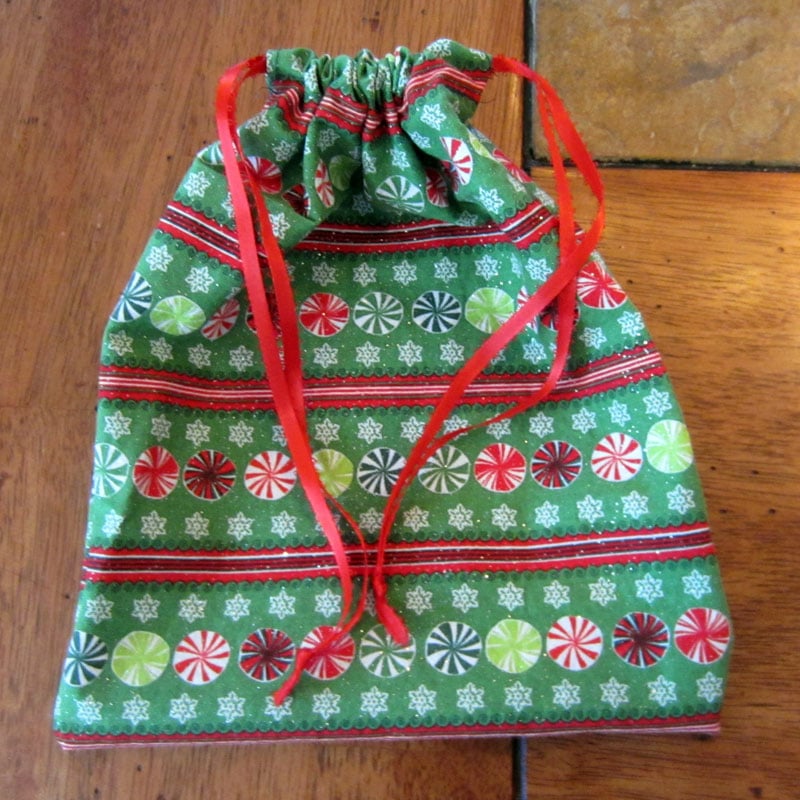 Sew an Easy Drawstring Gift Bag
Materials
Fabric of your choice: I used 100% cotton with a holiday print, but you can use any type your recipient would like.
1/4" satin or grosgrain ribbon for the drawstring.
Tools
Sewing machine
Iron
Sharp scissors and safety pins
Instructions
Measure the size of your gift. (This seems obvious, but if you saw the first batch of too-small-for-anything bags I made you'd understand.)
Give yourself at least an inch of space all the way around, and cut out the desired shape.

Quick Fold Trick:

Turn the fabric over so you're looking at the wrong side. Fold the top two inches over so the fold runs off the side of the fabric.

Iron or pin it so the fold will stay.

Stitch the fold so it stays in place by running a straight stitch through the folded part and right off the edge of the fabric. Repeat on all four corners.
Sew up Sides and Top:
Run a straight stitch up from the bottom to close up the sides, stopping when you get to the folded part. Fold over about 1/4 inch of each top flap, iron it so it stays, and stitch across.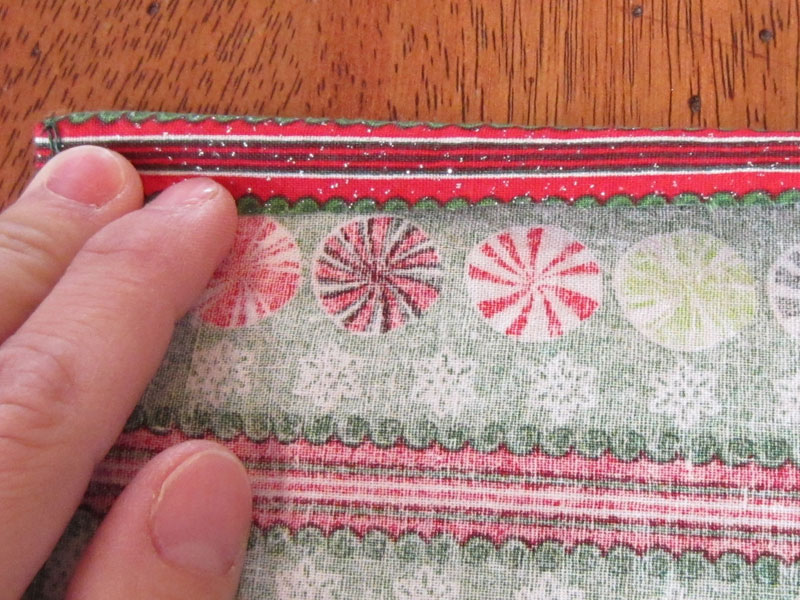 Finish Drawstring Tunnel:
Fold down each of the top flaps, and sew all the way across to make the drawstring tunnel. Don't sew the bag shut (ask me how I know). Repeat on the other side.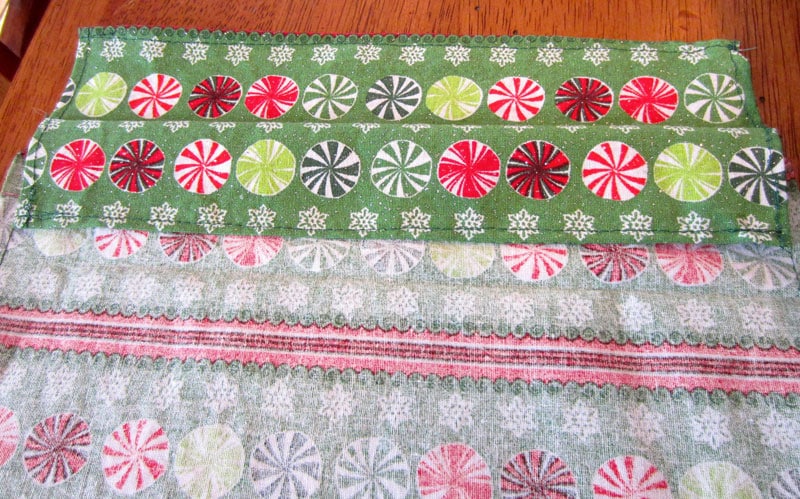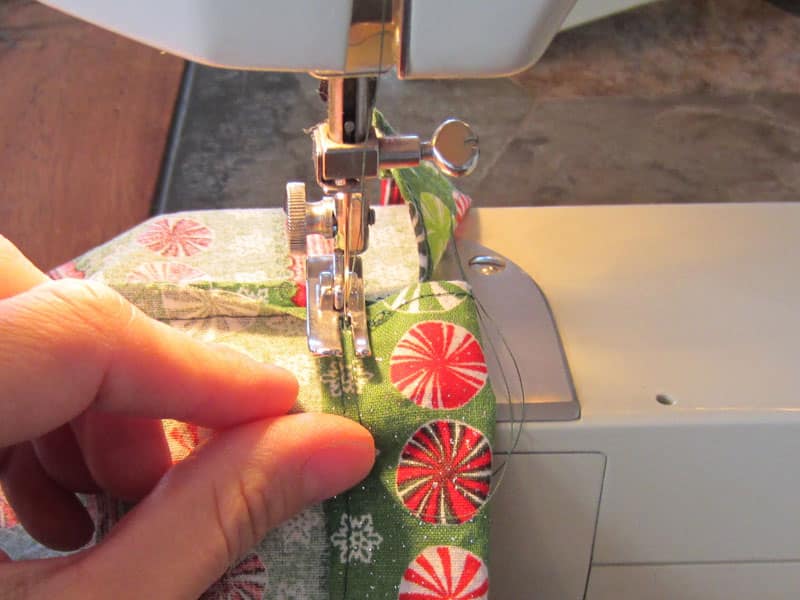 Add the Ribbon:
Measure how much ribbon you'll need, and then put a safety pin on the end to make it easier to thread the ribbon through the fabric tunnel.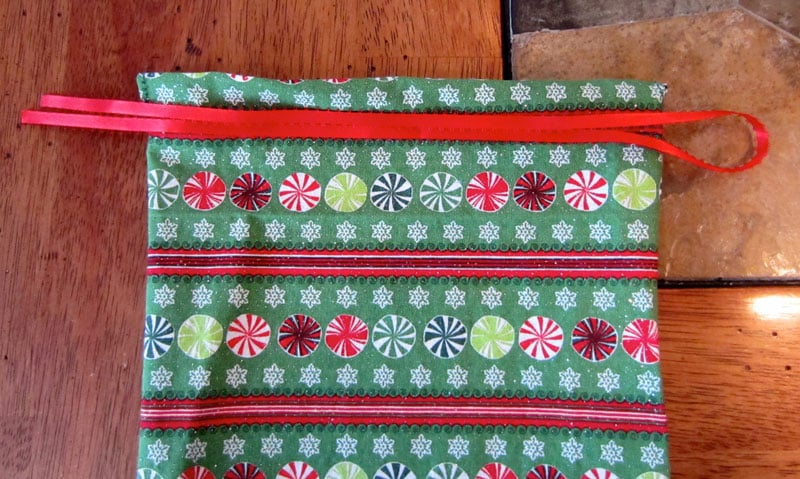 Thread the ribbon through one side of the tunnel, across the "jump," and out the other side. Knot the ends. Repeat, starting the ribbon on the opposite side, so you can pull the knots to close the bag.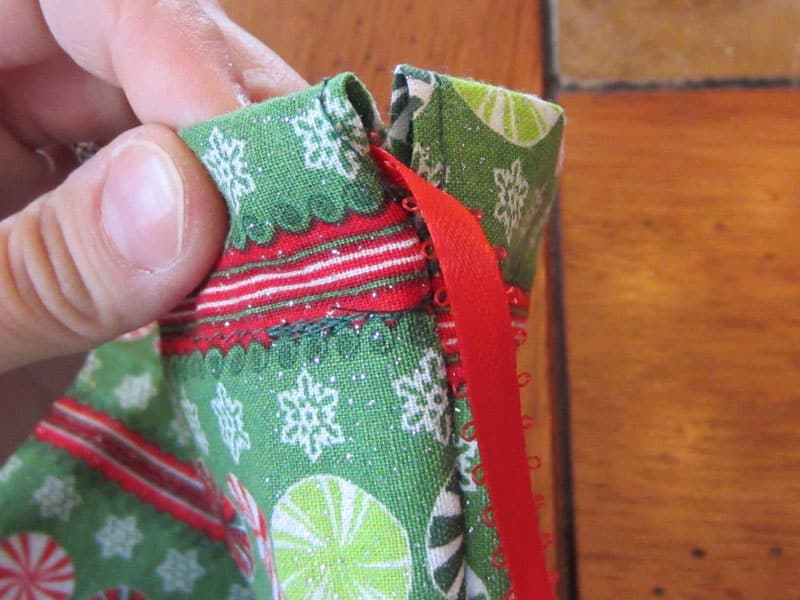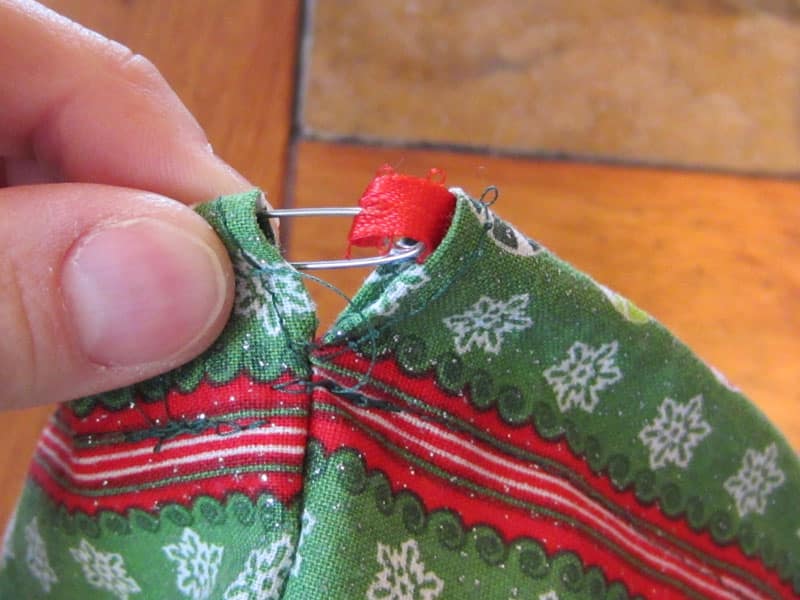 And you're done! How awesome is that? You now have gift bags that are resuable, washable, and can fit presents of just about any size or shape.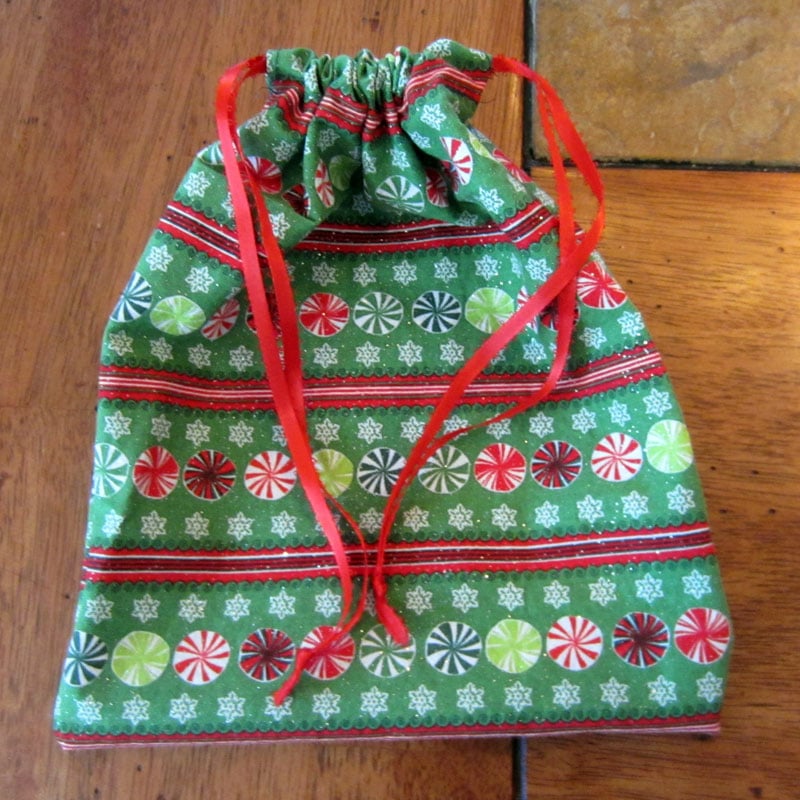 Notes
Drawstring bags have tons of uses beyond Christmas presents:
Use a light muslin and make produce bags to take to the farmer's market or grocery store.
Pick out a fun print and make a bag for the kids' blocks or LEGO.
Whip up birthday party goodie bags.
Recommended Products
As an Amazon Associate and member of other affiliate programs, I earn from qualifying purchases.
What creative methods do you use to avoid wrapping paper?