Keep Your Christmas Tree Fresh
This post may include affiliate links.
If you make a purchase, I'll earn a small fee at no extra cost to you.
These 8 tips will keep your Christmas tree fresh during the holidays. Keep your Christmas tree from drying out and keep it alive longer with these simple, natural ideas.
Nothing beats a fresh Christmas tree during the holidays. We had an artificial tree when I was growing up, and now our family chooses a real tree each year. It simply looks and smells amazing, especially when it's surrounded by my homemade cloth gift bags.
The trouble is – how do you keep your tree fresh and healthy during the entire holiday season? I've compiled this list of the best tried-and-true tips so you'll know how to make your Christmas tree last longer.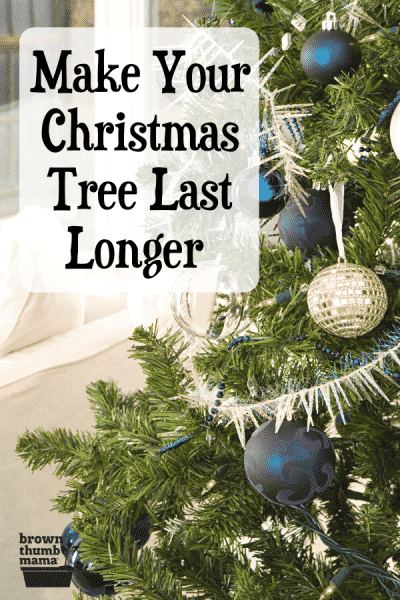 Keep Your Christmas Tree Fresh Longer
When it comes to making your Christmas tree last longer, there are lots of things you can do! Here are a few simple ways to keep your tree fresh:
1. Pick the Right Tree
Fir trees are known for holding onto their needles the longest, so choose a fir tree if possible for the best lifespan. Fir trees also have strong branches that are perfect for supporting decorations. Scotch pines and spruce trees are good second choices.
Before choosing a tree, give it a little shake and see how many needles fall off. The fewer needles that fall, the healthier your tree is! Also, look over the tree and make sure it looks green, vibrant, and healthy.
2. Trim that Trunk
As soon as you get your Christmas tree home, use a saw to trim off about ½ inch of wood from the bottom of the trunk. This will allow the tree to absorb more water and stay healthy for a longer time.
3. Water Immediately + Daily
Give your Christmas tree water as soon as you get it in the stand (see #6 for the best tree stand ever). Add water every day--you want a minimum of two inches of the trunk to be submerged in water at all times.
My secret: use ice cubes to water your tree! This prevents spills and makes it easy for kiddos to help water the tree.
4. Wait to Decorate
I know it's tempting to throw on those decorations right away, but it's best to wait. Let your tree drink some water for 4-5 hours to hydrate those needles. This also allows the tree branches to settle and open up. Then you won't need to tug and pull so much while decorating, which will preserve more of the needles.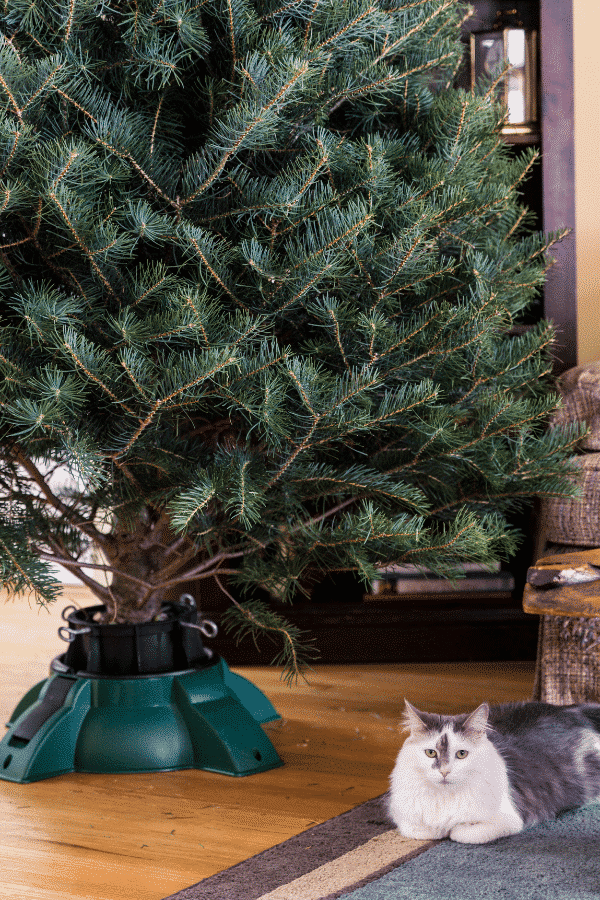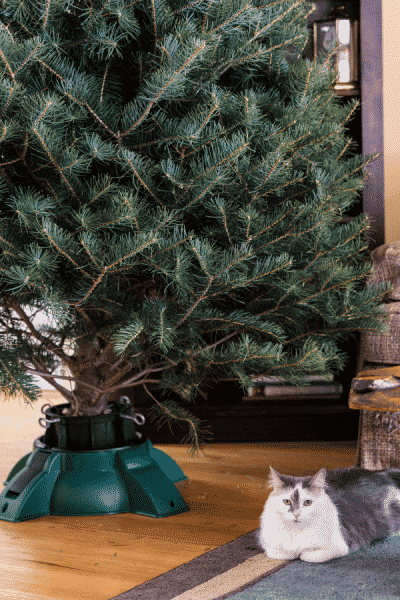 5. Keep Away from Heat
Excess heat can dry out your tree--which not only shortens its life, but is also a fire hazard. Close heating vents that point toward your tree and keep it away from any type of heat source.
Even decorative lights can heat up your tree! Opt for smaller lights or choose LEDs, which produce much less heat. By the way: these LED Christmas tree lights can be switch from white to colored, in case your family can't decide which kind they want. Ahem.
6. Choose a Quality Tree Stand
Tired of fighting about who's holding the trunk and who's laying on the floor tightening the screws? You don't have to do that any longer. This amazing Christmas tree stand ratchets your tree in place using a foot pedal, and it holds 2 gallons of water so your tree never dries out.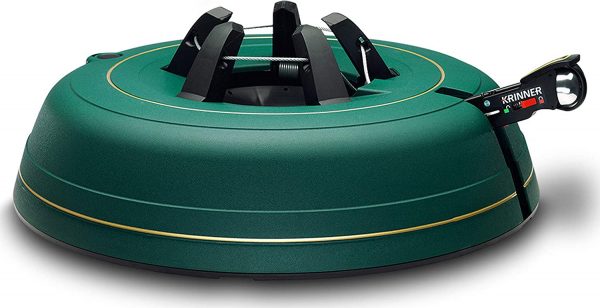 7. Run a Humidifier Near Your Tree
Many of us run a cool-mist humidifier in our homes during the cold, dry months of winter. If you use one, place it near your tree. This will naturally add moisture to the air and prevent your tree from drying out.
8. Make "Christmas Tree Water"
Here's a great, all-natural recipe for Christmas tree water. Some people say this magical elixir will make your tree last longer--the jury's still out on this, though. If you'd like to try it (not for homes with kids or pets), here's an easy recipe:
1 gallon of water
1 cup sugar
½ cup lemon juice
2 tablespoons vodka
½ teaspoon crushed aspirin
Mix and add to your tree as needed. The water and sugar give your tree hydration and nourishment; the lemon juice, vodka, and aspirin act as natural preservatives.
What are your tips for keeping your Christmas tree fresh? I'd love to hear them. If this article was helpful, please share with family and friends!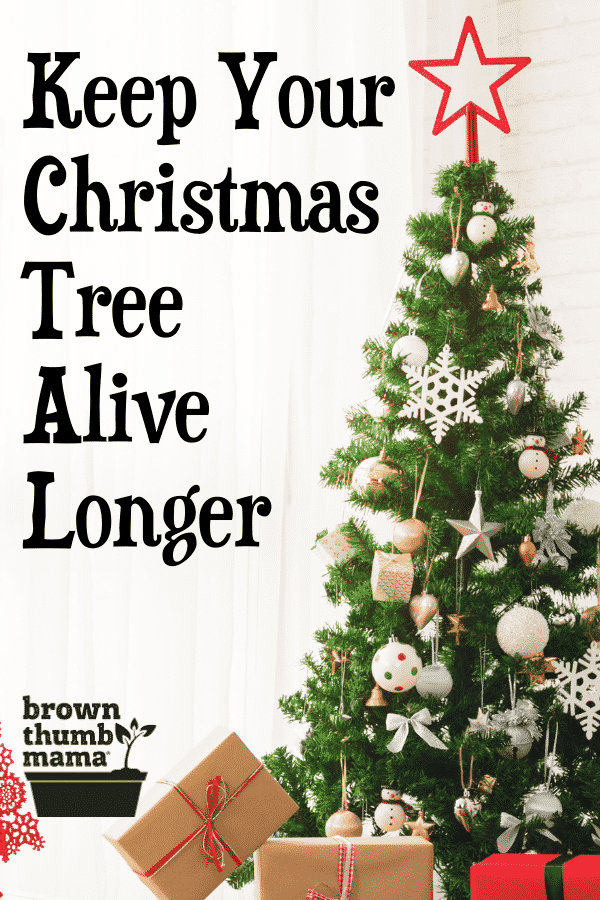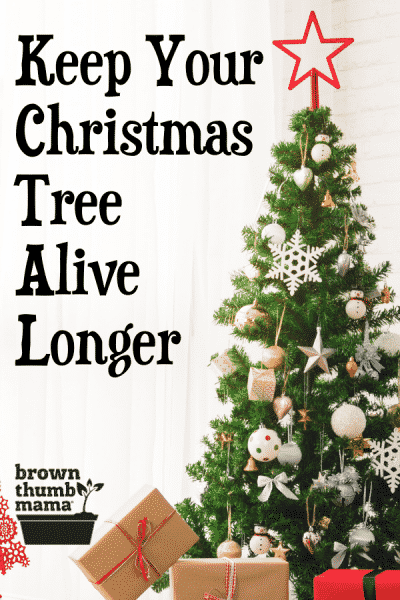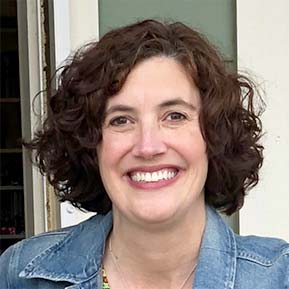 Hey, I'm Pam! I created Brown Thumb Mama to share my homesteading journey and help you live a greener life. Ready to learn more? Check out my Free Resource Guides, or my Shop to learn more.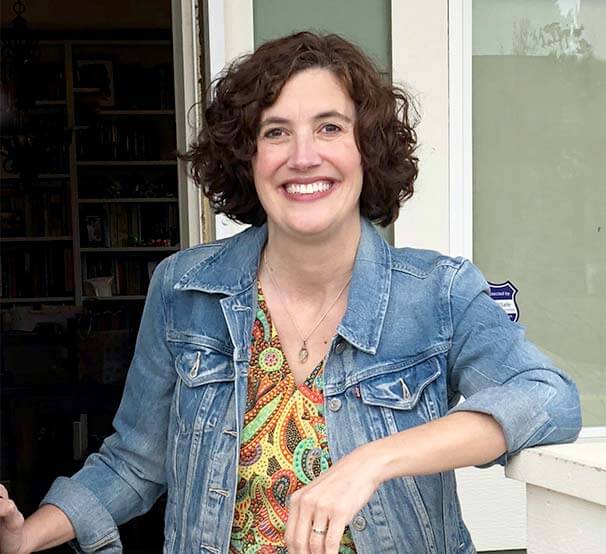 Hi, I'm Pam!
I created Brown Thumb Mama to share my natural living journey and help you live a greener life. Thanks for being here! Learn more about me.