This post may include affiliate links.
If you make a purchase, I'll earn a small fee at no extra cost to you.
This vegetable seed buying guide explains the different types of seeds, which seed companies are the best, and how to avoid GMO seeds. Also includes tips on storing your seeds so they last longer.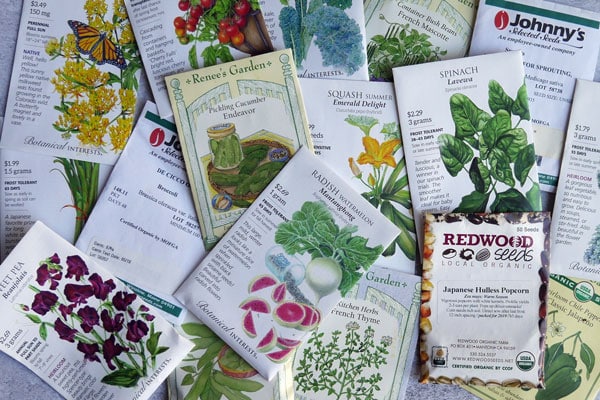 If you're starting a vegetable garden this year, you might be overwhelmed by all the types of seeds that are available. There are organic seeds, heirloom seeds, conventional seeds…and what about GMO? It's hard to know which kind of seeds to buy if you're a new gardener.
Don't fret! This guide will give you the best information about seeds that will help you create the vegetable garden of your dreams. 🙂
Are you a brand new gardener? Not sure what to plant or when to plant it? I can help.
You'll find lots of great information in my new book, The First-Time Gardener: Container Food Gardening.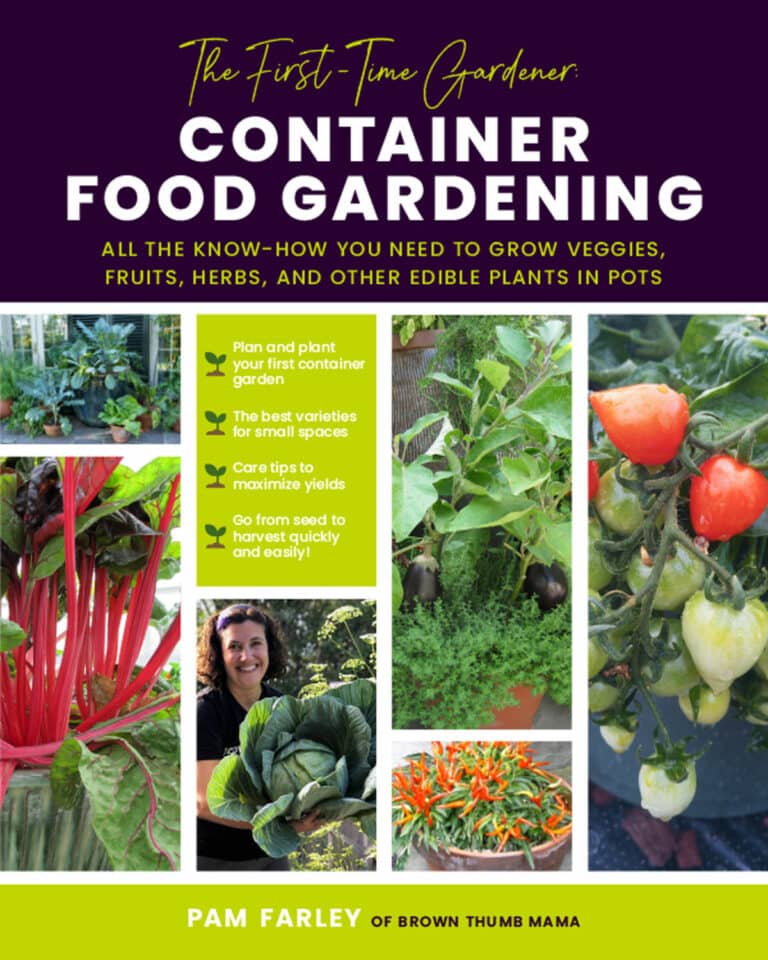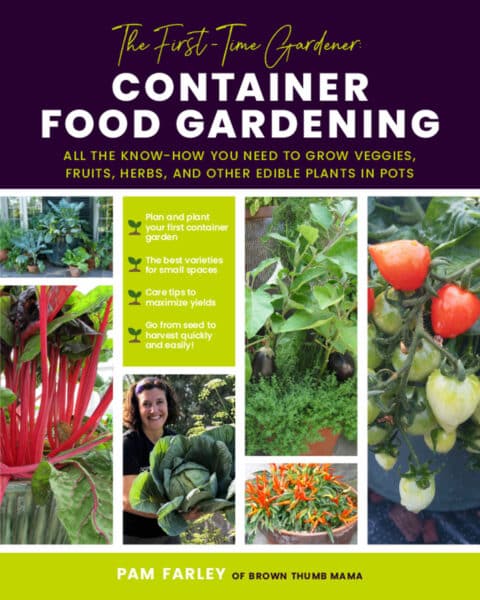 Vegetable Seed Buying Guide
Here are answers to the most common questions I get about growing vegetables from seed.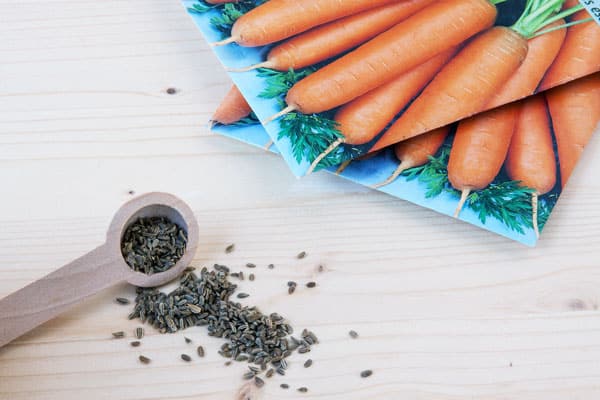 Should I plant seedlings (baby plants) or seeds?
This is an important question to consider! Here are the pros and cons of starting your garden with seedlings or from seed.
With seedlings, you have a head start. They're already growing and will usually handle the transfer to your garden without any trouble.
The down side is that there is not much variety in the seedlings you can get at your local nursery. There might be only one or two varieties of tomato, and one type of squash. Seedlings are also relatively expensive—$3 or more per plant.
Seeds are much cheaper than seedlings—for that same $3, you can get a packet of 40+ tomato seeds (and all of those will grow to be an entire plant). And you can make your own seed starting soil and save even more.
There are usually many more varieties to choose from in a seed catalog than in a nursery—which can be fun or overwhelming, depending on your personality. There are 100+ types of tomatoes in one of my seed catalogs this year!
What 's the difference between the types of seeds?
In most stores or seed catalogs, you'll see three types of vegetable seeds: heirloom, hybrid, and organic.
Heirloom vegetable seeds are my choice, both for economy and sustainability. In this case, heirloom doesn't mean old-fashioned or antiquated. Instead, they're called heirloom because the seeds have been saved and passed down for generations.
Heirloom vegetables have several qualities that are important for gardeners. They haven't been purposely mixed with other varieties, and are pollinated naturally—not in a lab. When you plant heirloom vegetables, you can save seeds from this year's crop to plant next year.
Are your seeds still good?
Most vegetable and herb seeds will be viable for many years, but some need to be replaced every year. Get your free Seed Viability Chart here!
Hybrid seeds come from plants that have been artificially crossed for better qualities–for example, hard tomatoes that don't crush during shipping.
Hybrid vegetables are not bad, but they may not have the depth of flavor and freshness that heirloom vegetables have. Also, with hybrid vegetables, you'll have to repurchase seed each year. If you save seeds from a hybrid vegetable, the seeds may not reproduce accurately because of the way they're created.
Organic seeds come from plants grown and processed following USDA standards. The USDA Organic label on these seed packets assures us that the seeds were grown without the use of synthetic fertilizers and pesticides.
You can have heirloom organic seeds, conventional (non-organic) heirlooms, hybrid organic seeds, and conventional hybrids, but not heirloom hybrid seeds (because these two are mutually exclusive).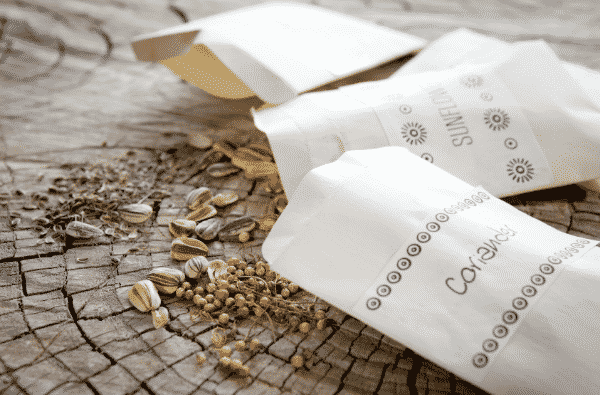 How do I get seeds that are not GMO?
Thankfully, seeds that are available to home gardeners are not GMO (genetically modified organisms). Unlike hybrid seeds, GMO seeds are genetically engineered by modifying genes from unrelated species in a laboratory.
GMO seeds are predominately sold for large-scale commercial crops, like corn, soy, and sugar beets.
Which seed companies are the best?
When I was little, my Grandma and I would walk to the five-and-dime so she could pick out 10 cent seed packets from a spinner rack. Nowadays, us gardeners are much more likely to order seeds online or from a seed catalog (a favorite for winter reading when the days are dark and cold).
But how do you know who has the best seeds that will grow without fail, and haven't been treated with nasty chemicals? There are lots of great seed companies out there, and these are my favorites:
Botanical Interests was started 25 years ago by a family who wanted to share their love of growing from seed. They started in their garage and now they donate seeds to school gardens, children's hospitals, food banks, and to non-profit farms using gardening to educate youth and help veterans.
Renee's Garden is local to me here in California. They sell new and time-tested heirloom gourmet vegetables, culinary herbs and a wide range of fragrant and cutting flowers.
Redwood Seeds is another local California seed company. They're a family business, founded with the goal of providing local seeds for home gardeners. They offer nearly 200 varieties of vegetables, fruits, herbs and grains, a majority of which are grown on their farm in the Lassen foothills.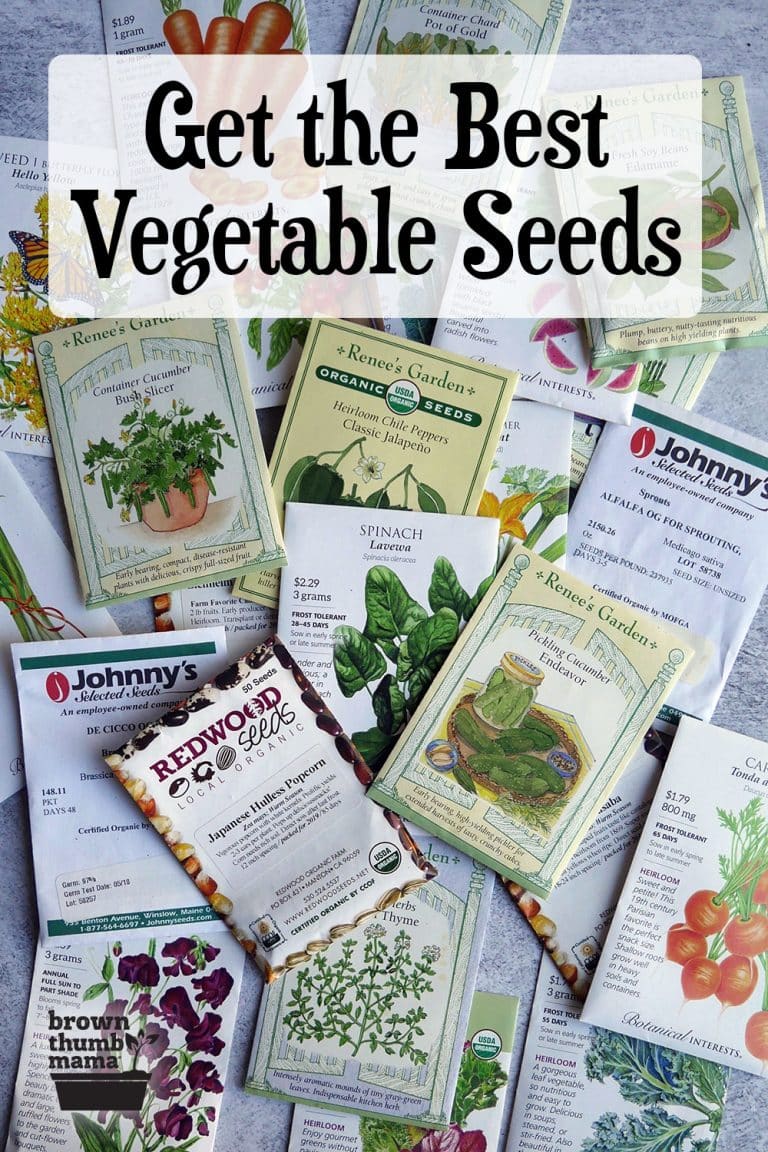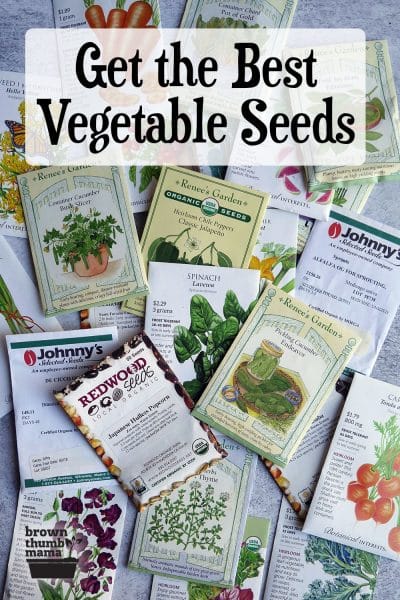 Other Favorites
All of these companies carry heirloom seeds, organic seeds, and non-GMO seeds. Many of these companies also help preserve unique ethnic plants from all over the world.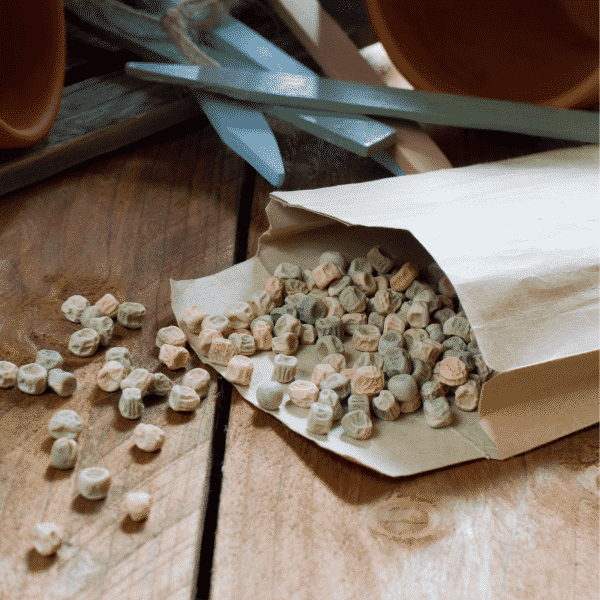 What should I look for when buying seeds?
If you're buying from a reputable seed company or local nursery, you're pretty much guaranteed to have healthy seeds that have been stored carefully and will grow well.
If you're buying seeds at the grocery store or Target, you should check a few things before buying.
Flip the packet over and check that the date is current. All seed packets should have a "Packed for [year]" date stamped on them. If the date is last year or before, don't buy them.
Don't buy vegetable seeds if the packet has been wet or is overly faded from the sun, because heat can damage the seeds.
What is the best way to store seeds?
As you know, seeds grow when they're in a warm, moist environment (your garden). Therefore, the best way to store them is to keep them cool and dry, so they remain dormant. I keep my seeds in the pantry, inside this adorable box my friend painted for me.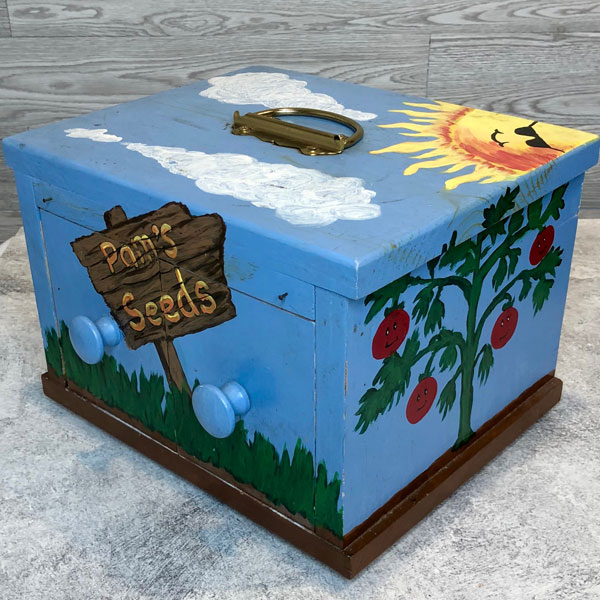 You could also store your seeds in a cupboard or closet. These photo boxes are perfect for seeds.
Please don't store your seeds outside, or in the garage. Your seeds could be eaten by critters, and snails and slugs will eat the paper packets. The temperature and humidity changes can also damage the seeds and prevent them from growing.
Most vegetable seeds will remain viable for 1-3 years when kept in optimal conditions (low temperature and low humidity).
I have my seeds, now what?
Now the fun begins! Grab your planting calendar and decide what you're going to plant in your garden this year.
Some of your seeds may grow better if you start them indoors first (check the seed packet). If that's the case, mix up a batch of DIY Seed Starting Mix and you can start gardening right away!