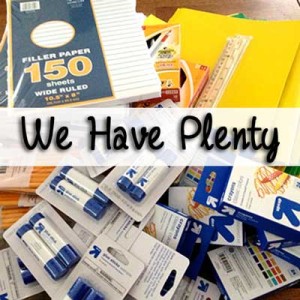 Jackjack and I got his school supplies last month and I reveled in how much money I saved. At the cash register, I smiled to myself and imagine future blog posts on "How to Save the Max on Back to School!" and so on.
Then I saw this post from a friend who is a principal at a school here in town.

At first I thought, "How smart of her to have the clothes closet bring donations to school!"
And then I realized–if these families can't afford clothes for their kids, how on earth are they going to buy school supplies?
Well, there was only one thing to do. The kids and I looked at the sale ads and stopped by Target to see what we could get with the money we had saved.
Thanks to the great back-to-school sales, we got all this for about 25 bucks.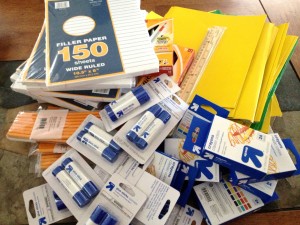 We dropped everything off last week and the principal and staff were thrilled. And you know what? Our budget won't miss that $25 one little bit. We have plenty.
Now I'm going to challenge you:
Do you have any extra school supplies? Does your office have some leftover binders that just need a cover to be presentable? How about some extra copy paper or maybe some envelopes that you don't need?
Look for a school that needs a helping hand. They'll be glad and so will you.