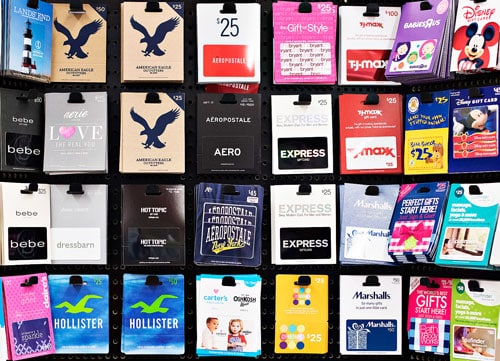 Seems hard to imagine, doesn't it? How could someone not want a gift card?!?
Well, there are a number of reasons. Maybe it's for a store that you would never shop at. Maybe you won it at work or in a raffle and you have no idea what to do with it! Maybe it's for a baby store and your youngest kid is 12.
Here are 5 things you can do with those gift cards so they don't go to waste.
Eat light.
Have a restaurant gift card that's not enough to feed your whole family? Don't spend extra money just to use up the gift card. Order an entrée to go and add side dishes from your pantry (homemade Rice-a-Roni is always a winner at our house). Restaurant portions are so large that a steak or chicken plate can be stretched a loooong way.
Skip the fix-it.
Your gift card is for a home improvement store but you don't know which end of a hammer to hold? Most of these places have laundry detergent, or cleaning supplies like mops and sponges. Pick up some industrial cleaning tools to go with your natural All-Purpose Cleaner and save a bit on your grocery budget.
Save up.
Do you have a low-value card for a store where everything's expensive? I love to shop at REI but I need to save up before I go there. Earn extra cash from Swagbucks or MySurvey to help cover the difference.
Cash out.
There are websites like plasticjungle.com that allow you to buy and sell gift cards, but I've never tried them. Research and use your own judgement!
Share it.
If you get a gift card for a store you would never, ever shop at—don't throw it away! Call your local food bank and ask them what they need. Better to spend your card on diapers and cans of tuna than let it go to waste.