This post may include affiliate links.
If you make a purchase, I'll earn a small fee at no extra cost to you.
This is one of our favorite summer meals. Teriyaki chicken on the barbecue with stir-fried veggies and rice–and it can be on the table in just a few minutes.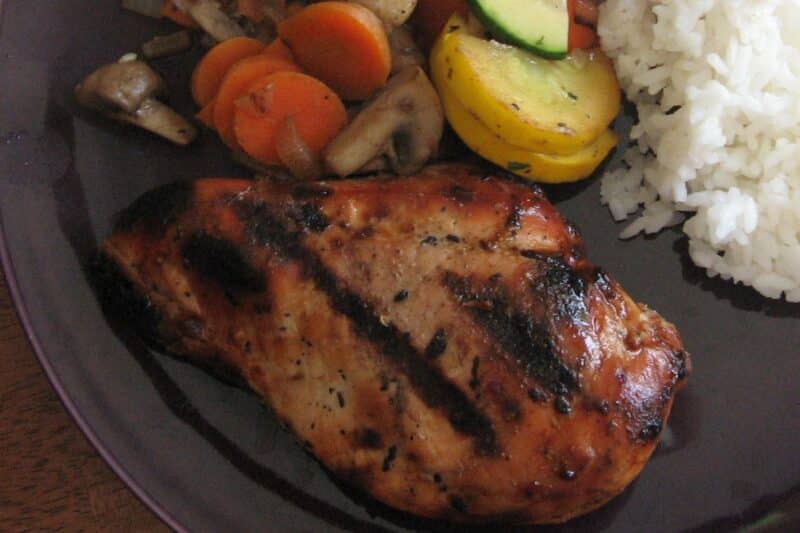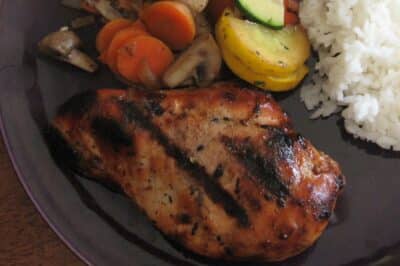 I'm a bit of a teriyaki sauce junkie, so it only makes sense for me to make my own. And this recipe doesn't have any hidden preservatives or MSG, like the sauce from the store.
Here are some of the ways we use teriyaki sauce:
Marinade chicken or steak (put sauce in ziplok before freezing and it will marinade as it thaws)
Brush on salmon at the end of grilling
Splash in with shrimp for a stir-fry
Brush on veggie kabobs before grilling
On a pile of fried rice for a late-night snack
Homemade Teriyaki Sauce
Ingredients
1 cup soy sauce
1 cup sugar or 3/4 cup honey
1 teaspoon grated ginger (2t for extra zing)
4 cloves garlic, crushed
1/4 cup mirin (optional)
Instructions
Combine all ingredients and heat gently until sugar dissolves. Keeps in fridge for about a week or freezes indefinitely (it won't freeze solid due to the sugar content).
What's your favorite teriyaki application? Share with us (as our mouths water) in the comments!