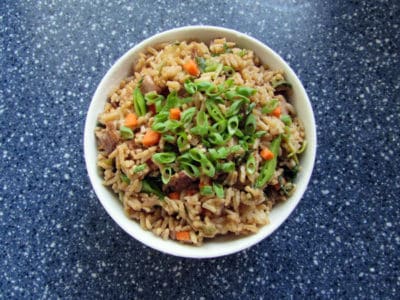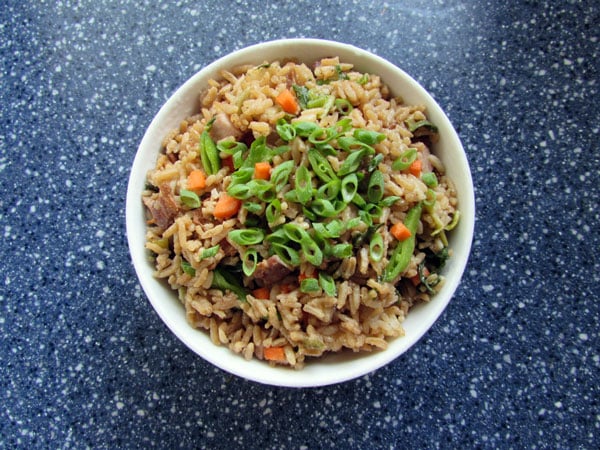 Fried rice is a family favorite and it's so easy to make! We call this "Loaded" Fried Rice because it's loaded full of meats and veggies. It's a frugal way to clean out the fridge without anyone knowing they're eating leftovers.
It cooks up best when you use day old (not freshly made) rice. I make a big batch of rice and freeze it in zip bags. Just heat and go!
Fried Rice from Scratch
Ingredients
2 cups cooked white or brown rice
1/2 pound uncooked bacon
2 eggs (optional)
Soy sauce to taste
Up to 4 cups veggies and meats. Go crazy! Here are some things we put in our rice:
leftover carnitas
that last piece of chicken that nobody can finish
cooked shrimp
zucchini
carrots
celery
bok choi
mushrooms
onions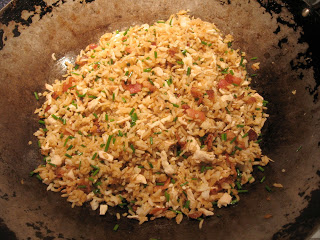 Instructions
Cut your bacon into chunks and put it into a wok or big frypan on medium heat. Let it cook, stirring occasionally, until browned and crispy. Scoop the bacon out and keep the drippings in the pan. (This is critical! It's where all the nummy flavor comes from.)
Dice your veggies and stir-fry them in the bacon drippings until they're almost done. Carrots and celery will take longer; zucchini and mushrooms only need a minute or two. Chop up the meat and add it in (bacon too).
Plop the rice in the wok and stir everything together gently. Splash in a bit of soy sauce and take a taste. It's pretty salty, so don't overdo!
Once everything is warm, it's time to add the eggs. Mix them in a separate bowl like you're making scrambled eggs. Move the rice and veggies to the sides of the wok, so the hottest part in the center is open. Pour the eggs in and cook, stirring, until almost set. Then mix them into the rice until well incorporated.
You're done! Garnish with chopped chives or parsley for a bit of color.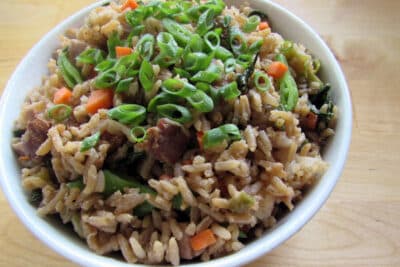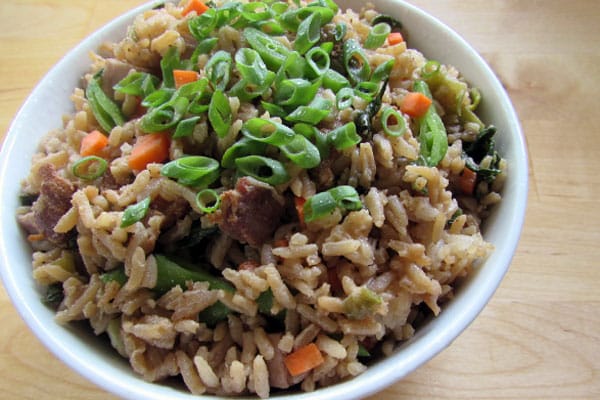 How do you use up leftovers?