Spring is always a busy time of year for our family. Every day, we work on the front and back gardens, weeding them and prepping them for planting. The backyard deck and pool need to be cleaned and ready for swimming and dinners outside.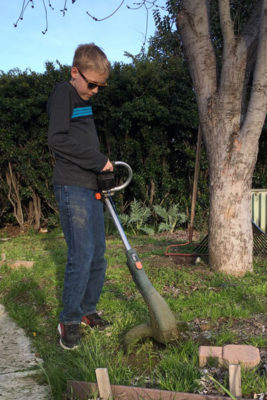 Most nights of the week, someone has a music lesson, sports practice, or I'm out teaching an essential oils class. Dinnertime often sneaks up on us, and we need to make something delicious, filling, and fast.
Spaghetti is one of our favorite quick dinners, but I don't like all the sugar in conventional jarred spaghetti sauce. Check out the Barilla Marinara the next time you're shopping…it contains almost as much sugar as a bowl of Trix. Seriously.
It's easy to make homemade spaghetti sauce from pantry staples. It takes about 10 minutes from start to finish—which means your sauce will be done before the pasta!
Enough talk…let's do this.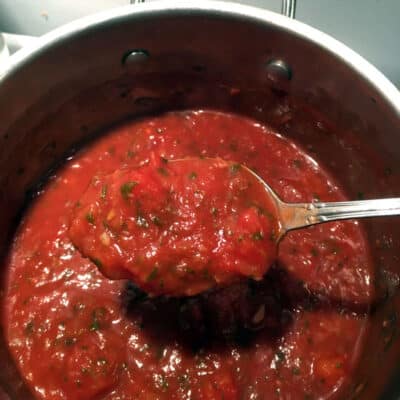 Quick Homemade Spaghetti Sauce
Ingredients
14 oz can chopped tomatoes
½ yellow onion, chopped fine
1 teaspoon olive oil
15 oz can tomato sauce
1 Tablespoon brown sugar
2 Tablespoons pesto (learn my secret for cheap homemade pesto)
Instructions
In a large saucepan, saute the onion and olive oil over medium heat until the onions have softened. Add the tomatoes, juice and all. Stir and simmer for 4-5 minutes until the tomatoes have started to break down.
Add the tomato sauce, brown sugar, and pesto, and turn heat to low. Simmer, stirring occasionally, for 3-4 minutes until heated through.
Serve on spaghetti, meatballs, pizza, breadsticks…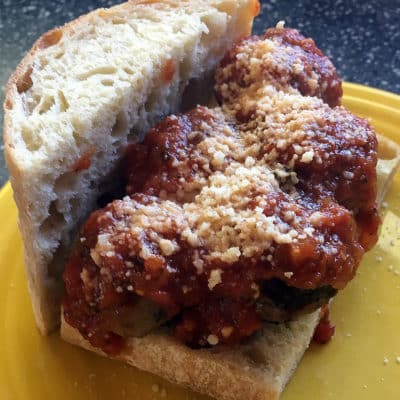 Kitchen Tips
If you don't like chunky spaghetti sauce, use a stick blender to puree the sauce before serving.
This is a great way to use frozen onions (see my tips for freezing onions).
Don't have pesto? Substitute 2 cloves garlic, smashed, and a teaspoon of dried basil.
If you don't want to use any sugar at all, finely grate 2 carrots and saute them with the onion until soft.