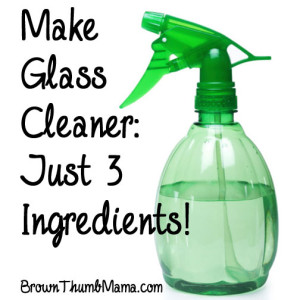 What happens when you combine a 5-year-old playing with toothpaste and a steamy bathroom mirror? You call it a big mess, and I call it an object lesson. There's no way that I'm going to wash that dirty bathroom mirror.
However, I also don't want ANY of us breathing in the funky ingredients that are in Windex:
Sodium Dodecylbenzene Sulfonate

Liquitint® Sky Blue Dye
These ingredients are so nasty that Environmental Working Group has given Windex a grade of "D" because these ingredients have the potential for acute aquatic toxicity; respiratory effects; and nervous system effects.
Make Your Own Glass Cleaner
It's easy and inexpensive to make your own window or glass cleaner, without any of those nasty chemicals.
There are lots of homemade glass cleaner recipes out there–I've tried many of them and this one is the best. One batch costs pennies to make–compare that to store brand glass cleaner at $2.39!
Homemade Glass Cleaner
1 cup rubbing alcohol
1 cup water
1 tablespoon white vinegar
Pour into a clean 24oz spray bottle (I like these because they're sturdy and don't leak) and fill with tap water.
Hand the bottle to your minion and send him to the nearest dirty mirror.

If you're lucky, he might get motivated enough to wash more stuff.

Watch as your bathroom becomes sparkly clean! Or less of a biohazard, at least.

Now if I could just get him to mop the kitchen, I'd be in business…