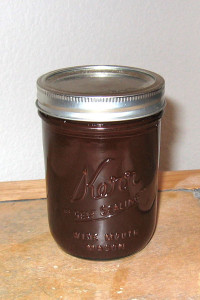 Friends, you know how this goes. It's 11pm, you have an undeniable craving for chocolate milk, and there's no chocolate syrup in the house. What do you do?!?
You ransack your recipe books for a solution, that's what. Desperate times result in delicious measures!
This homemade chocolate syrup comes together in minutes and is delicious in chocolate milk, on ice cream…you name it.
Adapted from the recipe in The Tightwad Gazette II.
Perfect Homemade Chocolate Syrup
Ingredients:
1/2 cup cocoa powder
1 cup water
2 cups sugar
1/8 teaspoon salt
1/4 teaspoon vanilla (extra credit if it's homemade)
1 teaspoon cornstarch dissolved in 1 teaspoon water
Combine the cocoa powder and the water; stir over low heat until the cocoa dissolves.
Add the sugar and stir until it dissolves. Boil gently for 3 minutes, then add the salt and vanilla. Finally, stir in cornstarch mixture to thicken.
Break your husband's heart when he finds out you aren't making brownies. Promise to make brownies tomorrow for dessert.
Pour into a clean jar, and store in the fridge. Chocolate craving satisfied!