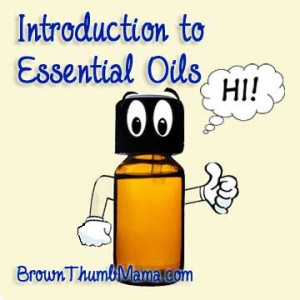 I've gotten quite a few questions about what essential oils are and what they're used for. After responding to numerous emails, I thought it would be helpful to share this information with everyone!
What are essential oils?
Essential oils are highly concentrated liquids distilled from plants, flowers, or trees. They are called "essential" not because they're necessary (although I think they are), but because their extreme concentration brings out the essence of the plant.
As with many products, essential oils are made in different grades, or levels of quality.
Synthetic oils or fragrance oils are the lowest quality and are typically used in lotions or perfumes. These are often sold at craft stores.

Food grade oils are used to flavor things like cake mix, cereal, etc. An example of this is the lemon or orange flavoring sold at the grocery store.

Therapeutic grade oils are the highest grade and can be diffused (spread via air), used topically (on the skin), or internally. I only use and recommend therapeutic grade oils. Learn more about the oils I use here.
Because they are so concentrated, you only need a few drops to be effective. That's why they're sold in such tiny bottles!
How do you use them?
Essential oils are my first line of defense. I use them for health, freshening the air, and cleaning. The kids can help clean without danger of chemical exposure, and I don't worry about spills or the dangers of mixing one cleaner with another.
And a single essential oil can be used in a variety of ways, which saves you money instead of buying multiple products.
For example: I don't need to buy "Baby Bedtime Bath" for Little Peanut–I just add a bit of lavender oil to her bath water. A couple of drops of lavender on a cloth in the dryer gives our laundry a fresh scent. And finally, a teeny drop of lavender soothes occasional skin imperfections. That's three separate products that I didn't have to buy, from just one bottle of essential oil!
A few reminders:
This is a good time to remind you that I'm not a doctor or herbalist, and this information should not be considered medical advice. Do your own research and use good judgement!
Treat essential oils with respect. Keep them out of kids' reach and away from heat and light. I store mine in a box in the linen closet, out of reach of little hands.
Would you like to know more?