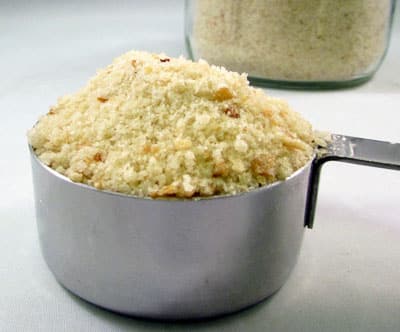 Let's say that–thanks to Big Data and your grocery store rewards card–you get a coupon for a free loaf of your favorite sourdough bread. And then let's say that when you get home, you toss the bread into the fridge for Spaghetti Night on Friday.
Happily, when Friday rolls around Hubby decides that going out for sushi would be better…and your bread is forgotten until it's more than a week old.
It's not moldy, but it's certainly not fit for Spaghetti Night. Of course you aren't going to throw it out (right?) but you already have enough Homemade Croutons to last for a month. What can you do?
Time to make some DIY bread crumbs! There's no reason to spend money on stale, store-bought bread crumbs when you can whip them up yourself.
Here's all you need to do.
DIY Bread Crumbs
Cut the bread into thin slices and lay it on an oven rack or cookie sheet to dry.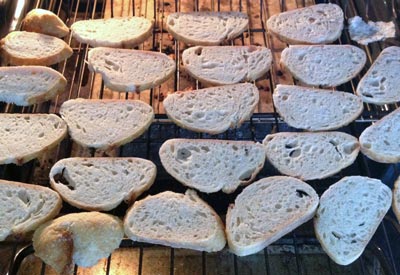 I put the bread in the oven instead of on the counter so the little ones don't get to it. You might need to put a note on the oven, so you don't turn it on while the bread is inside and burn it…but that's another story.
Allow the bread to dry for at least overnight, or 24 hours if you can. You'll know it's ready when it snaps and doesn't bend.
Break the dry bread into big chunks and put them in your food processor until it's about ⅔ full. Whirl it with the cutter blade until you get the desired texture. You can see here that I need to keep going because some of those crumbs are mighty big.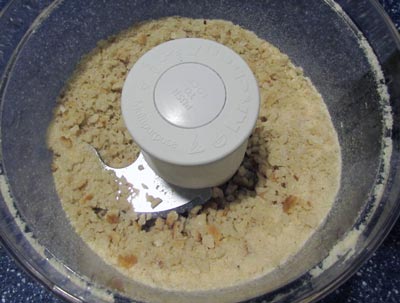 Put your bread crumbs into a canning jar (I like these) or old spaghetti sauce jar and store in the freezer.
What can you do with those bread crumbs?
Put them on top of Sausage Zucchini Gratin, mix them with a bit of seasoned salt for fried chicken breading, add them to meatloaf…the list goes on and on.
What's your favorite recipe using bread crumbs?
Save