You know how sometimes a brand name becomes synonymous with the product it makes? Think Kleenex or Xerox. We love Panda Express, and it automatically means "Orange Chicken" when we hear it. The conversation has become shorthand: "Wanna Panda?" is all that needs to be said.
Recently, I wanted some Orange Chicken but didn't want to: load the kids in the car in the rain, drive to Panda Express, unload the kids, wait in line (juggling a wiggly toddler saying, "Down!" the whole time), load the kids back in the car, load the food in the car, return home.
Can ya blame me?
Besides, why pay for something you can make? Let's do this.
Homemade Orange Chicken
Inspired by Martin Yan's Orange Beef
Ingredients
1 pound boneless, skinless chicken breasts
2 tablespoons butter or coconut oil (buy my favorite coconut oil here)
1/2 cup orange juice
zest of 1 orange
3 Tablespoons oyster sauce
2 Tablespoons honey
2 teaspoons minced ginger
1/4 teaspoon red pepper flakes (optional)
Instructions
Cube the chicken into bite-sized pieces. I prefer to do this while the chicken is partially thawed, since that makes it easier to cut.
Heat the butter/oil in a large pan until shimmering. Add half of the chicken (it's OK if they're still partly frozen when you put them in) and cook until nicely browned.
Don't put all the chicken in at once because the pan will get crowded, it won't stay hot enough, and you won't end up with the tasty browned bits of chicken deliciousness.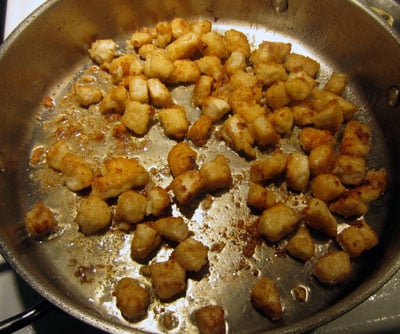 Take the first half out and set it on a towel while you cook up the second half. I put the chicken on a towel instead of a plate because the towel will absorb any condensation, preventing sogginess.
While the chicken is cooking, prep the sauce. Mix the orange juice, orange zest, oyster sauce, honey, ginger, and red pepper flakes, if using, in a measuring cup. The honey will probably stay in a big lump in the measuring cup, but it'll melt in the pan.
Take out the second batch of chicken and blot the excess oil out of the pan with a paper towel. Leave the crunchy browned bits in.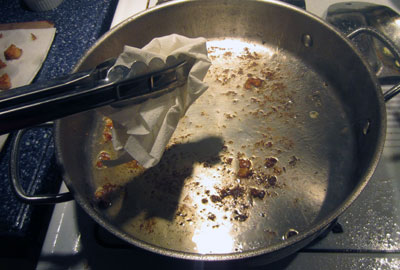 Pour the sauce into the pan, making sure the honey comes along for the ride, and scrape up all those yummy browned bits.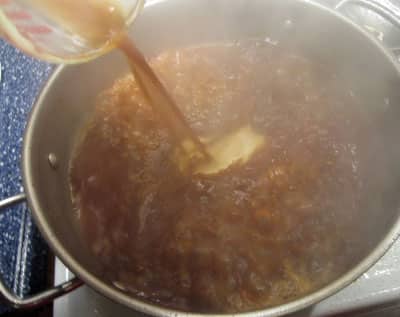 You'll know the sauce is the right thickness when your spatula leaves a little blank trail behind it.
Toss in your chicken and heat it through. Serve with loaded fried rice.
I like to make a big batch of sauce and freeze it in these canning jars. Then I can pour the sauce over store-bought chicken strips, make some rice, and dinner is done! BOOM.