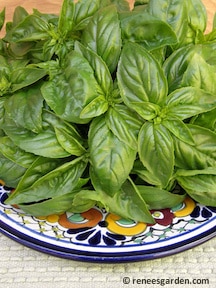 Basil, basil, basil! It's tucked in here and there in our front yard garden and also in the raised beds in the back. We use it in tons of our favorite recipes–Crock Pot Spaghetti Sauce, on pizza, in Spicy Red Chicken, in pasta salad, and lots more.
And when you pair it up with garlic…oh boy. That's a combo that can't be beat. To preserve our basil harvest, I make and freeze huge batches of pesto every summer.
Last winter, I ran out of homemade pesto and nearly died when I saw how much it costs! A teeny jar is $5, and it doesn't have the extra-garlicky bite that our family likes.
Now, I know what you're expecting me to say. Yes, you'll save a lot of money by growing your own basil. My favorite variety is Italian Genovese from Renee's Garden, although it's fun to make purple pesto with Renee's Purple Opal basil. The kids will love growing that one.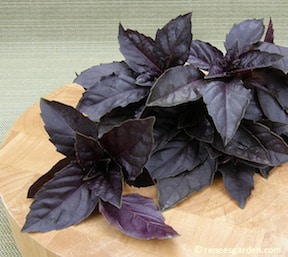 You'll also save money by growing your own garlic. Learn more about how to do that here. Neither of these are the one big secret to frugal pesto, though…
As a quick review, traditional pesto uses basil, garlic, parmesan, pine nuts, and olive oil. Can you guess which ingredient we're going to replace to save big bucks? Yep! It's the pine nuts. These little guys must be gold-plated, they're so expensive. 30 bucks a pound? Heck no.
Here's the secret to making cheap basil pesto.
Replace the pine nuts with walnuts. They have a similar texture, the flavor works great with the other ingredients, and they're a fraction of the cost of pine nuts. Let's do this!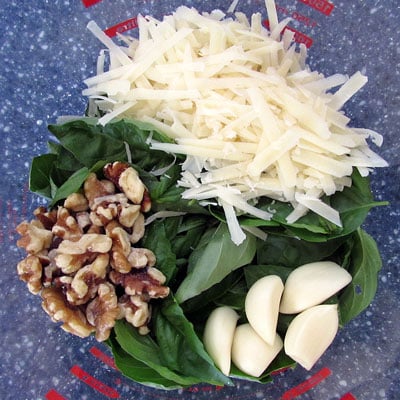 Easy (and Cheap!) Basil Pesto Recipe
Ingredients
3 cups basil leaves, lightly packed
4-5 garlic cloves
1/3 cup walnuts
1/2 cup grated parmesan
1/2 cup olive oil
Salt and pepper to taste
Instructions
Put the basil, garlic, walnuts, and parmesan in the food processor (this is the one I use and love) and pulse until everything is broken down, like this.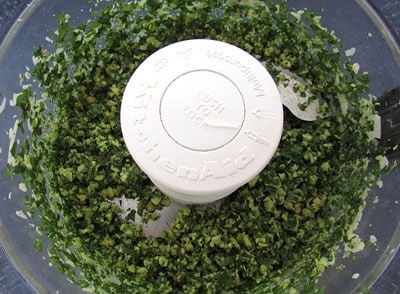 Add the olive oil in a thin stream as the processor is running. Process until it reaches your desired consistency.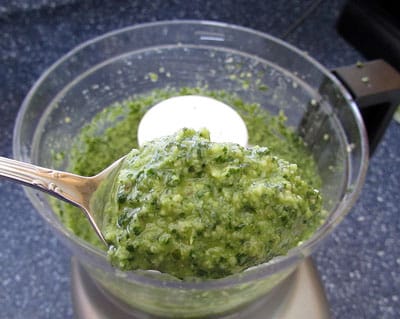 Taste and add salt and pepper, if desired.
I freeze pesto in small canning jars and also in 1 Tablespoon scoops, just like I do when freezing garlic.
Yield: 2 cups
Kitchen Tips
Fresh pesto will keep in the refrigerator for a couple of weeks. The top layer may become dark, just like basil darkens when it's cut. It still tastes great, though.
Toss pesto with pasta, add to your favorite spaghetti sauce, or put a layer or two in your lasagna for a flavor boost.
Add it to your homemade pizza crust when kneading and tell your kids it's space alien pizza.
Mix pesto with bread crumbs, stuff mushroom caps, and bake for a yummy appetizer.