This post may include affiliate links.
If you make a purchase, I'll earn a small fee at no extra cost to you.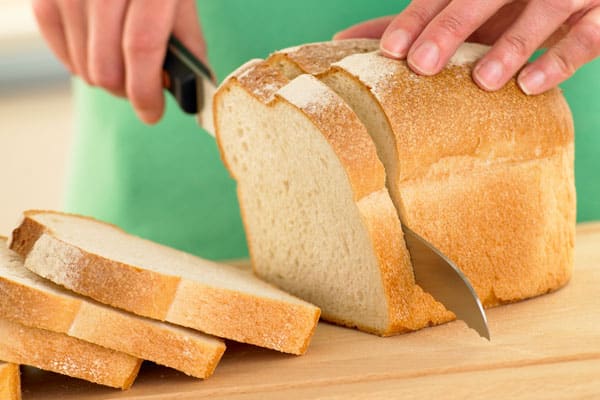 I was going to tell you about my trials and tribulations in developing a bread recipe that's good enough to share. I considered telling you how we've suffered through several attempts at french bread, the rectangular hockey puck that was 100% whole wheat bread, and some really blah versions of sandwich bread.
But once I brought this out of the oven, all of that was forgotten. This is a rich, hearty bread that will stand up to whatever you can pile on it–from lunchmeat to PB&J and beyond.
Ingredients:
1 egg
1 cup water
4 Tablespoons melted butter
3 Tablespoons sugar
1.5 teaspoons salt
4 cups bread flour
2 teaspoons yeast
Place all ingredients in your mixer, or bread machine set to "dough." (A bread machine makes baking so easy! I recommend this one.)
If using a mixer, knead for 8-9 minutes. Put the dough in a clean bowl, cover with a damp cloth, and let rise until doubled. This can take from 30-60 minutes, depending on the temperature in your house.
Remove the dough from the bread machine or bowl and divide into two loaves. Place each loaf into a greased loaf pan, cover with a damp cloth, and let rise again for 30-60 minutes.
Bake the bread at 350F for 35-40 minutes. When finished, remove the bread from the pan and let cool on a wire rack.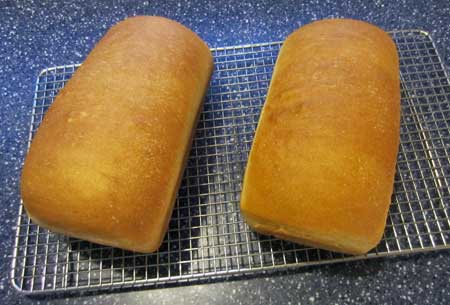 Besides sandwiches, it's divine when toasted and served with apple butter or strawberry jam.
I buy all of the ingredients for this bread at Costco, and my total price is 36 cents per loaf. That's cheaper (and fresher) than the bakery outlet!