15 Ways to Save Water in the Vegetable Garden
This post may include affiliate links.
If you make a purchase, I'll earn a small fee at no extra cost to you.
It's easy and important to conserve water in your garden. Here are 15 ways to save water in your vegetable garden--whether you're gardening in a drought, experiencing water restrictions, or simply want to save on your water bill.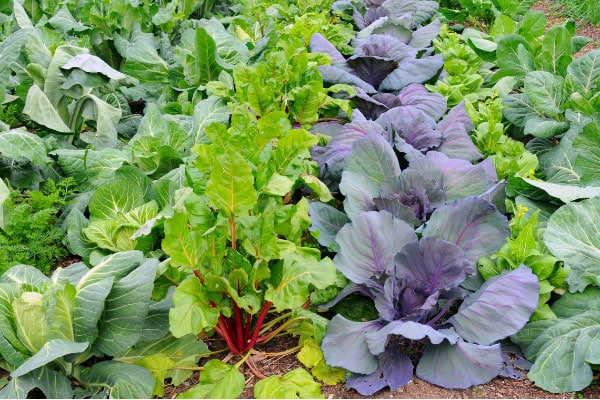 Drought is a serious problem in many parts of the country. Here in Northern California, we battle drought conditions every few years. Many of the lawns in my neighborhood are brown and dry, and there have even been times when the city parks stop watering.
Many readers have written to ask me about how to conserve water while still having a thriving vegetable garden. Good news! You can have a wonderful garden and save water at the same time. Here are my favorite ways to conserve water in your garden.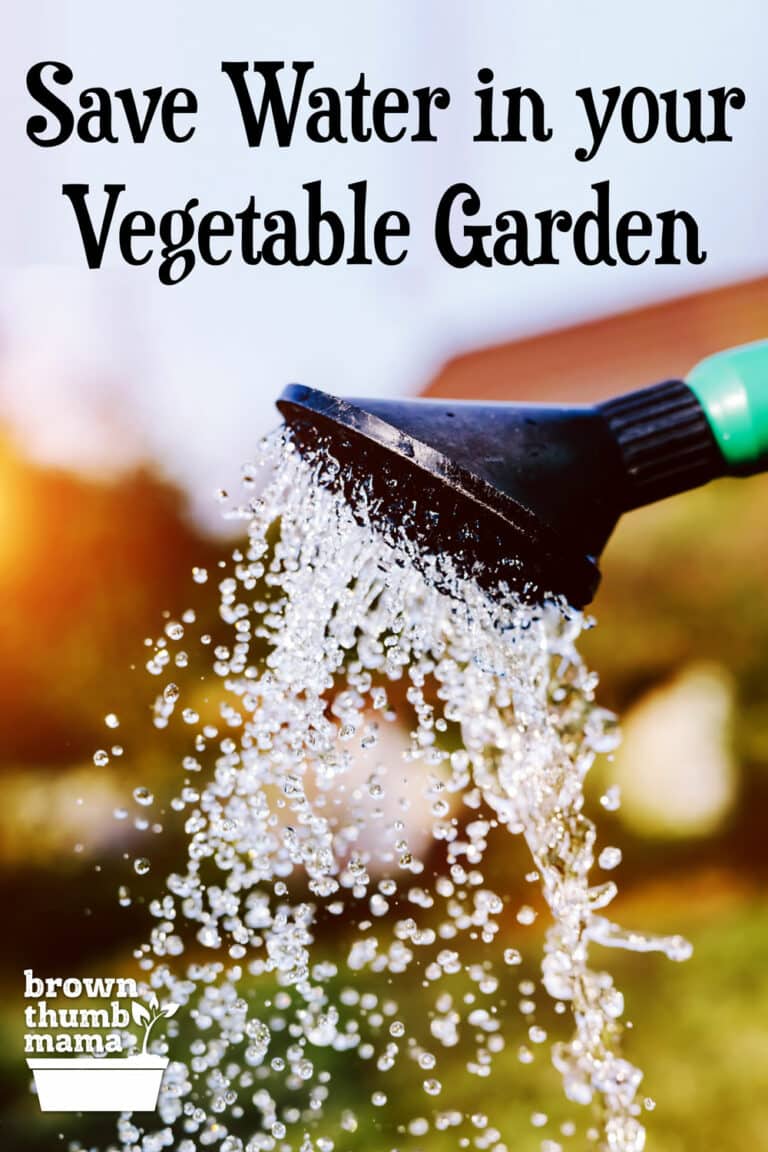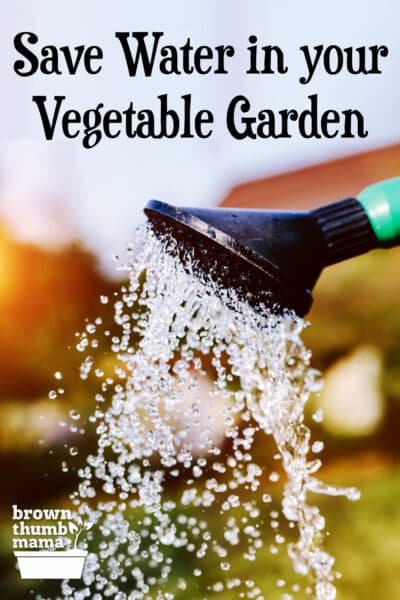 Mulch
The first and most important way to save water in the vegetable garden is by using mulch. Mulch is a layer of natural material (like bark, straw, shredded leaves, etc) that you spread over your garden soil.
It protects your soil from heat and wind, conserving water. It also helps prevent weeds and keeps the soil cool. That's a lot of benefits from just one product!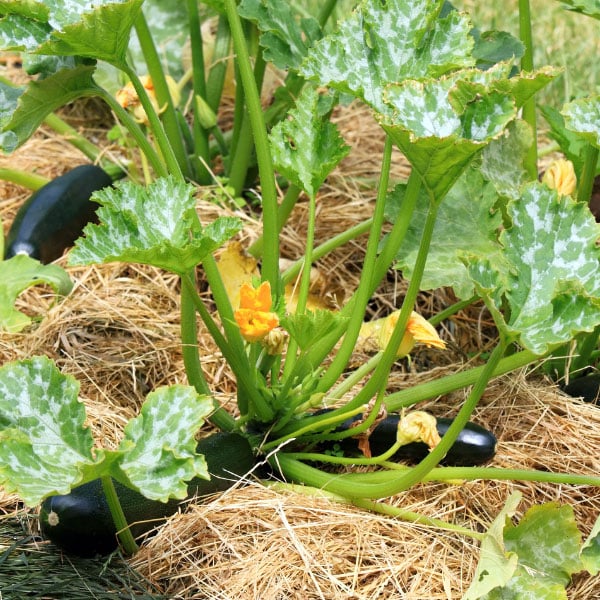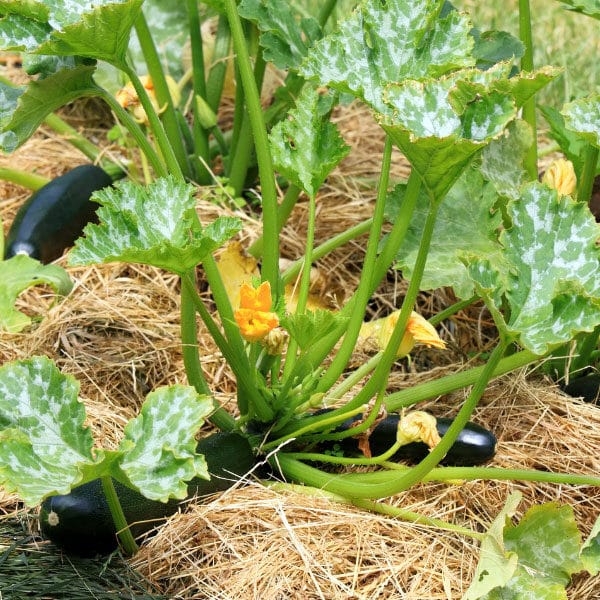 Install Drip Lines
Using drip lines (like this Dramm soaker hose or this RainBird sprinkler kit) helps you conserve water because the water goes exactly where it's needed, in the soil and roots of your plants.
Many vegetables can develop powdery mildew or other problems if their leaves get too wet, so this is a way to save water and save your crops.
Choose Plants that Mature Quickly
When you're buying your seeds, choose varieties that mature quickly.
For example, Little Finger carrots are ready to harvest in 57 days and Atomic Red carrots aren't ready to harvest until 70 days. A faster harvest means less days of watering.
Plant in Early Spring or Late Fall
If your summers are hotter than all get-out, like they are here, consider not planting in the summer at all.
Start your veggies in early spring and/or late fall. You'll get a great harvest, and you won't have to weed when it's 106 outside, which is a huge bonus.
Not sure what to plant in the spring or fall? Check out my Vegetable Planting Schedules ebook and you'll know what to plant every month of the year.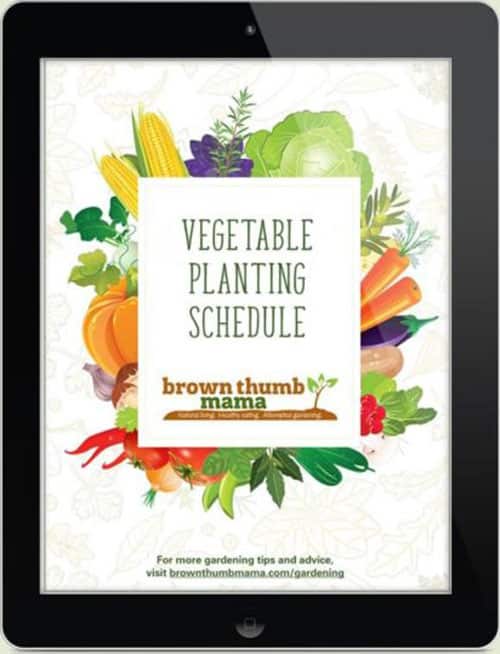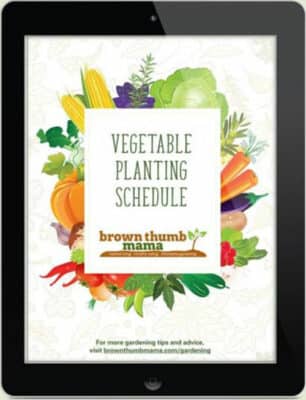 Select Drought Tolerant Vegetables
There are many vegetables that will grow in drier-than-normal conditions, and still taste great. (Note: don't try this with cucumbers--they will be terrible and bitter. Ask me how I know.)
Here are my recommendations for the best drought-tolerant vegetables.
Grow in a Raised Bed
There are many advantages of gardening in raised beds, and one of them is water containment. Most of the water you're using will stay in the raised bed or go down through the soil, in the same area as the plants' roots.
Plus, when the water stays in the raised bed area, there are less weeds in your pathways. If there's no water on the garden paths, the weeds can't grow.
Use Ollas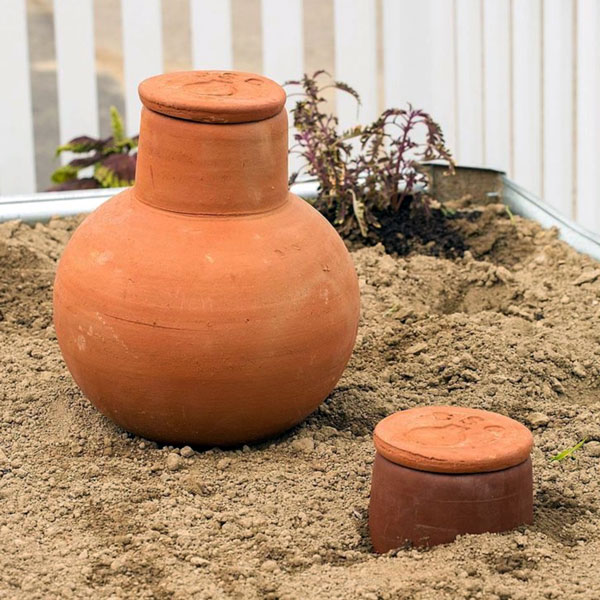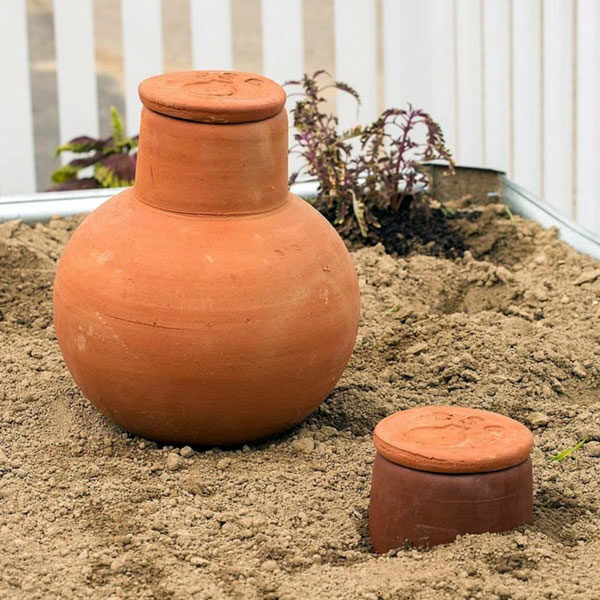 Ollas (pronounced oh-yahs) are an ancient watering vessel that have recently become popular again. I would love to try these in my garden--they are unglazed terracotta pots that look like large, hollow onions.
You bury them in the soil so just the neck of the olla is above ground, fill them with water, and plant around the olla. Because the terracotta is porous, the water seeps out into the soil in a slow, steady manner.
Water Between 9pm and 6am
You might be saying, "Hey! I know that watering at night is a bad idea, because the cool temperatures promote mildew." That is true if you are watering with a sprinkler that wets the plants' leaves.
But if you're using a drip system, watering at night conserves water because the water soaks in and won't evaporate as quickly.
Control Weeds
Weeds are a universal pain in the butt (or back) for gardeners. Prevent weeds from growing--and stealing your vegetables' water--by pulling them when they're tiny and/or using mulch in your garden.
I use my CobraHead weeder because it allows me to carefully pull weeds without disturbing my plants.
Check Soil Before Watering
Yes, it's easier to put your sprinklers on a timer and not think about it. That's all well and good until you get a huge water bill, or tomatoes that crack from too much water.
The better choice is to check the soil before watering, to see if it's damp. You can use one of these fancy gizmos or just stick your finger a couple of inches into the soil.
Get Rid of Your Lawn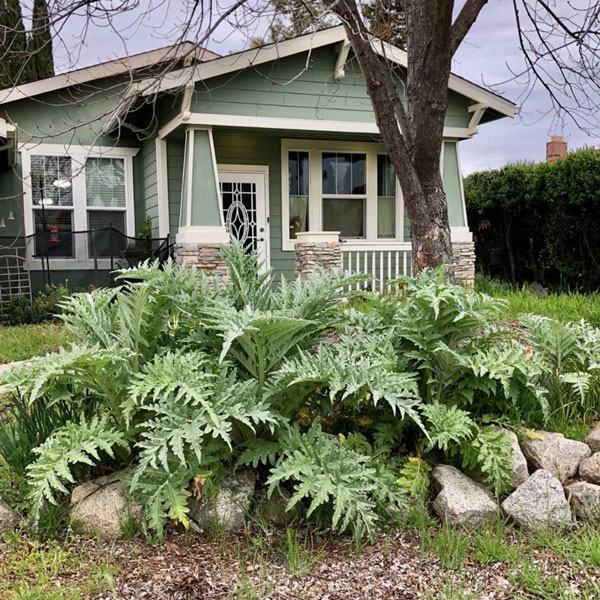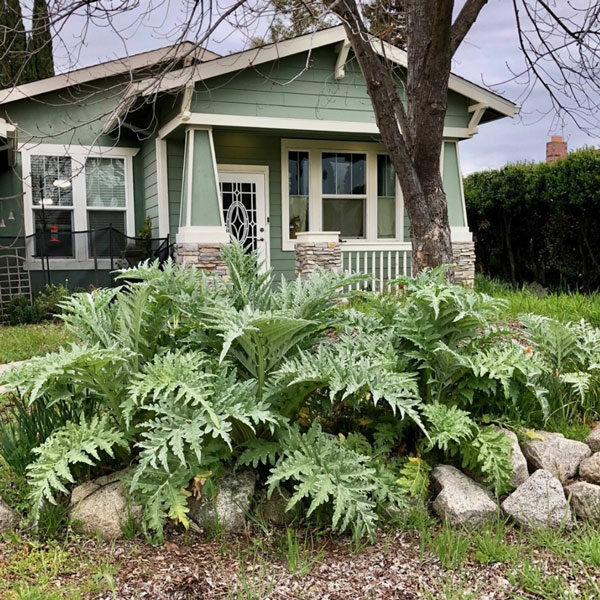 I'm not a fan of lawns. Folks spend a lot of time, water, and fertilizer on these swaths of grass that have very little practical purpose.
If you aren't ready to get rid of your lawn and replace it with artichokes like we did, consider reducing its size or replacing traditional grass with a drought-tolerant ground cover like creeping thyme.
Determine Peak Watering Time
This doesn't mean the best time of day for watering (that's covered above), but the time in the plant's life when it needs the most water. Most established plants need less water until they flower and set fruit.
And, of course, if you're using a drip system then the water is going straight into the soil by the plant, and not all over the place.
Plant French Intensive or Square Foot Style
Seed packets and plant tags show the maximum or optimal plant spacing. But most of the time, the plants can be a little closer together with no ill effects.
I use the Square Foot Gardening method to squeeze in the maximum amount of plants into our 3 little raised beds, and we always have a great harvest.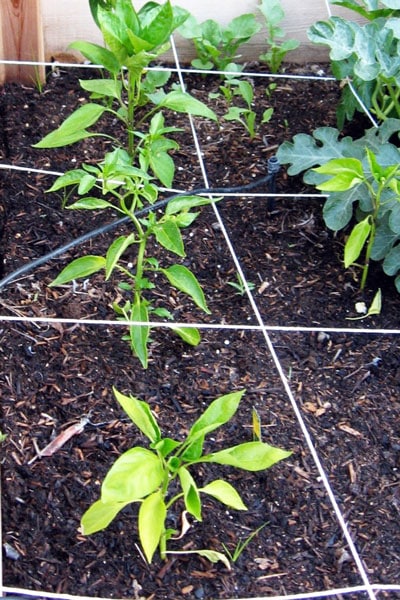 Group Plants with Similar Water Needs
Save water by planting thirsty plants in one part of the garden, and plants that need less water in a different part. For example, radishes and green beans don't need lots of water. But cucumbers and watermelons do!
You can adjust your watering appropriately so you don't end up with bitter cucumbers (from lack of water) and split radishes (from too much water). So place plants with similar water needs together, and adjust your watering appropriately.
Create a Rain Garden
For those of you who get rain in the summertime (unlike us in California), a rain garden is a great way to capture rainwater runoff.
Learn how to build a rain garden with my friend Amy from Tenth Acre Farm.
How will you conserve water in your garden? Any ideas I've missed? Share them in the comments!
My 5 Best Gardening Tips
Join my weekly newsletter and learn My 5 Best Gardening Tips!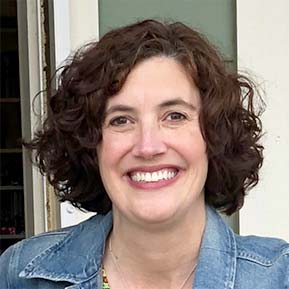 Hi, I'm Pam! I created Brown Thumb Mama to share my natural living journey, and help you live a greener life. Thanks for being here, and please check out the resources in my Natural Living Shop!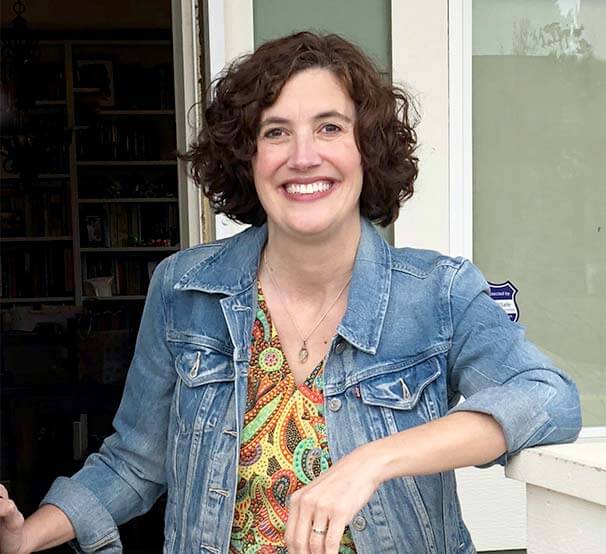 Hi, I'm Pam!
I created Brown Thumb Mama to share my natural living journey and help you live a greener life. Thanks for being here! Learn more about me.