Ahhh, zucchini. So easy to grow, and so easy to end up with too much of.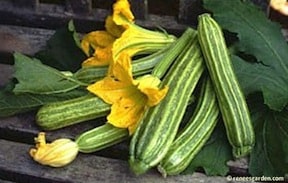 Romanesco from Renee's Garden is my favorite because it has great flavor and grows well. One plant is enough to feed the whole neighborhood though, and by the time summer is over, I'll never want to see another zucchini.
Today, though, the garden is bare and the seeds haven't even been planted. I figure–why not dial in some zucchini recipes now and be ready for this summer's bounty? You can't go wrong with zucchini, onions, parmesan cheese, and crispy, crackling edges.
Serve your zucchini fritter piping hot with homemade spaghetti sauce for dipping (it's a great after-school snack), or enjoy it at room temperature. You can even reheat it in the oven the next day.
Zucchini Fritter in a Cast Iron Skillet
Ingredients