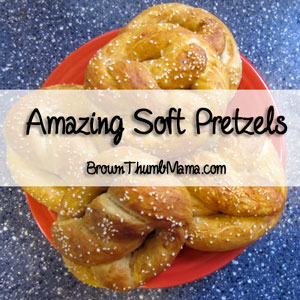 Have you noticed that the fast-food places are jumping on the pretzel bandwagon? You can get pretzel-bun hot dogs and pretzel-bun hamburgers, and there's a pretzel stand at every sports event and every mall. And they charge $2 or more for a pretzel–crazy!
You can make your own delicious soft pretzels for less than $2 a batch. The kids will love rolling out the dough and making shapes. Pretzel piggies, anyone?!?
Ingredients:
3 cups all-purpose flour
2 Tablespoons barley malt syrup
1 Tablespoon melted butter
1 teaspoon salt
2 teaspoons instant yeast
1 cup warm water
pretzel salt (optional but yummy)
In a separate bowl, combine:
4 Tablespoons water
1 Tablespoon barley malt syrup
2 teaspoons baking soda
In a bread machine or mixer, combine the flour, barley malt syrup, butter, salt, yeast, and water. Knead until thoroughly combined, then cover and let the dough rest in a warm place for 30 minutes.
After 30 minutes, preheat your oven to 400F. Turn the dough out on your counter and divide it into eight pieces. Roll each piece into whatever shape you desire. Dip the pretzels into the water, barley malt syrup, and baking soda mixture and place on a parchment paper-lined cookie sheet.
Sprinkle with pretzel salt and bake for 12-15 minutes, until golden brown. Try to let them cool a bit before you dig in!