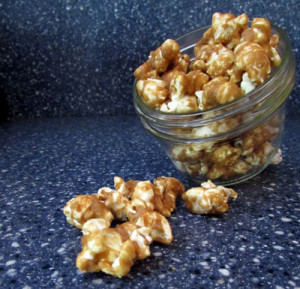 Hubby is happy to report that this caramel corn recipe took a bit of trial and error on my part. He was gracious enough to test all of my efforts, which went something like the story of Goldilocks and the Three Bears:
I made caramel on the stove top and poured it over the popcorn. It was too gooey.
I made the caramel with honey and baked it in the oven.  It was too burnt.
Then I made the caramel with brown sugar, baked it in the oven, and it was JUST RIGHT.
Most caramel corn recipes use corn syrup, but (all controversy aside) I wanted a recipe without it–because I don't have room for a unitasker in my kitchen! (Thank you, Alton Brown, for that handy word creation.) I can't think of a single recipe that I've ever made that calls for corn syrup.
Enough chat…let's do this. 😉
Homemade Caramel Corn
Ingredients
10 cups popped popcorn (about 1/2 cup unpopped)
Don't use microwave popcorn! Use an air popper or a WhirleyPop.
3/4 cup butter
1 cup packed brown sugar (extra credit if it's homemade)
1 teaspoon vanilla (same here)
1/2 teaspoon kosher salt
1/4 teaspoon baking soda
Instructions
Put the popcorn in a large bowl and preheat the oven to 250F.
In a large saucepan, melt the butter and mix in the sugar, stirring until the sugar is dissolved.
Increase heat to medium-high and boil the mixture for 3-4 minutes, stirring constantly. It will change from grainy to smooth and then will begin to thicken and look like…well…caramel!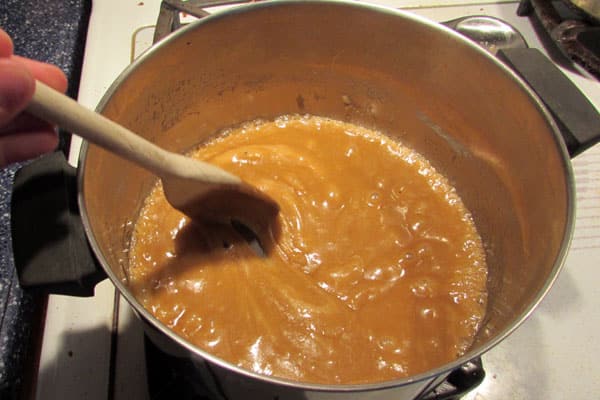 Note: Don't leave the stove while the caramel is boiling. It takes about .05 seconds for the mixture to overcook and turn brown instead of caramel-colored. This is too dark: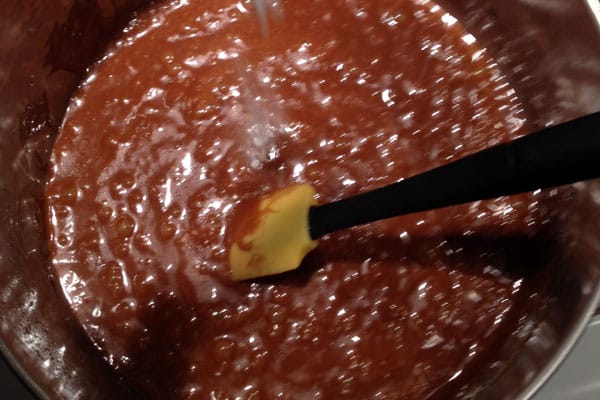 Remove the saucepan from the heat and add the vanilla, salt, and baking soda. The caramel will foam up when you add the baking soda, which is why you want to use a big saucepan.
Carefully pour the hot caramel over the popcorn (grab a friend to help) and stir gently to combine. Yes, you could add some peanuts at this point and make Cracker Jack, but why mess with a good thing? I like to eat the caramel corn by itself.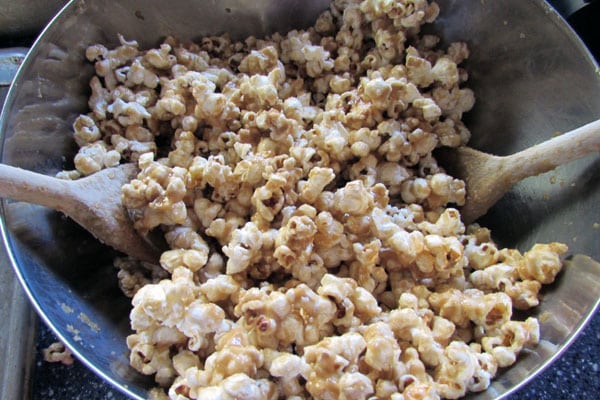 Pour the caramel corn onto two cookie sheets lined with parchment paper or Silpat. Bake at 250F for one hour, stirring every 15 minutes.
Allow to cool and munch, munch, munch!
Save