Quick quiz: Which would you rather put in your mouth? Your kids' mouths?
GRANOLA (WHOLE GRAIN ROLLED OATS, BROWN SUGAR, CRISP RICE [RICE FLOUR, SUGAR, SALT, MALTED BARLEY EXTRACT], WHOLE GRAIN ROLLED WHEAT, PARTIALLY HYDROGENATED SOYBEAN AND COTONSEED OILS* WITH TBHQ AND CITRIC ACID ADDED TO PRESERVE FRESHNESS AND/OR SUNFLOWER OIL WITH NATURAL TOCOPHEROL ADDED TO PRESERVE FRESHNESS, DRIED COCONUT, WHOLE WHEAT FLOUR, SODIUM BICARBONATE, SOY LECITHIN, CARAMEL COLOR, NONFAT DRY MILK), SEMISWEET CHOCOLATE CHIPS (SUGAR, CHOCOLATE LIQUOR, COCOA BUTTER, SOY LECITHIN, VANILLA EXTRACT), CORN SYRUP, CRISP RICE (RICE FLOUR, SUGAR, BARLEY MALT, SALT), INVERT SUGAR, SUGAR, CORN SYRUP SOLIDS, GLYCERIN, PARTIALLY HYDROGENATED SOYBEAN OIL*. CONTAINS 2% OR LESS OF SORBITOL, CALCIUM CARBONATE, SALT, WATER, SOY LECITHIN, MOLASSES, NATURAL AND ARTIFICIAL FLAVOR, BHT (PRESERVATIVE), CITRIC ACID.
OatsWheat flour

Butter

Vanilla

Honey

Baking soda
There's way more mystery ingredients in those packaged bars than there needs to be! That's why I'm excited to tell you a fantastic recipe for homemade granola bars, in an ebook called Healthy Snacks to Go.
This fantastic book has more than 45 recipes for healthy snacks, tips for cutting down on sugar, and specialty diet options. If you are avoiding sugar, gluten, dairy, grain, nuts—or are looking for information on raw food or soaked grains, this is the right book.
More about that later, though. On to the recipe!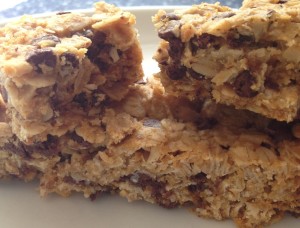 Best Homemade Granola Bars
Ingredients
4 1/2 cups rolled oats (I like these)
1 cup flour (I used whole wheat)
1 cup butter, softened
1 teaspoon vanilla (extra credit for homemade)
3/4 cup honey
1 teaspoon baking soda
Plus add-in goodies if desired: mini chocolate chips, raisins, sunflower seeds, coconut flakes, chopped dried apricots, dried cranberries, other nuts…
Instructions
Lightly butter a 9 x 13 pan and preheat the oven to 325 F.
Combine the butter and honey in a large bowl and mix well. (I used my trusty KitchenAid mixer and it took just a few seconds.) Add all ingredients except the add-ins and mix until combined. Stir in the add-ins by hand.
Press the mixture into the pan. It's a little sticky, so it helps to put a few drops of water on your hands and press the mixture in firmly.
Bake at 325 F for 15-20 minutes until golden brown. They won't look quite done, but will firm up while they cool. After they cool for about 10 minutes, you can cut them into bars.
Store at room temperature in an easily accessible container. They will be gobbled up faster than you can imagine.
As you can see, this is easier than making a batch of homemade cookies. And you can customize the recipe as much as you want!
Want more easy, super-healthy snack recipes?
You can instantly download and print or save Healthy Snacks to Go right now.
There are more than 45 recipes in the new edition, for snacks like:
Wheat Thin-style crackers
Fruit Roll-ups
Peanut Butter Kisses
Easy One-bowl Muffins
Besides all the recipes and tips, it includes 3 bonus sections:
Basic Snacks Checklist
Soaking Grains Primer
Sanity-Saving Lunch Packing Tips
Give it a try—we've saved tons of money just by making our own granola bars. We're trying Peanut Butter Kisses next.