You won't believe how easy it is to grow garlic–all you need is a sunny spot and these important tips. You'll never have to buy garlic from the store again!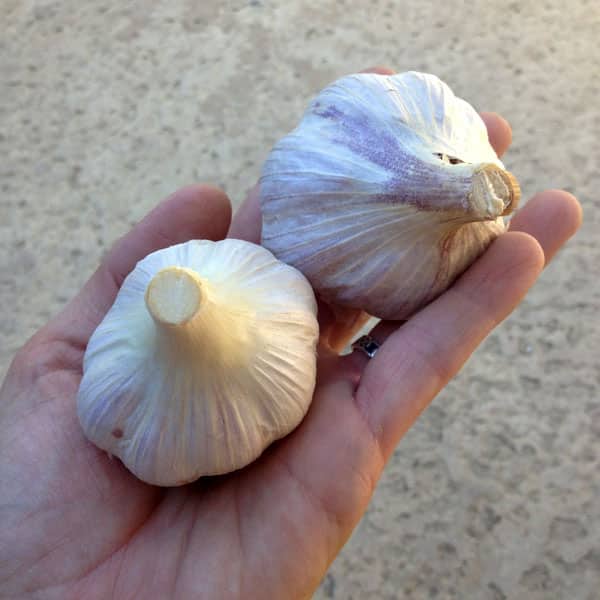 Garlic is amazingly easy to grow, and is one of the few crops that never fails me. I've grown it for several years in our backyard garden and always end up with a great harvest.
It's a good thing, too, because we LOVE garlic. It's a key player in my homemade pesto and is amazing in Honey-Garlic Chicken.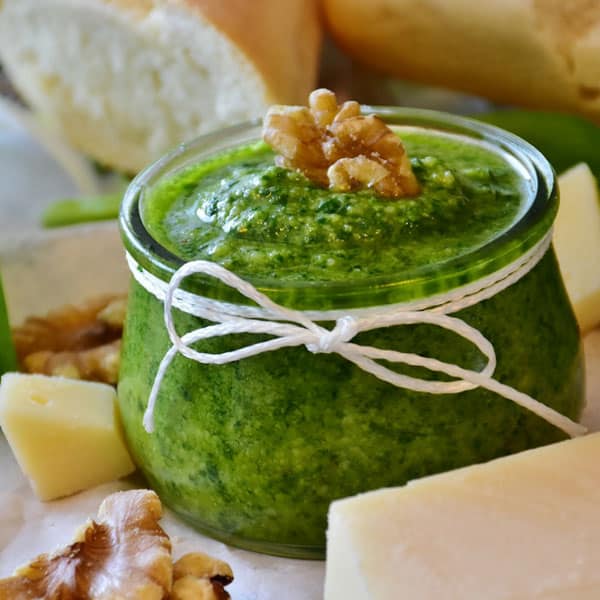 If you have a little patch of sunny garden, give it a try! Here's how easy it is.
Growing Garlic: Varieties
Garlic's species name is Allium sativum. If you studied Latin in high school, you'll recognize that the allium name means that garlic is related to onions, shallots, leeks, and chives.
There are two major varieties of garlic, hardneck (ophioscorodon) and softneck (sativum). There are hundreds of varieties of garlic in existence—many more than the one plain type that you see at the grocery store. Some unusual varieties I've seen are Transylvanian, Godfather's Italian, Persian Star, Nootka Rose, and Georgian Fire. This is Purple Glazer. Isn't it beautiful?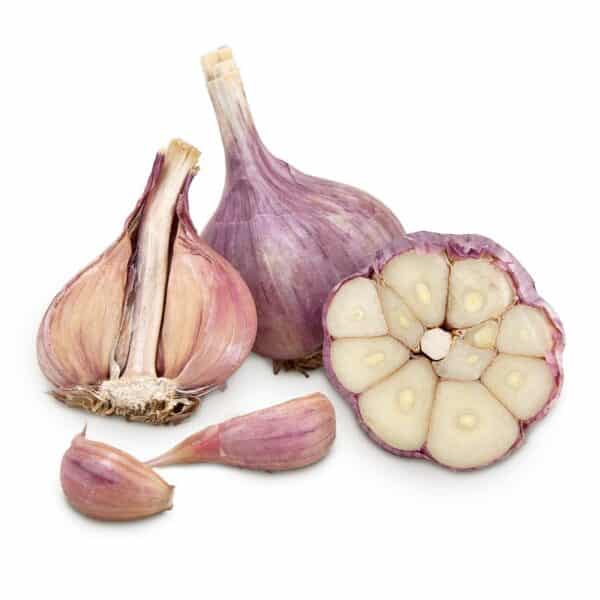 How do you know which type to buy and plant in your garden? Some varieties grow better in certain climates, and different types of garlic have different flavor. Learn more about the different types of garlic, and how to choose the best type of garlic to grow in your area.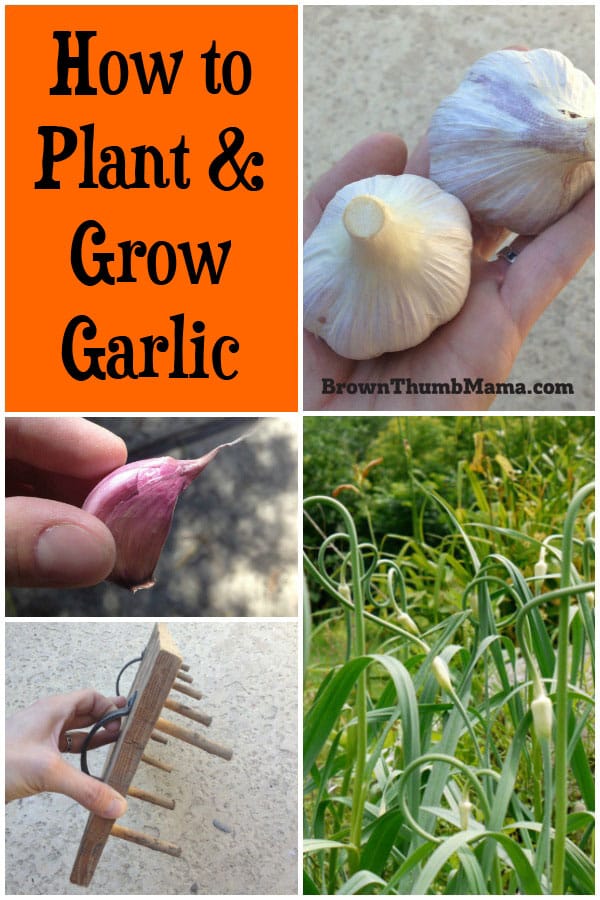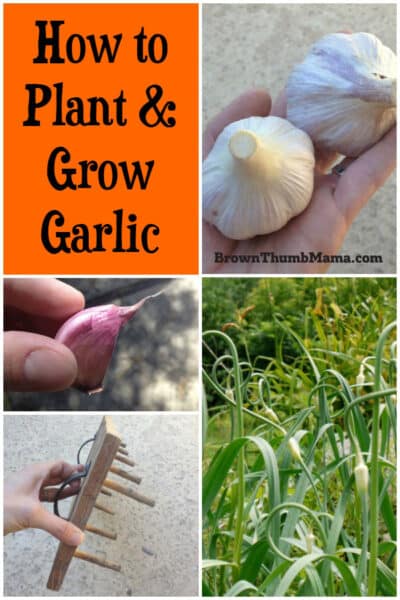 Growing Garlic: Planting & Spacing
We're in California (Zone 9), so Grandpa says to plant garlic between Halloween and Thanksgiving (the earlier, the better). This year, I chose a spot between the raised beds and the birdbath in the backyard, pulled all the weeds, and mixed in a healthy dose of homemade compost.
Just like veggies, garlic needs to be spaced properly so it has room to grow. Because I plant so much garlic each fall, Hubby made me this plantermajigger from a piece of scrap wood and some dowels.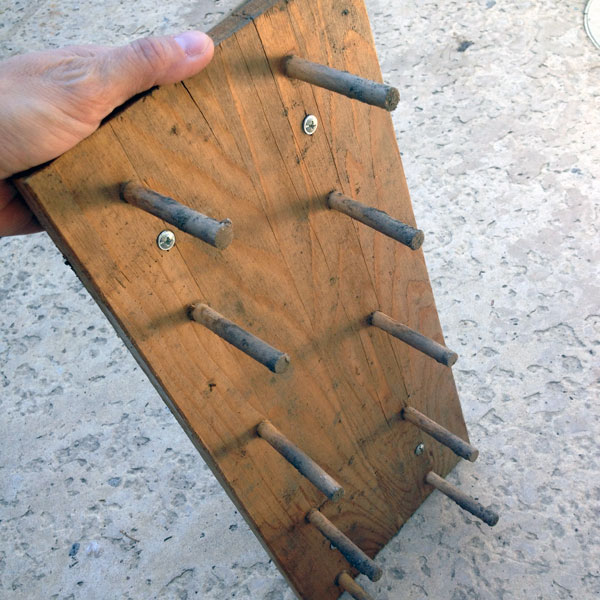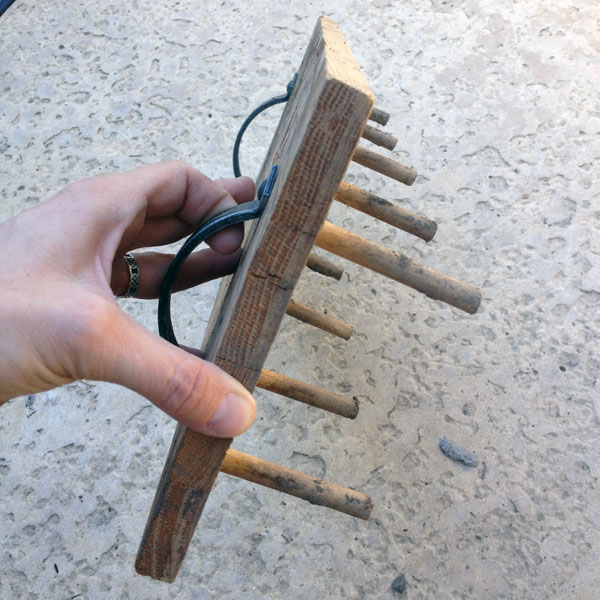 He attached a couple of old drawer handles on the top so I can easily press it into the soil and lift it out.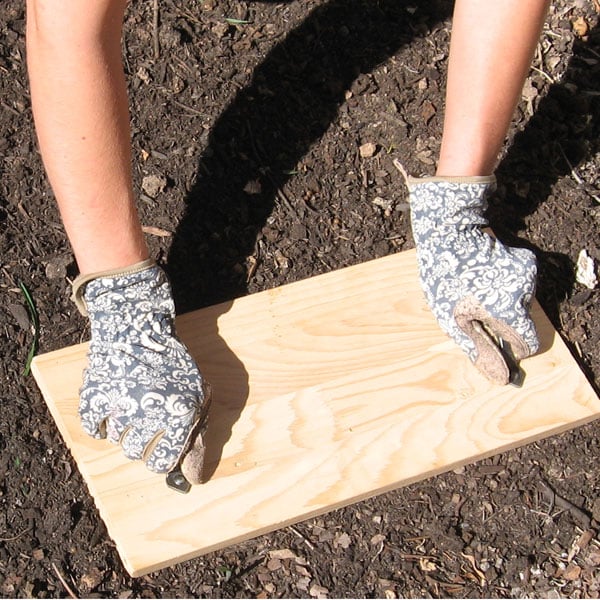 Presto! Perfectly spaced planting holes, about three inches deep and three inches apart.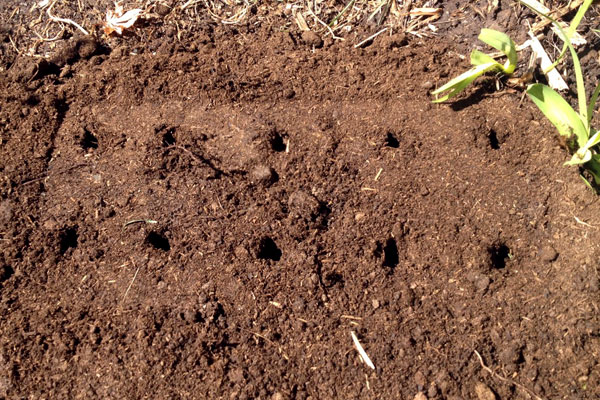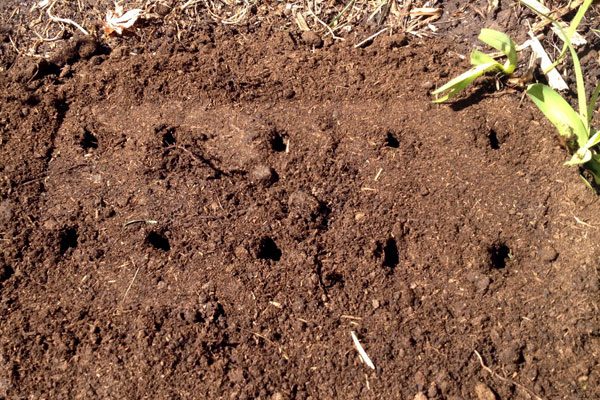 If you don't have a plantermajigger, no worries. Just poke holes in the soil with a pencil or stick.
Growing Garlic: Prepare the Garlic
Now it's time to prepare your seed garlic. I like the different varieties at Bradley Creek and Filaree Farm, but you can use organic garlic from the farmers' market too. Don't use the kind at the grocery store, because it's usually sprayed with chemicals and stuff that keeps it from sprouting. This is Chesnok Red and Basque Turban.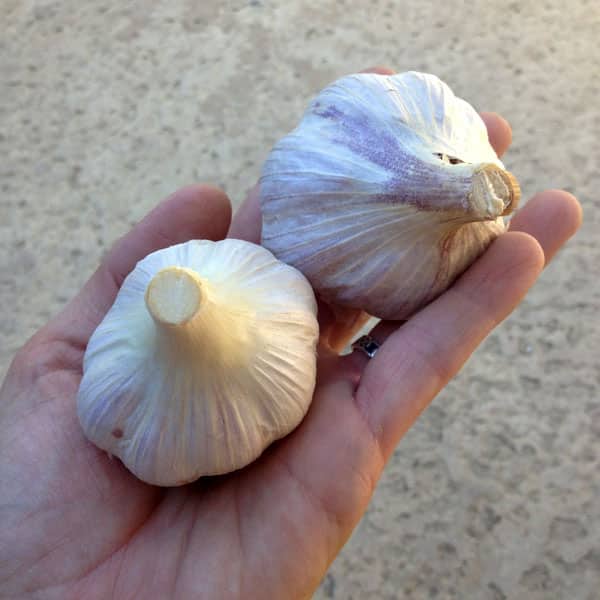 Take off the outside "paper" so you can see the individual cloves.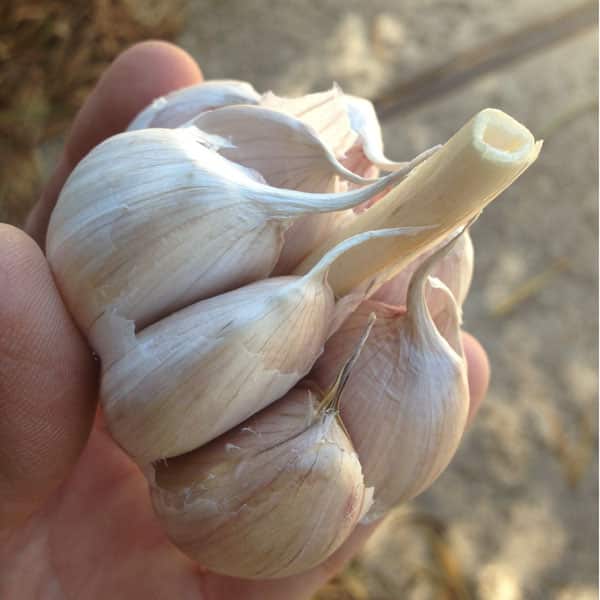 Then pop the cloves off the base and get ready to plant. Note: don't plant the tiniest cloves, like the one in the lower left corner. Tiny cloves make tiny crops! Save those for cooking or adding to homemade balsamic vinaigrette.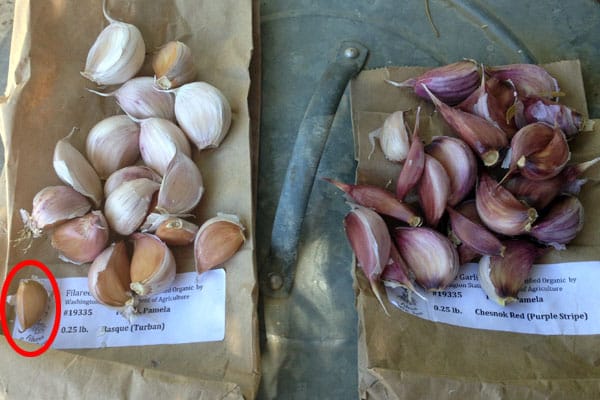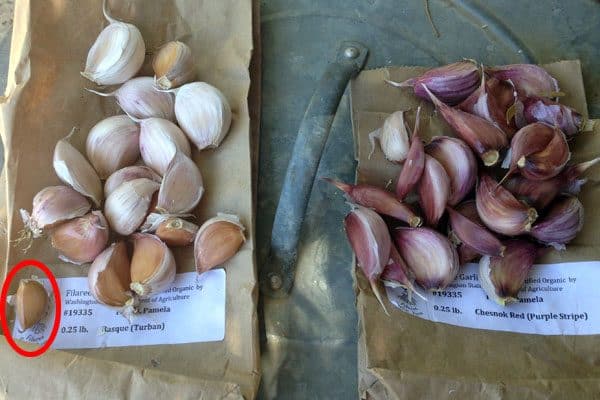 You'll push one clove into each of the little holes you made. Be sure you're planting them right side up, like this.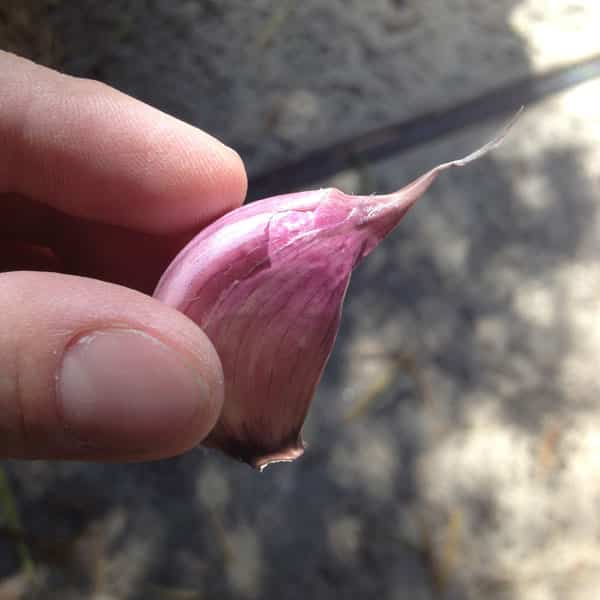 Each individual clove will grow into an entire head of garlic! Don't worry if you think you'll end up with too much garlic (is that possible?). It's easy to freeze it for future recipes.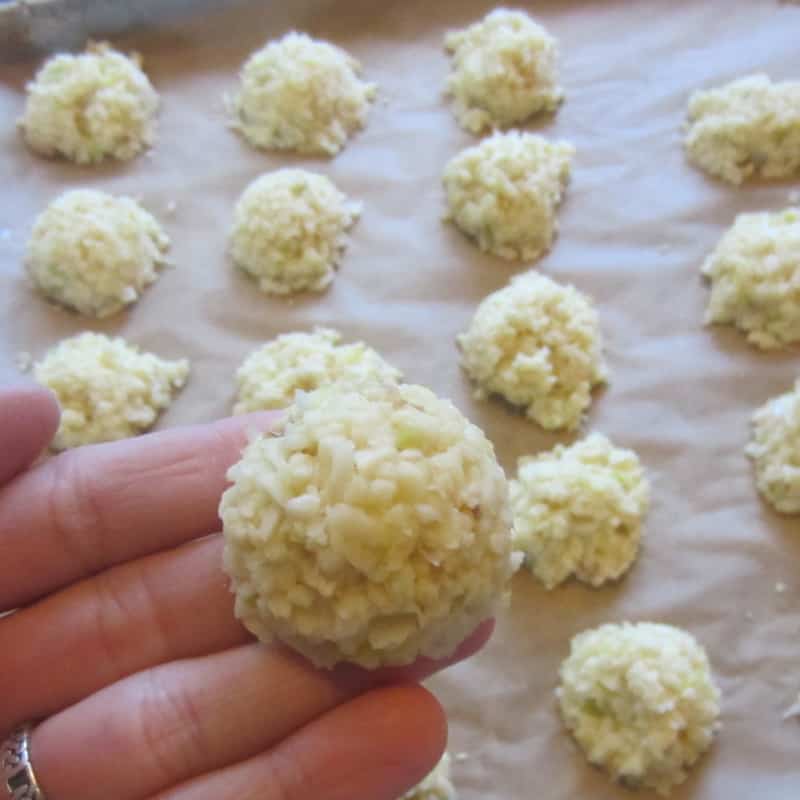 After you've put one clove in each hole, spread some soil over and pat it down gently. I like to give my seed garlic a drink of diluted kelp fertilizer to start 'em off right.
After a week or so, you'll see them sprouting (*cough* among the weeds *cough*).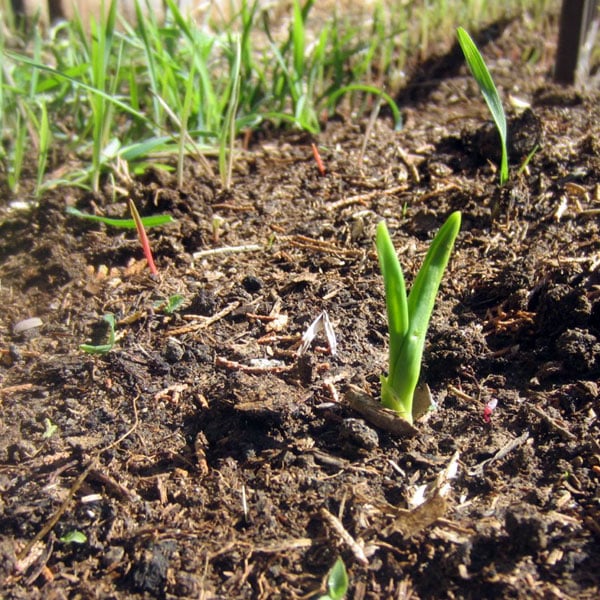 Now it's time to do something that seems counterintuitive–we're going to cover the entire area with straw.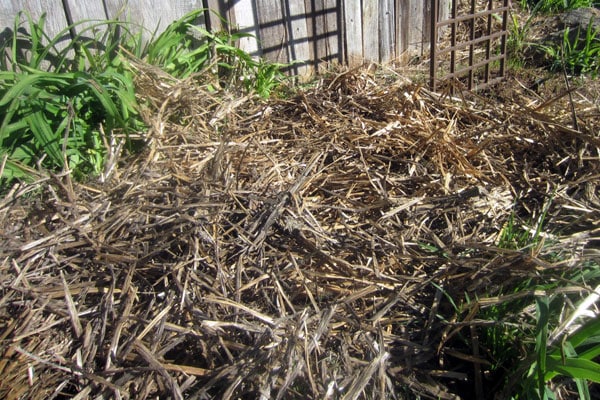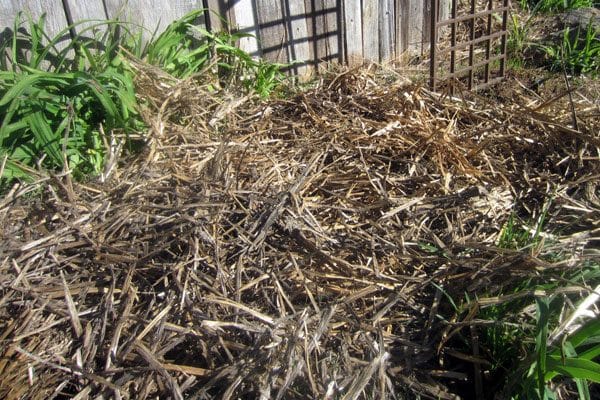 Why on earth would we do that? If you've ever had garlic sprout on your counter, you know it will grow under the toughest conditions. The straw insulates the ground, keeps the soil moist, and prevents the weeds from growing. The garlic will grow right through the straw, and the weeds won't.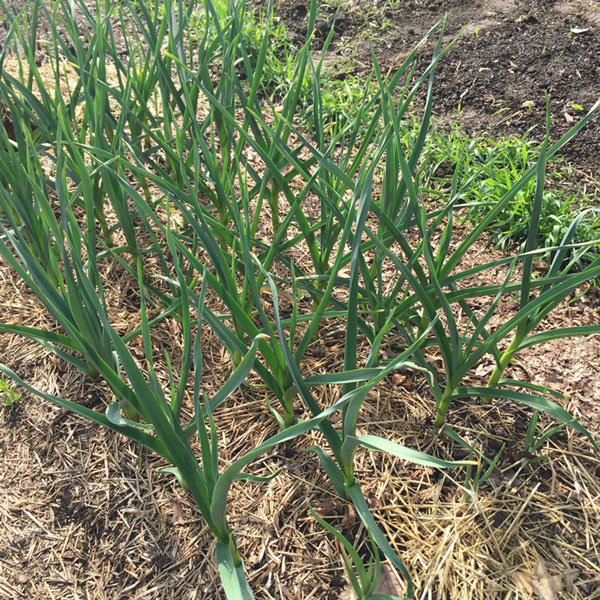 Growing Garlic: Pests, Diseases, Companion Plants
Vampires aren't the only ones who don't like garlic! Most garden pests will leave your garlic alone, and you can even use garlic to make a natural garden pest spray.
There is a small chance you could see damage from onion thrips or onion maggots, but I've grown garlic for 20+ years and have never seen insect damage.
It's more likely that you'll see downy mildew or bulb rot from overwatering. Before watering, you want to move a bit of straw and see if the soil is moist. If it is, you don't need to water yet. Come back and check again in 2-3 days.
Garlic is a wonderful companion plant! Companion plants are plants that help other plants grow better, or keep pests away. I learned this from Carrots Love Tomatoes: Secrets of Companion Planting for Successful Gardening, which is a must-read for vegetable gardeners.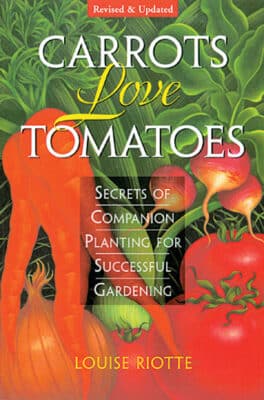 Garlic is a great companion plant for fruit trees and roses. You don't want to plant garlic near peas or beans, since the garlic will inhibit their growth.
---
More wonderful articles about garlic:
Choosing the Best Type of Garlic For Your Garden
---
Growing Garlic: Harvest
Your garlic will grow all through the winter and spring and will be ready to harvest in June or July. You can get some gigantic garlic when you grow your own! This picture is from several years ago…my garden helper is a teenager now. 🙂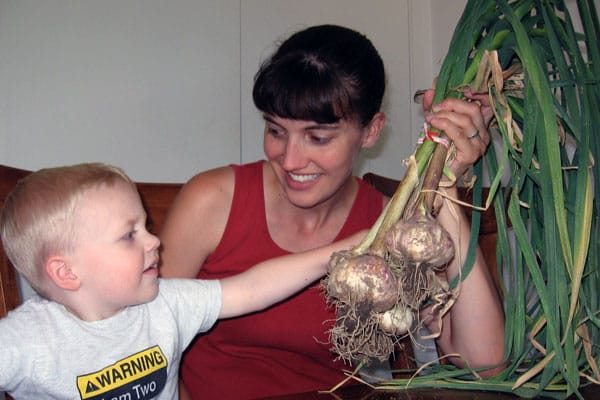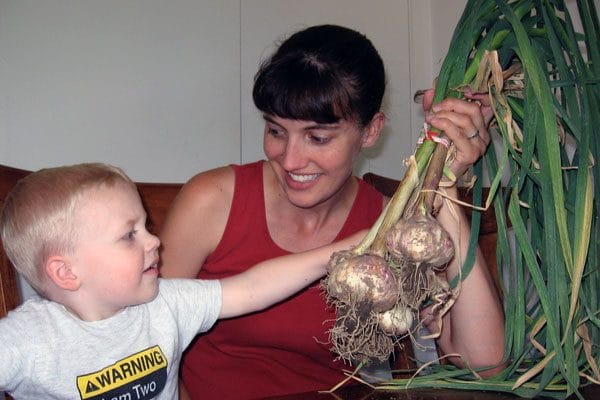 Here's everything you need to know about harvesting and curing garlic.
Do you grow garlic? What's your favorite variety?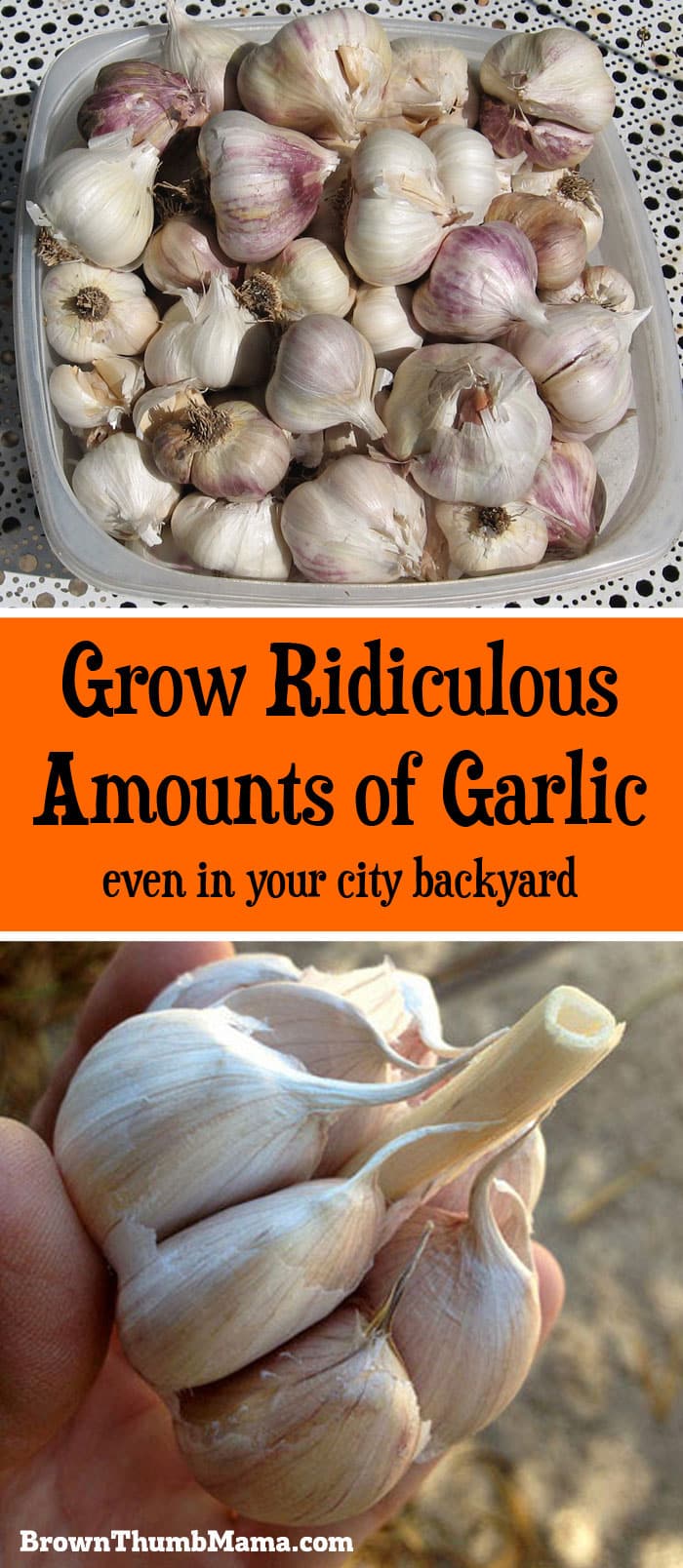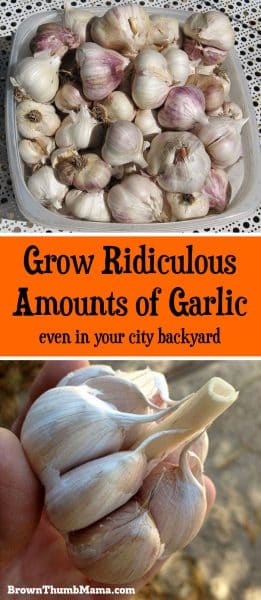 ---