This shop has been compensated by Collective Bias, Inc. and Mission Cooling. All opinions are mine alone. #DoMoreWithMission #CollectiveBias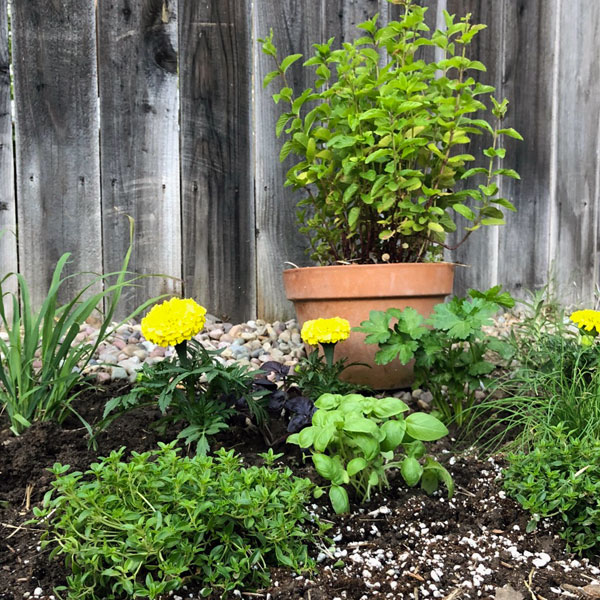 It's easy to plant an herb garden, either in containers or directly in the soil. You can grow a lot of herbs in a small space and enjoy their delicious, fresh flavors in all your favorite recipes.
Our swimming pool fills up most of our backyard, and my primary garden space is full of vegetables. I love using fresh herbs in my Homemade Italian Meatballs and in sauces like Basil & Garlic Pesto, and I hate paying the grocery store $3 for a bunch of wilted herbs in a plastic box.
This year, as soon as the weather got warm enough, I decided to plant a sunny spot in the backyard with lots of my favorite herbs. Here are some important tips for planting your herb garden, so you can enjoy a fragrant and abundant harvest!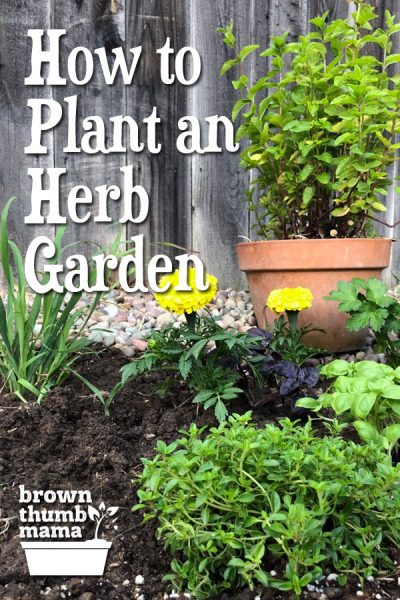 Choosing Plants for an Herb Garden
It's important to select plants that have the same growing requirements. This area gets several hours of sun, so I chose herbs that grow best in a sunny spot. It wouldn't make sense to plant herbs that need shade here because they would either die or bolt (go to seed) quickly.
Herbs that thrive in the sun:
Basil
Chives
Tarragon
Lavender
Parsley
Lemon Balm
Marjoram
Mint
Oregano
Thyme
Sage
Rosemary
Dill
Lemongrass
My local plant nursery had more than 100 herbs to choose from. It was hard to decide! Finally, I settled on the herbs that I use the most often: parsley, basil, lemongrass, thyme, rosemary, mint, and chives.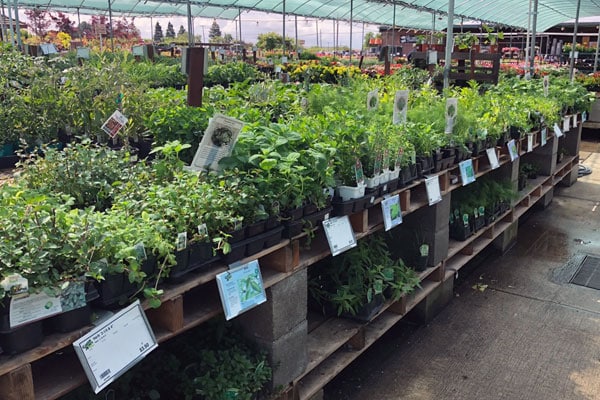 Preparing the Soil for an Herb Garden
Good soil has lots of organic matter (like decaying leaves and compost), nutrients for the plants, living organisms (like earthworms and fungi), and it needs to be turned or loosened so the roots can get oxygen and water can drain.
The soil in this area hadn't been worked in several years, so it needed lots of TLC to be able to support a healthy herb garden. I pulled out the weeds, got rid of the rocks, and mixed in some homemade compost.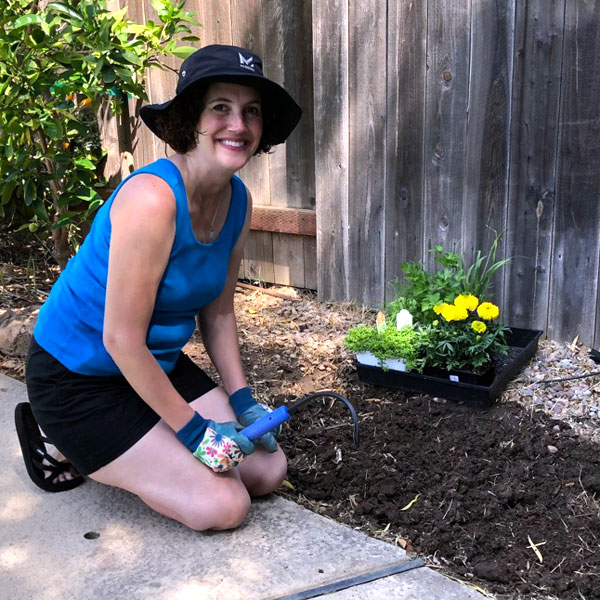 This was a lot of work during a hot spring day! When I'm gardening, I take lots of rest breaks and drink water to stay cool. The good folks at Mission Cooling sent me some of their products to try while gardening, and they help me "Cool More. Do More." Check these out!
The Bucket Hat with Cooling Tech is soft and comfy and cools you instantly when wet. It's made from SPF 50 fabric and is machine washable. I got it wet with the hose, squeezed out the excess water, and waved it in the air to activate it. It cools you without chemicals because of the unique combination of fabrics that enhance the natural evaporative process. I wore it the entire time I was gardening, and I stayed cool and comfortable.
Planting Your Herb Garden
After selecting the herbs you're going to plant, there are some important details to keep in mind while planting.
Give your herbs room to grow. It looks neat (at first) when you plant everything very close together. However, as soon as your herbs start growing, they'll be competing for space and soil nutrients. Without enough room to grow, some of them will die.
Plant from tallest to shortest. Tall or bushy herbs like lemongrass and rosemary belong on the back of your garden area. That way they don't shade the short or bushy herbs, like thyme, as they grow.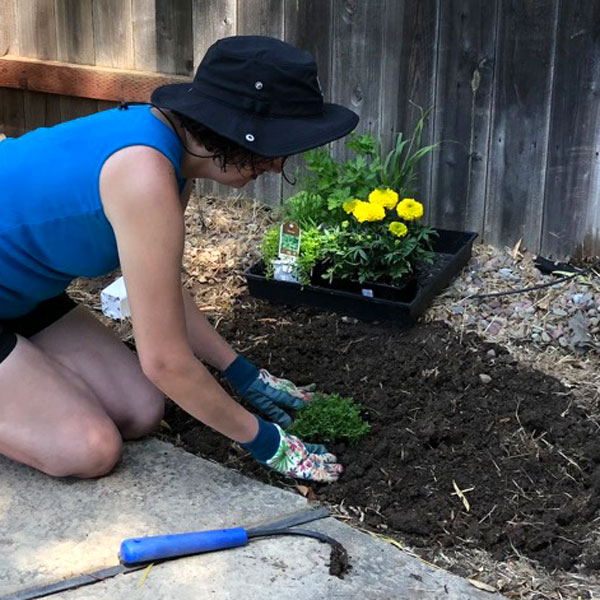 Keep invasive herbs contained. Some herbs will "grow crazy" and can take over your entire herb garden. Mint is one of these, so I planted the mint in a container and I'm careful to cut back any runners.
Add some pollinators. I added marigolds to my herb garden for their bright, cheery color (which attracts bees and butterflies) and because their scent helps repel garden pests. Other good companion flowers for your herb garden are sweet alyssum, nasturtium, and calendula.
Take care of the gardener. Make sure you're drinking lots of water and taking breaks in the shade. When I needed a rest, I cooled off with the Mission Original Cooling Towel. Splash some water on it, snap it in the air and apply to your neck, shoulders, forehead…anyplace that needs cooling. You'll stay cool for up to two hours!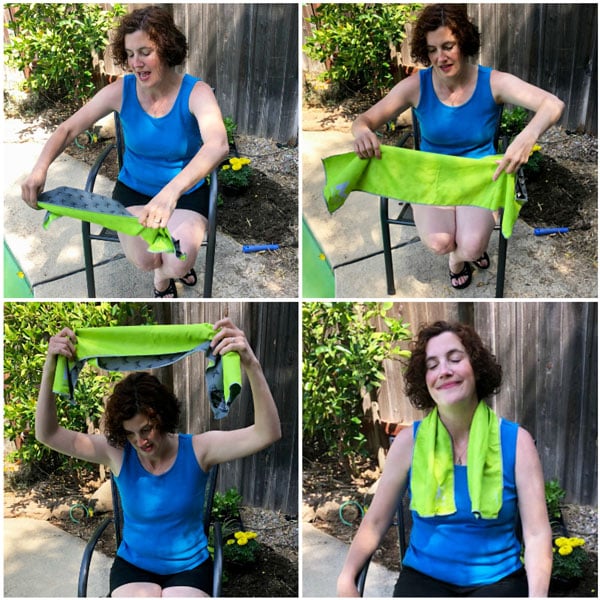 Are you ready to garden in cool comfort? You'll get 25% off your first purchase from Mission Cooling with the discount code PAM25.
After Planting Your Herb Garden
Water your herbs immediately after planting them, and then water them (either with the hose or a sprinkler) every couple of days. They might droop a little in the afternoon sun, but as long as they perk up in the evening, they're OK.
Pull any weeds you see while they're small, so they don't take water and nutrients away from your herbs.
If you end up with more herbs than you can possibly use, that's a good problem! Here's how to dry herbs so you can use them all year long.
What will you grow in your herb garden?