This planting guide for Zone 9 contains 12 vegetables you can plant in April for a great harvest this summer.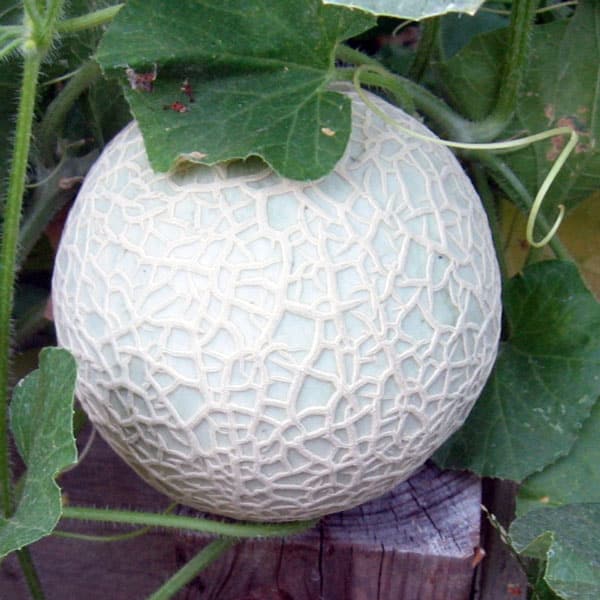 Ahhh, April! Spring is finally here (for those of us in Zone 9 anyway), and it's time to get our seeds and starts in the ground. Does it seem like winter lasted about 6 million years? It does for me. I can't wait to get outside and get my hands in the dirt.
It's finally time to get those seeds in the ground, or stop at the garden store and pick up some seedlings. Not sure what to buy or plant this month? I can help. You need a vegetable planting schedule that's customized for your area and climate.
Ready? Let's do this.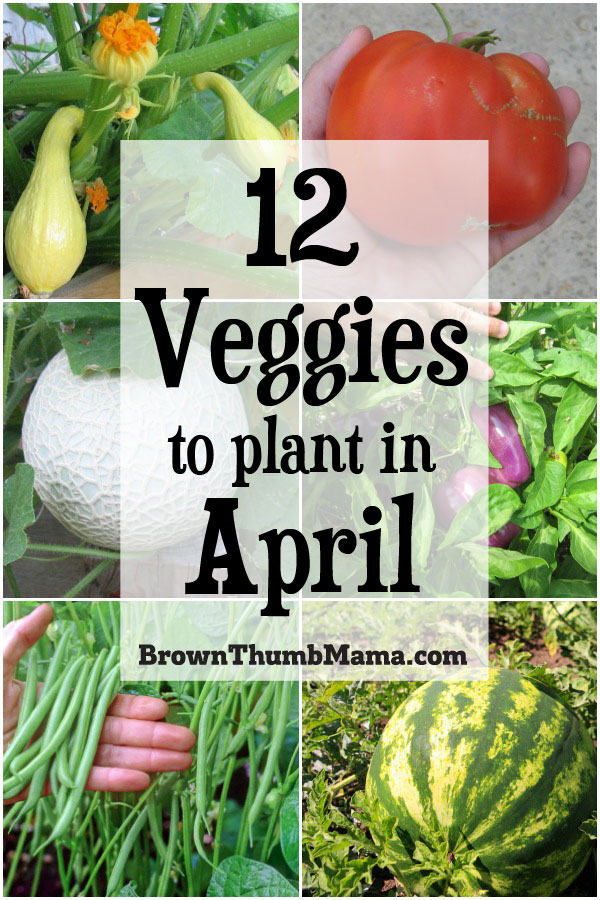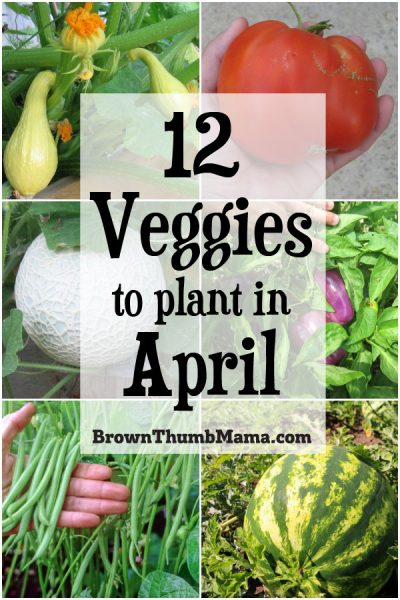 Zucchini/Summer Squash
Zucchini are one of the easiest vegetables to grow from seed. They're also quite prolific, as evidenced by the unofficial holiday called "Sneak Some Zucchini on Your Neighbor's Porch Day". I like this Jade, Gold, & Emerald Tricolor Zucchini Mix from Renee's Garden because you get three different varieties in one seed packet.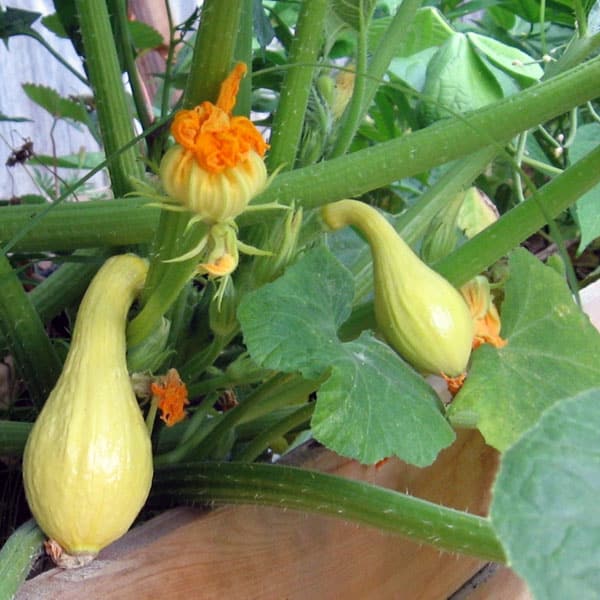 Tomatoes
Once you've eaten a homegrown tomato, you'll never want to eat those tasteless blobs from the supermarket again. There are hundreds of varieties of tomatoes you can grow, and many different types–slicing tomatoes, cherry tomatoes, paste tomatoes, and heirloom tomatoes. These are paste tomatoes, which are meaty and great for canning.
Choose your favorite type and plant seedlings from the nursery in April. I like this sampler pack from Bonnie's Plants because you get four different types of tomatoes to try. Be sure to protect your tomatoes against blossom end rot before you plant.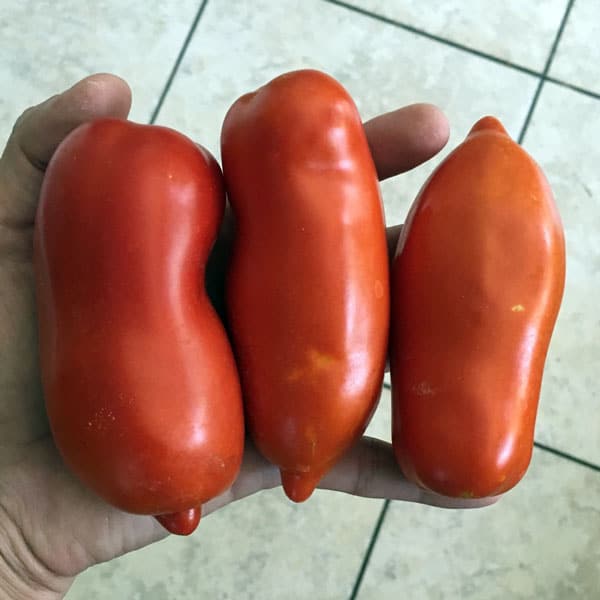 Eggplant
Eggplant likes it HOT, so if it's still chilly at night they might be a little slow to sprout. If there are seedlings available at your local garden center, use those to get a jump start. Black Beauty is a popular variety, producing glossy, deep purple fruit.
Peas
We are big snow pea fans around here, and the kids are anxiously waiting for our seeds to sprout. Our favorite variety is Oregon Sugar Pod II. It produces giant, tender snow peas that you can eat right off the plant.
Here's lots more information on planting and growing snow peas.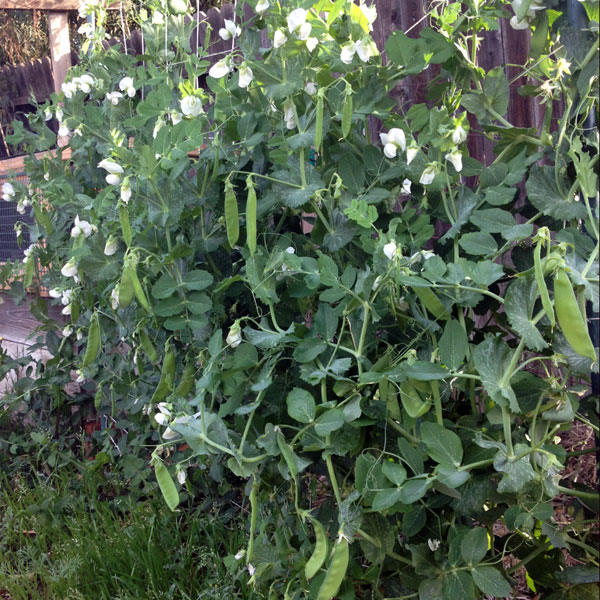 Green Beans
I've grown green beans for several years, and have tried both bush beans and pole beans. You'll have to decide which kind to plant based on how much space you have in your garden.
My favorite pole bean is Emerite, which is a is a long, elegant filet or "haricot vert" pole bean. It produces slim, 7-9" pods with a delicate flavor and crispy snap. You'll need a trellis or structure for these beans to grow on, and they are quite prolific. There are more than 30 beans just in this picture!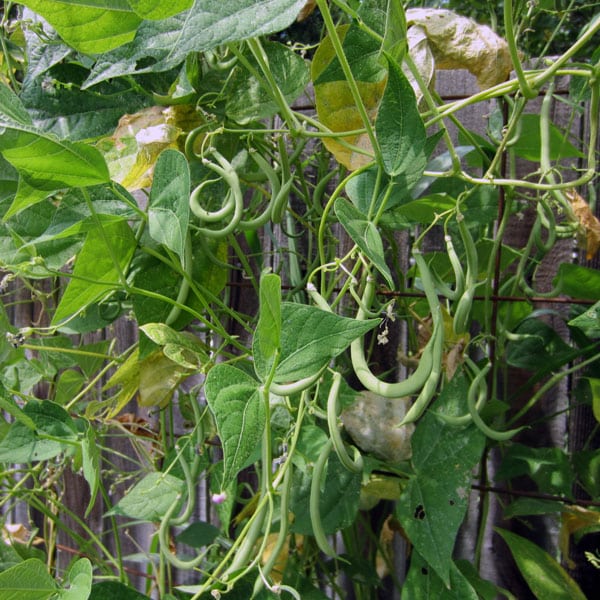 If you don't have space or desire for a trellis, Rolande is an excellent bush bean. This is what I grow in my front yard garden. Rolande is another "haricot vert" bean with slim, delicate pods on disease-resistant plants.
Chives
Chives give a gentle onion flavor to salads, scrambled eggs, and many other dishes. They're easy to grow from seed in the garden or indoors on a sunny windowsill. Did you know that chives are a great companion plant for strawberries? Their mild onion smell keeps the bad bugs away–much safer than spraying pesticides.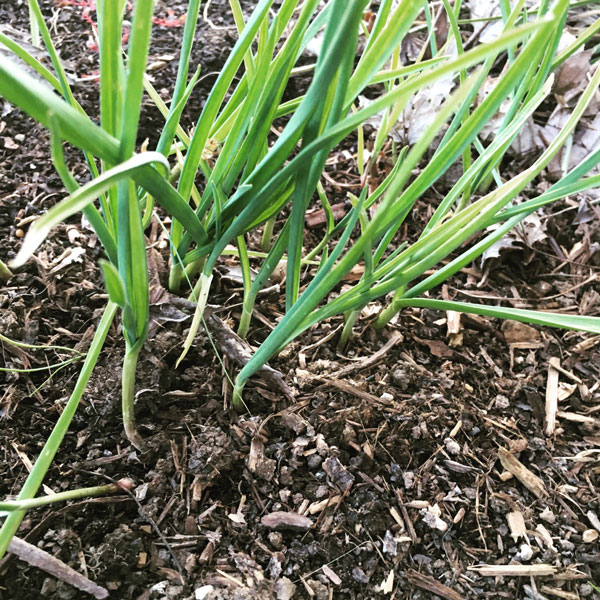 Jicama
Mild and crunchy, jicama is easy to grow and great for snacking. It needs a long, hot growing season to produce well, so get those seeds in the ground early in April. Learn more about planting and growing jicama here.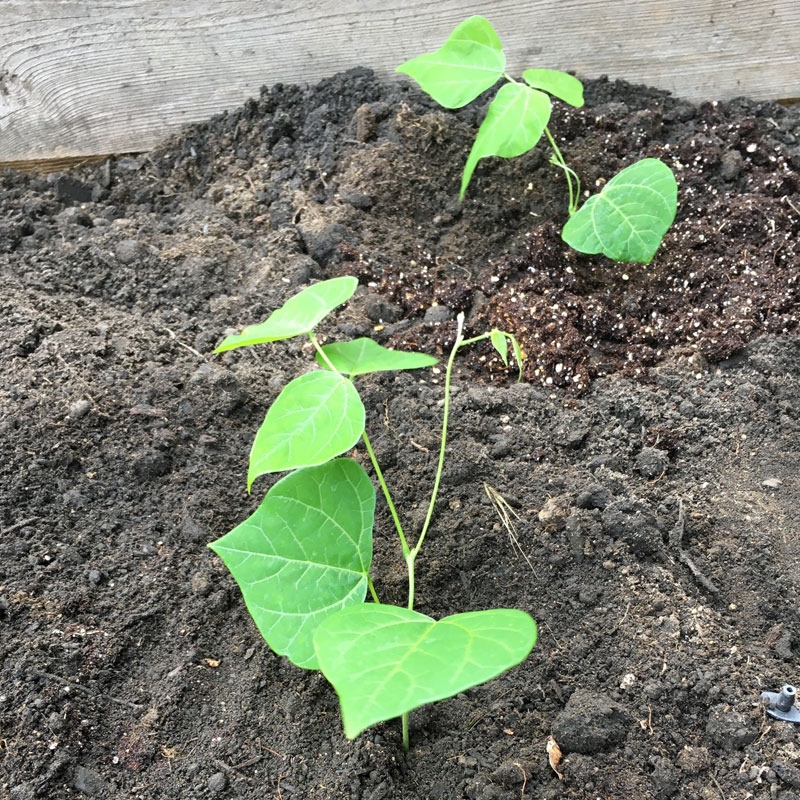 Spinach
I like Catalina Baby Leaf spinach from Renee's Garden because its leaves are small and tender. It's just the right size for salads, stir-frys, sandwiches, omelettes, and so on. Spinach is happiest in cool weather, so a garden spot with afternoon shade is ideal. Sprinkle some seeds on the ground, cover with a thin layer of soil, and you're done.
Melons
We've tried growing many, many varieties of watermelon over the years. One year, we fought off tons of aphids–another year, blossom end rot.
When they grow, they really do well! This is a humongous, 20.5 pound Charleston Gray from Botanical Interests. Here are some tips on when to harvest your watermelon for the best, sweetest fruit.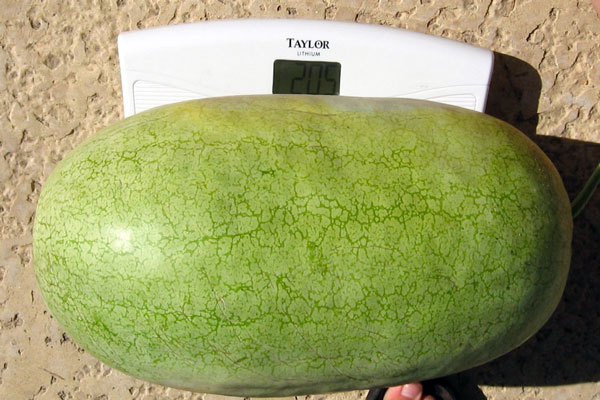 Cantaloupe and honeydew can be a little tricky to grow, but when they produce–the flavor will blow your mind. I like the Galia, Earlydew, and Solid Gold blend from Renee's Garden. You get three different seeds in one packet, so you can try them all! (Lizard not included.)
Pumpkins
Do you have lots of space? Do you have kids? Then you simply must grow pumpkins. They're easy to grow from seed, and there are many different types–teeny decorative pumpkins, white pumpkins, carving pumpkins, pie pumpkins, warty novelty pumpkins…it's hard to decide. Here's lots more info about growing and planting pumpkins.
Cucumbers
Cucumbers are vining plants, so you'll need a trellis or something similar for them to climb on. I grow mine at an angle against the back fence, so the cukes hang down for easier picking. Here they are at the beginning of the season: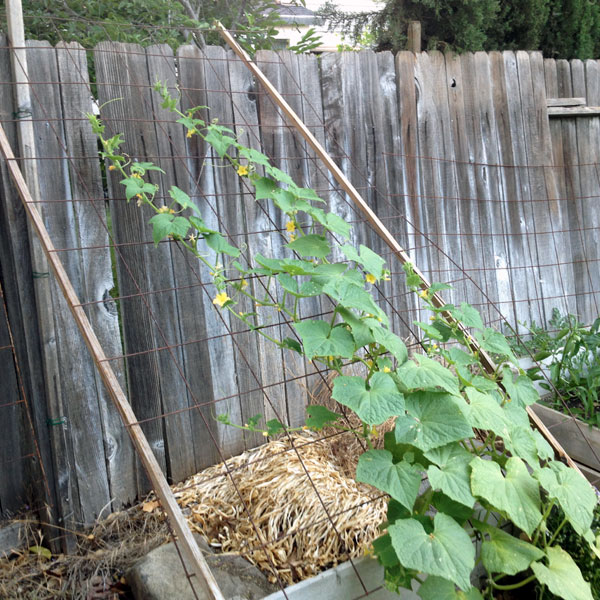 And here's how easy it is to find and harvest the cucumbers when they're ready.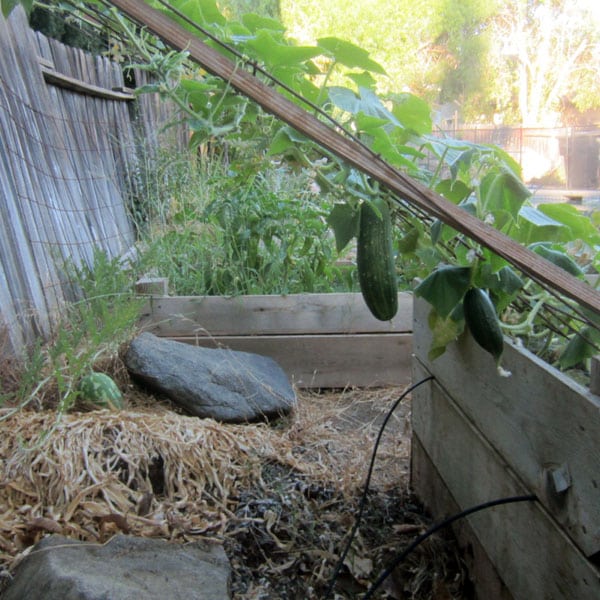 We grow at least three varieties of cukes from seed each year (yes, really). Straight Eight for salads and sunomono; Endeavor for homemade pickles; and Persian Baby for snacking.
Peppers
Whether you're growing sweet peppers or hot peppers, April is the time to get those seedlings in the ground. We usually grow both types–if you end up with too many, you can freeze the bell peppers and dry the hot peppers for use later in the year. This combo pack from Bonnie's Plants is great because it contains both sweet and hot peppers.
It's easy to go crazy and end up with several types and colors of peppers. A couple of years ago, we tried these Purple Beauty peppers and the kids really got a kick out of them. They'd never seen a purple pepper!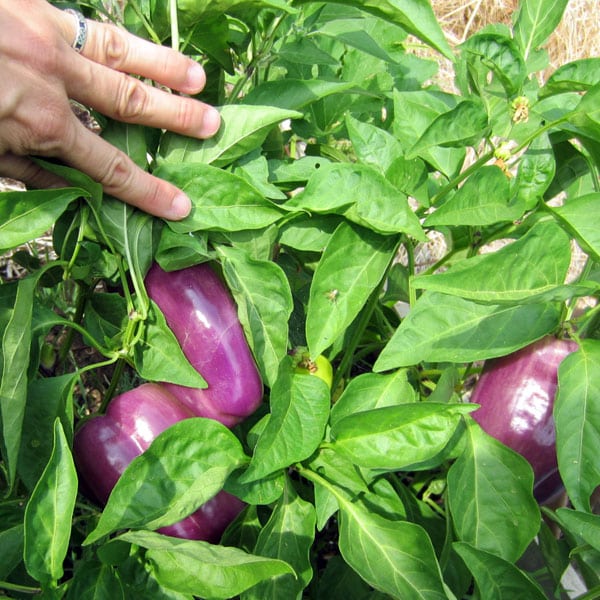 I also like to grow these Mini Belle peppers for snacking. It's too late to start them from seed, but you should grab a few at the garden center and give them a try. They're a great "spoon" for homemade hummus!
Ready to get started?
Me too! Be sure you've prepared your soil properly before planting. If you aren't sure what to plant this month, get a customized vegetable planting schedule and get out in the garden.