The rest of the country is covered in snow, and we're still gardening! 🙂 These 8 delicious vegetables you can plant in December love the cold, and you'll be harvesting within 30 days. Includes recommended varieties and planting tips.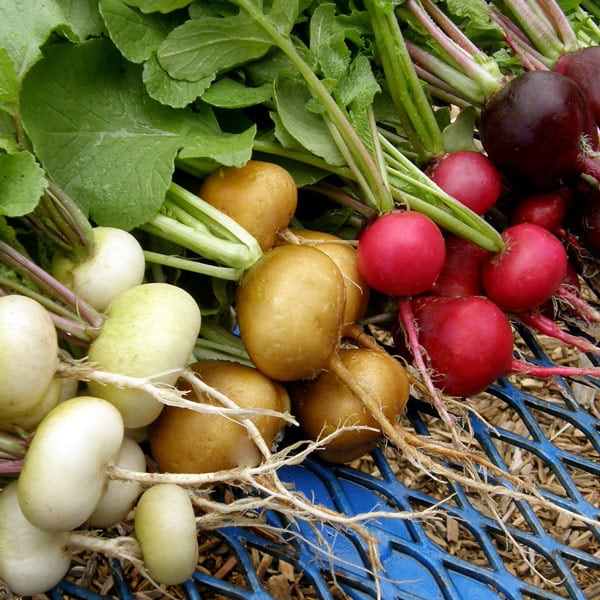 Yep…it's officially winter. The ground is freezing, the air is freezing, and my toes are freezing. Bundle up along with me, and head out into the garden this month!
There are quite a few vegetables to plant in December that will continue to grow in the coldest weather. Some of them will be ready for you to harvest as early as January.
Not sure what to buy or plant this month? I can help. You need a vegetable planting schedule that's customized for your area and climate. Click the image to get one for your garden.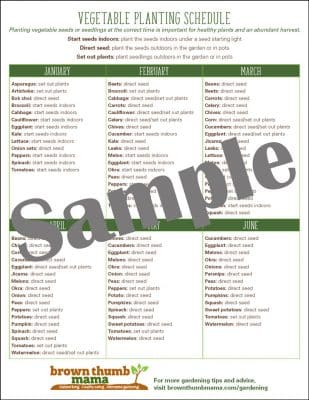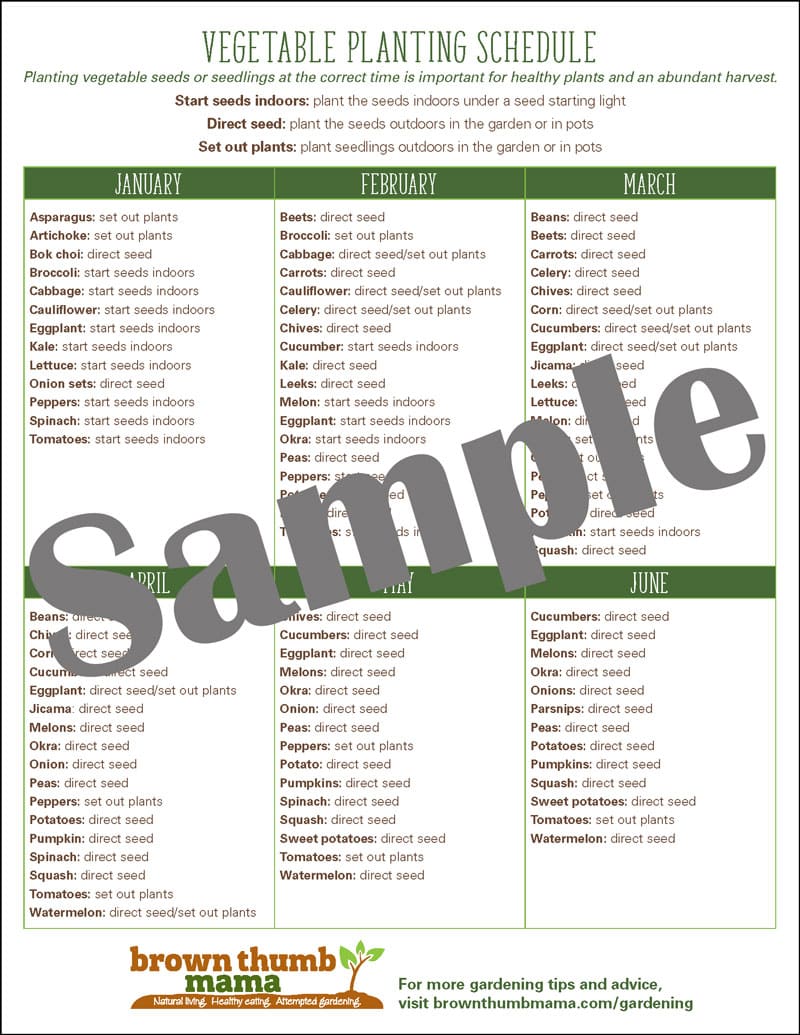 This planting guide for Zone 9 will give you 8 vegetables you can plant in December for a great harvest. Let's go!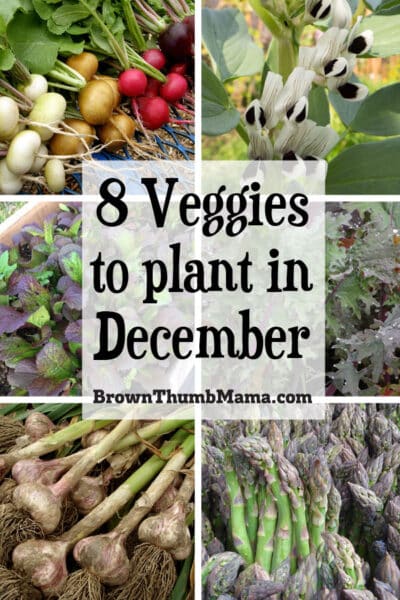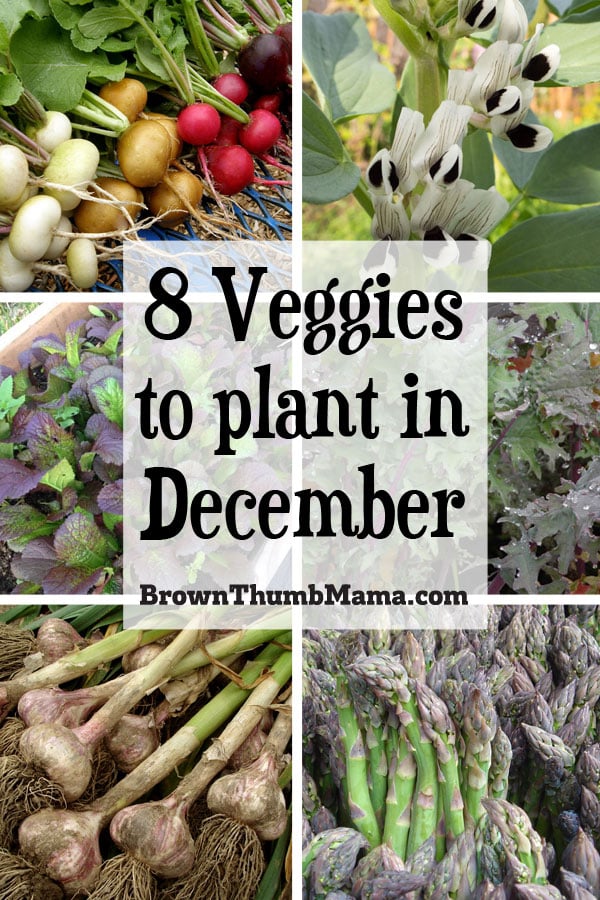 Vegetables to Plant in December
Photo Credit: www.reneesgarden.com

Did you know that radishes come in many different colors? I've even grown black radishes, but the kids thought they were pretty weird.

Garden Party mix is my favorite because you get purple, pink, red, white, and gold radish seeds all in the same pack.

They'll grow quickly, and you can harvest your radishes when they're the size of large marbles–about one month after planting.

You can't believe the taste difference between fresh fava beans and dried/canned. It's amazing--you've got to try these.

I like to grow Windsor Broad Bean Favas. Young pods can be eaten like snap beans, or you can shell the beans and cook when still green for a sweet, flavorful treat.

The beautiful white and black flowers on an upright plant make Windsor pretty enough to use in flower beds. Plant in November and begin harvesting in late January.

Photo Credit: www.redwoodseeds.net

You'll love this giant Red Mustard from my friends at Redwood Seeds. These huge leaves with red and green coloring pack a spicy punch. The flavor is wasabi-like when eaten raw, but the spice diminishes when cooked--which makes these greens great for stir-fry or soups.

Slow to bolt in the spring, it's also resistant to aphids and harlequin beetles. Plant in December and begin harvesting in late January.

This delicious vegetable is often overlooked by home gardeners. If you've ever tasted it at an Asian restaurant, you'll definitely want to grow it in your garden! It's delicious when stir-fried with some garlic and ginger...mmmm.

Green Fortune is the variety that I like to grow. It rapidly produces cute and chubby mini heads whose crispy pastel stalks and deep green leaves size up and are ready to eat in record time (45 days). 

Broccoli Raab (also known as Rapini) produces an abundance of deep green leaves and tender shoots topped with tiny bud clusters.

Enjoy these full-flavored greens sautéed in olive oil and garlic...yum. Plant in December and harvest in mid-January.

Tender and sweet, Red Winter Kale is mildly flavored compared to other types of kale. It has beautiful, dark-red stems and beautifully shaped leaves. Besides being chock-full of nutrients, it's great in a salad or as a garnish.

Set out plants in December, and begin harvesting in late January...just in time to make a nutritious green smoothie.

Photo Credit: www.groworganic.com

Asparagus requires patience, because you can't harvest until its second year in your garden. But oh, how delicious fresh asparagus is! And you'll enjoy it every year, because it's a perennial (grows again, year after year).

Instead of planting seeds or seedlings, you plant crowns--root bundles that grow into plants.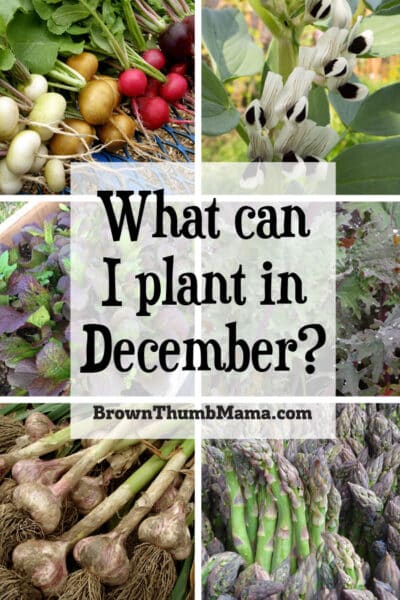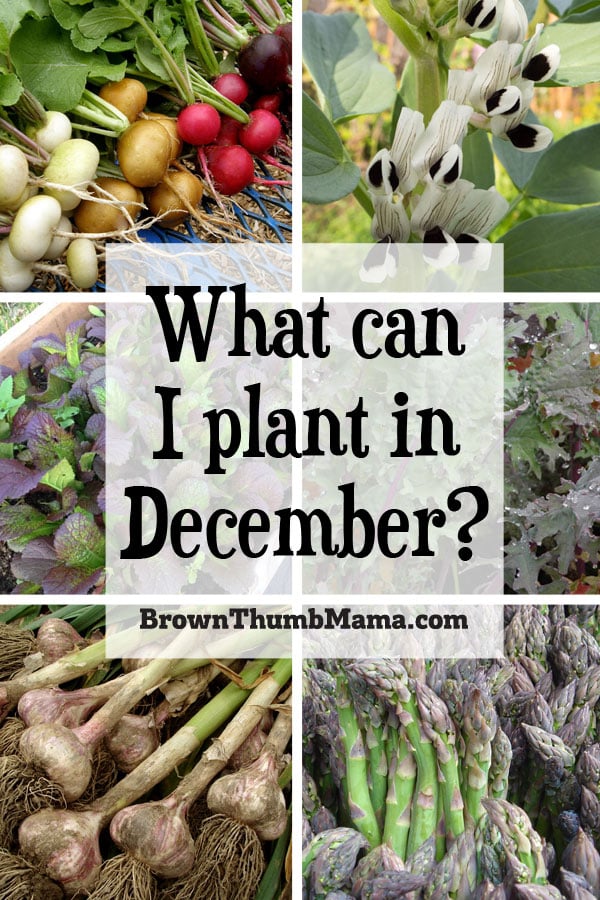 More of What to Plant This Month